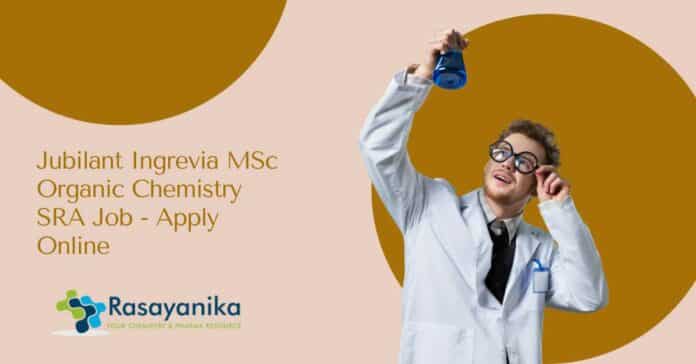 Jubilant Ingrevia MSc Organic Chemistry SRA Job – Apply Online
Jubilant Ingrevia MSc Organic Chemistry SRA Job – Apply Online. MSc Organic Chemistry job openings. Jubilant Ingrevia MSc Organic Chemistry Vacancy. Interested and eligible applicants can check out all of the details on the same below
FUNCTION – Research & Development
JOB LOCATION – Greater Noida, Uttar Pradesh
ABOUT THE COMPANY 
Jubilant Ingrevia, a global integrated Life Science products and Innovative Solutions provider, serving Pharmaceutical, Nutrition, Agrochemical, Consumer, and Industrial customers with their customized products and solutions. Their offerings are characterized by innovation, cost-effectiveness, and adherence to excellent quality standards.
Additionally, Jubilant Ingrevia mentioned that they have a diverse portfolio of high-quality ingredients that are utilized in a wide range of industries. 
JOB DESCRIPTION
Accountabilities Scope of work
Organic Synthesis
To carry out literature search through Patents/journals / Scifinder etc.

To conduct lab expt as per assignment.

Knowledge of handling hazardous gasses like chlorine, Hydrogen, Nitrogen etc.

Practical knowledge of Chlorination, nitration, reduction & other basic reaction chemistry.

Plant trouble shooting of existing chlorinated products.

Knowledge of basic unit process like reaction, distillation, filtration, drying etc.

Understanding of Material safety data sheet.

Knowledge of BAAN/ ELN /SAP etc.

Indenting of R&D lab items.

Knowledge of ISO documentation.
Team work
Coordination and Cooperation with subordinates.

To adhere to safety rules and regulations and to implement

Good laboratory practices
Eligibility criteria:
Education Qualification – M.SC Organic chemistry
Industrial Experience & Location – 3-5 years, Greater Noida
Desirable experience:
Should have work experience of organic synthesis preferably chlorination, reduction, oxidation etc.

Understanding of GC / GCMS /HPLC chromatograms /LCMS / KF Apparatus etc.

 
Here are some interview questions and sample answers that can be expected for the Research & Development job role at Jubilant Ingrevia Limited:
Question: Can you describe your experience with organic synthesis and its applications in the field? Answer: I have a Master's degree in Organic Chemistry and have gained hands-on experience in organic synthesis through my academic projects and previous work experience. I have worked on various reactions such as chlorination, reduction, and oxidation to synthesize target compounds used in pharmaceutical and agrochemical industries. I understand the importance of reaction optimization, purification techniques, and yield improvement to ensure efficient synthesis.
Question: How do you typically conduct a literature search for patents, journals, and other relevant sources? Answer: When conducting a literature search, I start by utilizing databases such as Patents, journals, and Scifinder to gather relevant information on existing methods, reactions, and products related to my research area. I pay close attention to recent publications and patents to stay updated with the latest advancements. Additionally, I also collaborate with colleagues, attend conferences, and participate in scientific forums to enhance my knowledge and stay informed about new developments in the field.
Question: Can you explain your knowledge and experience in handling hazardous gasses like chlorine, hydrogen, and nitrogen? Answer: I have practical experience in handling hazardous gases such as chlorine, hydrogen, and nitrogen in a laboratory environment. I am well-versed in the safety protocols and precautions necessary while working with these gases, including the use of appropriate personal protective equipment, proper ventilation systems, and strict adherence to standard operating procedures. I understand the potential risks associated with these gases and have successfully implemented safety measures to mitigate any potential hazards.
Question: How familiar are you with basic unit processes like reaction, distillation, filtration, and drying? Answer: I have a strong understanding of basic unit processes used in organic synthesis, including reaction techniques, distillation, filtration, and drying. I am proficient in setting up and monitoring reactions, ensuring optimal conditions and yield. I have hands-on experience in using various laboratory equipment and techniques for distillation, filtration, and drying to purify and isolate target compounds. I understand the importance of maintaining quality standards and minimizing impurities during these processes.
Question: How do you ensure compliance with safety rules and regulations and implement good laboratory practices? Answer: Safety is a top priority in any laboratory setting. I am well-versed in safety rules and regulations and actively ensure compliance with them. I strictly follow standard operating procedures, utilize personal protective equipment, and maintain a clean and organized work environment. I actively participate in safety training programs and encourage a safety-first culture among my team members. Additionally, I implement good laboratory practices by accurately documenting experimental procedures, maintaining comprehensive records, and effectively managing laboratory resources.
Editor's Note: Jubilant Ingrevia MSc Organic Chemistry SRA Job – Apply Online. Subscribe to Rasayanika for the latest chemistry and Pharma job openings, follow us on Facebook and Telegram and subscribe to our youtube channel for the latest updates on chemistry and Pharma jobs and much more.