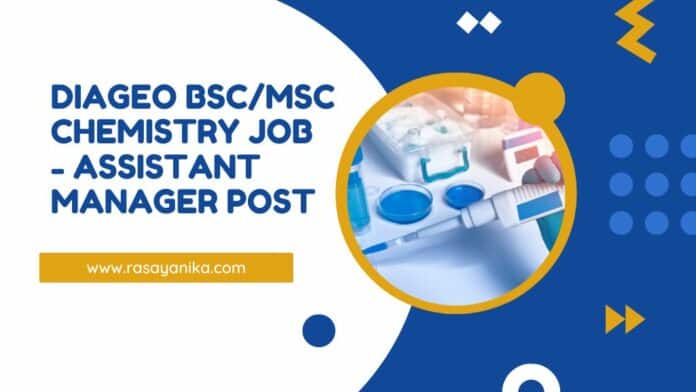 Diageo BSc/MSc Chemistry Job – Assistant Manager Post
Diageo hiring chemistry candidates. MSc Chemistry job opening 2023, chemistry job opening 2023, BSc Chemistry job opening 2023, Intrested and eligible candidates may check out all the details on the same below:
Job Title: Assistant Manager – Liquid Technologist
Eligbility Criteria – Bachelors/ Master degree in Alcohol Technology/Analytical Chemistry/Bio Chemistry/Food Technology. Additional certifications including Masters or PhD a plus. Engineering or Applied Science Degree or recognized technical equivalent
Experience – Minimum 1-2 years in Distillery/blending/Quality /Product Development in Food and beverages
Functional Requirements –
Product Development and Blending Skills and experience of the liquid blending at unit and lab scale
Understanding of product development / Liquid development process to develop winning products as per brief
Good sensory skill to develop beating liquids
Understanding of the ingredients and additives for liquid development
Always seeks to evolve as a liquid developer and masterfully creates industry leading liquid
Leverages deep consumer insights in liquid development work – catering the brief and scope to the 5Ws/ CCQ
Interprets ambiguous consumer and sensory learnings to deliver optimal liquid solutions within cost requirements
Builds relationships and holds the tension with supply (with skill, when necessary) to ensure concept / concept liquid execution
Adheres to best practice and governance procedures with robust handover and C2C processes; seeks to improve wow
Contact and interface with consumers to understand consumer technical insights with innovation / market research team
Opportunities for Growth
Expand skill through experience in various categories/ platforms/ initiatives
Broaden skill and network through cross-functional assignments and/or stretching business deliverables
Bring new technology and technical solutions into the business and into market
Grow strong capabilities in cross functional stakeholder management
Develop consumer insights and technical reasons to believe for concept development
Technical Leadership Expectations
Organizational Impact and Influence
Can effectively manage self and prioritize objectives to achieve best business results.
Independently designs and executes experiments to accomplish research/ project objectives within budget.
Understands the appropriate legal and regulatory requirements of the region, and seeks creative opportunities within regulations.
Crafts technologies so a meaningful consumer application can be derived.
Decision Making / Problem Solving
Incorporates the newest technologies and thinking to deliver smart, novel technical solutions.
Applies both analysis and intuition equally into work.
Consistently demonstrates excellent follow-through on project commitments.
Communication Skills
Cultivates a culture of openness and information sharing.
Can interpret and simplify complex technical issues into key messages and recommendations.
Effectively uses verbal and written communication skills to align and drive business results. Engages with peers and stakeholders in a way that inspires trust and confidence.
Independent Judgment
Responds quickly and effectively to changes in project needs and priorities.
Prioritizes the delivery of the business/ project goals above personal technical achievements – will comfortably seek out peer/ management support when needed to achieve results.
Is able to apply own and others' creativity to develop powerful solutions in ideation sessions.
Diageo BSc/MSc Chemistry Looking for latest chemistry and Pharma job openings, follow Rasayanika Facebook and Telegram and subscribe to our youtube channel for the latest updates on chemistry and Pharma jobs and much more