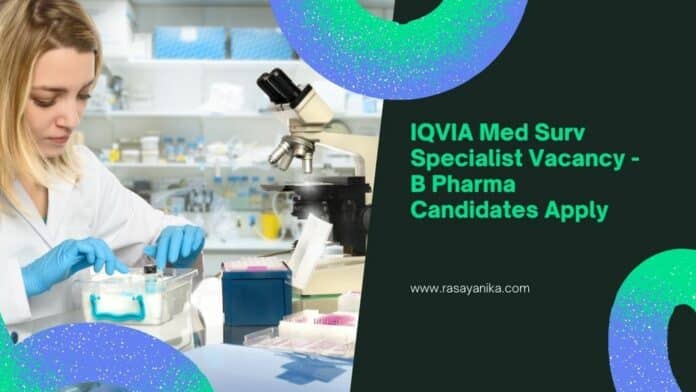 IQVIA Med Surv Specialist Vacancy – B Pharma Candidates Apply
Iqvia Med Surv Specialist vacancy. Med Surv Specialist vacancy. Pharma job opening 2023. Pharma job opening 2023, Pharmacy job. job opening 2023. B Pharma job opening 2023. Med Surv Specialist job opening 2023. Intrested and eligible candidates
Job Title: Med Surv Specialist 1
Primary Location: Thane, Maharashtra, India
Id: R1362897
Eligbility Criteria:
• Bachelor's Degree pharmacy
• health care ie medical (allopathy, homeopathy,ayurveda), or dentistry,
• 2 to 6 years relevant experience with a minimum 2.5 years of medical surveillance experience (req).
• r equivalent combination of education, training and experience.
• Strong technical ability to comprehend and integrate scientific data from a variety of sources. Strong communication skills, both written and verbal. Demonstrated computer skills, especially word processing and data management. Strong
analytical and organizational skills and attention to detail required.
• Ability to establish and maintain effective working relationships with coworkers, managers and clients
Essential Functions
• Monitor, and evaluate laboratory results on a daily basis from sponsor-designated central laboratory
• Evaluating and analyzing laboratory data at agreed frequency from sponsor-designated data management system/eDC platform
• Conduct preliminary review of laboratory results relative to established protocol-specific reference range
guidelines, using relevant clinical laboratory experience and compares current results with prior laboratory values to evaluate or note clinically significant increases/decreases and contacts the investigator site for pertinent additional clinical contact for distribution to project team
• Serve as liaison between the Medical Services Department and sponsor-designated laboratory and the IQVIA Project Team
• Maintain up-to-date laboratory knowledge via continuing education activities or attendance at medical seminars
• Based on clinical laboratory and monitoring experience, identify potentially significant trends or shifts in laboratory results and alerts IQVIA Medical Advisors
• Interact with project team to convey critical information that may impact study objectives
• Work with central laboratory staff to facilitate appropriate monitoring and reporting of subject laboratory results
• Assists Lead Medical Surveillance Specialist with project set-up activities
• Attends project team meetings, as needed
• Performs other related duties as assigned
Job Overview
Provide a wide range of medical surveillance support (including monitoring of clinical laboratory data for subjects in clinical studies and composing medical narratives and interfacing with investigator sites.)
IQVIA Med Surv Specialist Looking for latest chemistry and Pharma job openings, follow Rasayanika Facebook and Telegram and subscribe to our youtube channel for the latest updates on chemistry and Pharma jobs and much more