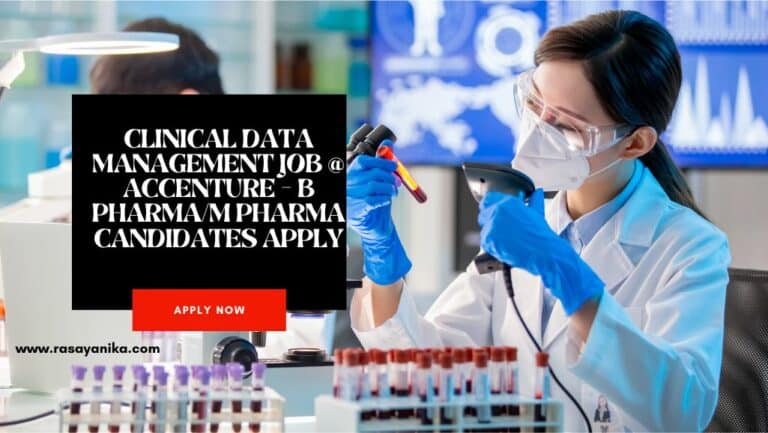 Clinical Data Management Job @ Accenture – B Pharma/M Pharma
Accenture announces job opening for pharma candidates. B Pharma job opening 2023. B Pharma job vacancy 2023. Pharma Data Maintenance – Clinical Data Management job opening 2022. job opening 2023. Candidates with a bachelor's degree in pharma may apply for the job opening at Accenture
Skill required: Data Maintenance – Clinical Data Management
Job Title: Pharmacovigilance Services Associate
Job Location: Chennai
Qualifications: BSc/Bachelor of Pharmacy/Master of Pharmacy
Years of Experience: 1 to 3 years
What would you do?
You will be aligned with our Pharmaceuticals Processes vertical and help us with the processes to collect, monitor, research, assess and evaluate information on the adverse effects of medication with a view to identifying new information about hazards associated with medicines and consequently, prevent harm to patients. It also deals with the reviewing and resolving of discrepancies identified by the system or through manual checks as per guidelines. Employees under this span can also be responsible for a number of activities related to the design, development, and maintenance of Clinical Database objects. You will be working as a part of the Data Maintenance team which is responsible for the completeness &
validity of the data in the clinical database. The team reviews and resolves discrepancies identified by the system or through manual checks as per guidelines, issues data clarification forms as and when required. You will have to perform discrepancy review & perform Self-Evident Corrections per DRP (as and when required). You will also solve for discrepancy management for SAE related discrepancies.
The Clinical Data Management team focuses on the collection, integration, and availability of data at appropriate quality and cost. The team is responsible for performing data management activities including discrepancy review, query generation, and resolution.
The team is also responsible for creating CRF Completion Guidelines (CCG) and SAE reconciliation guidelines. The role may require you to identify and raise protocol deviations in the database, perform edit check validation by creating test cases, write test scripts, and carry out database validation (UAT) against the specified CRF/ECRF. The role may also need expertise in managing clinical data management projects.
What are we looking for?
• Clinical Data Management
• Medical Coding
• Ability to handle disputes
• Ability to manage multiple stakeholders
Roles and Responsibilities
• In this role you are required to do analysis and solving of lower-complexity problems
• Your day to day interaction is with peers within Accenture before updating supervisors
• In this role you may have limited exposure with clients and/or Accenture management
• You will be given moderate level instruction on daily work tasks and detailed instructions on new assignments
• The decisions you make impact your own work and may impact the work of others
• You will be an individual contributor as a part of a team, with a focused scope of work
• Please note that this role may require you to work in rotational shifts
Clinical Data Management Job Looking for latest chemistry and Pharma job openings, follow Rasayanika Facebook and Telegram and subscribe to our youtube channel for the latest updates on chemistry and Pharma jobs and much more