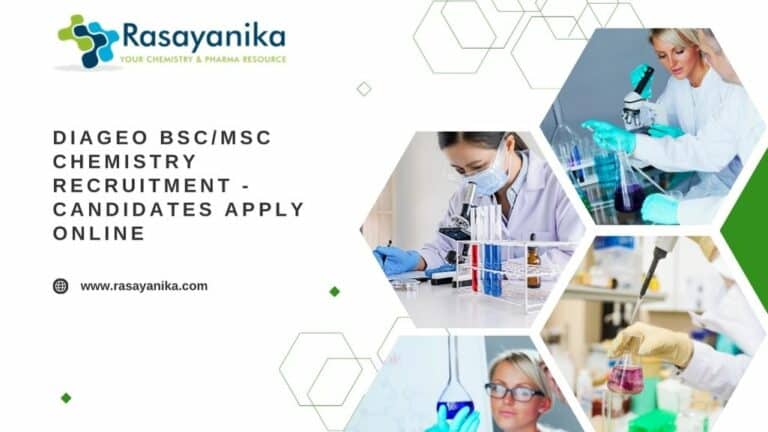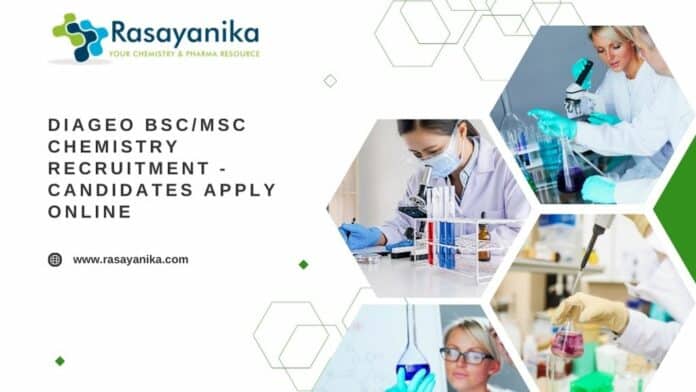 Diageo BSc/MSc Chemistry Recruitment – Candidates Apply Online
Dont forget to check out possible interview questions for this job below
Diageo hiring chemistry candidates. Assistant Manager job opening 2023. job opening 2023. MSc Chemistry job opening 2023. quality executive job opening 2023. chemistry job opening 2023. Assistant Manager job opening 2022. Intrested and eligible candidates may check out all the details
Job Title: Assistant Manager – Liquid Technologist
Location: Bangalore, India
Eligbility Criteria – Bachelors/ Master degree in Alcohol Technology/Analytical Chemistry/Bio Chemistry/Food Technology. Additional certifications including Masters or PhD a plus. Engineering or Applied Science Degree or recognized technical equivalent
Experience – Minimum 1-2 years in Distillery/blending/Quality /Product Development in Food and beverages
Functional Requirements –
Product Development and Blending Skills and experience of the liquid blending at unit and lab scale
Understanding of product development / Liquid development process to develop winning products as per brief
Good sensory skill to develop beating liquids
Understanding of the ingredients and additives for liquid development
Always seeks to evolve as a liquid developer and masterfully creates industry leading liquid
Leverages deep consumer insights in liquid development work – catering the brief and scope to the 5Ws/ CCQ
Interprets ambiguous consumer and sensory learnings to deliver optimal liquid solutions within cost requirements
Builds relationships and holds the tension with supply (with skill, when necessary) to ensure concept / concept liquid execution
Adheres to best practice and governance procedures with robust handover and C2C processes; seeks to improve wow
Contact and interface with consumers to understand consumer technical insights with innovation / market research team
Opportunities for Growth
Expand skill through experience in various categories/ platforms/ initiatives
Broaden skill and network through cross-functional assignments and/or stretching business deliverables
Bring new technology and technical solutions into the business and into market
Grow strong capabilities in cross functional stakeholder management
Develop consumer insights and technical reasons to believe for concept development
Technical Leadership Expectations
Organizational Impact and Influence
Can effectively manage self and prioritize objectives to achieve best business results.
Independently designs and executes experiments to accomplish research/ project objectives within budget.
Understands the appropriate legal and regulatory requirements of the region, and seeks creative opportunities within regulations.
Crafts technologies so a meaningful consumer application can be derived.
Decision Making / Problem Solving
Incorporates the newest technologies and thinking to deliver smart, novel technical solutions.
Applies both analysis and intuition equally into work.
Consistently demonstrates excellent follow-through on project commitments.
Communication Skills
Cultivates a culture of openness and information sharing.
Can interpret and simplify complex technical issues into key messages and recommendations.
Effectively uses verbal and written communication skills to align and drive business results. Engages with peers and stakeholders in a way that inspires trust and confidence.
Independent Judgment
Responds quickly and effectively to changes in project needs and priorities.
Prioritizes the delivery of the business/ project goals above personal technical achievements – will comfortably seek out peer/ management support when needed to achieve results.
Is able to apply own and others' creativity to develop powerful solutions in ideation sessions.
Top Interview Questions and answers for the above job role: 
What experience do you have in product development and blending in the food and beverage industry?
Answer: I have been working in the food and beverage industry for the past 2 years, with experience in product development, blending, and quality control. I have worked with various ingredients and additives to develop winning products that meet the brief.
How do you ensure adherence to best practices and governance procedures in the liquid development process?
Answer: To ensure adherence to best practices and governance procedures, I follow robust handover and C2C processes. I seek to improve the process continually and keep up with the latest developments in the industry.
Can you give an example of how you leveraged deep consumer insights in your liquid development work?
Answer: Yes, in a previous role, I worked on a project where we used consumer insights to develop a new product line of flavored spirits. We conducted focus group discussions and surveys to identify the most preferred flavors among our target audience. We used this information to develop a range of products that were well received in the market.
How do you prioritize objectives to achieve the best business results?
Answer: I prioritize objectives by first understanding the business's overall goals and identifying how my role can contribute to achieving those goals. I then prioritize my objectives based on their impact on the business and how they align with the company's vision and mission.
How do you incorporate the newest technologies and thinking into your work to deliver smart, novel technical solutions?
Answer: I keep up to date with the latest technologies and trends in the industry by attending conferences, workshops, and webinars. I also collaborate with colleagues and other professionals in the field to share ideas and knowledge
Editors Note: Diageo BSc/MSc Chemistry Recruitment 2023, Diageo BSc/MSc Chemistry Recruitment Subscribe to Rasayanika for the latest chemistry and Pharma job openings, follow us on Facebook and Telegram and subscribe to our youtube channel for the latest updates on chemistry and Pharma jobs and much more.