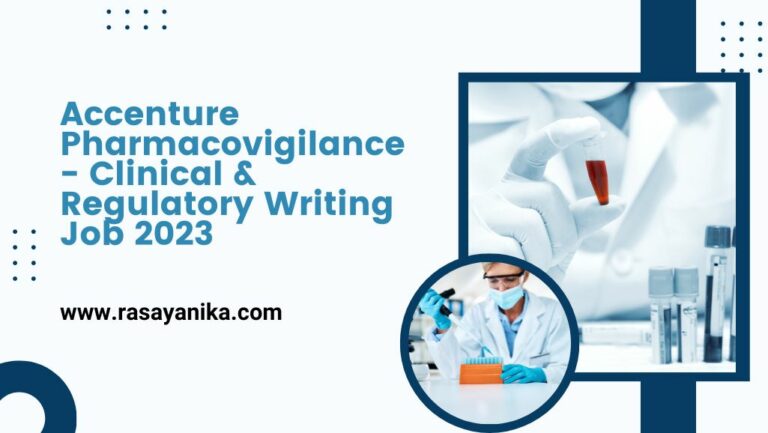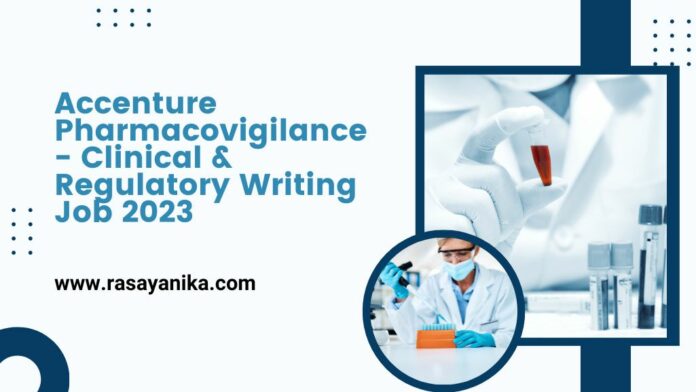 Accenture Pharma Pharmacovigilance – Clinical & Regulatory Job
Accenture announces job opening for pharma candidates. B Pharma job opening 2023. B Pharma job vacancy 2023. Pharma Pharmacovigilance – Clinical & Regulatory Writing job opening 2022. job opening 2023. Candidates with a bachelor's degree in pharma may apply for the job opening at Accenture
Dont forget to check out possible interview questions for this job below
Skill required: Pharmacovigilance – Clinical & Regulatory Writing
Job Title: Management Level – Associate
Job Location: Chennai
Qualifications: Bachelor of Pharmacy
Years of Experience: 1 to 3 years
What would you do?
You will be aligned with our Pharmaceuticals Processes vertical and help us with the processes to collect, monitor, research, assess and evaluate information on the adverse effects of medication with a view to identifying new information about hazards associated with medicines and consequently, prevent harm to patients.
It also deals with the reviewing and resolving of discrepancies identified by the system or through manual checks as per guidelines. Employees under this span can also be responsible for a number of activities related to the design, development, and maintenance of Clinical Database objects.
You will be part of a dynamic Pharmacovigilance team with array of capabilities ranging from detection, assessment, understanding and prevention of adverse effects or any other medicine/vaccine related problem following Good Pharmacovigilance Practice (GVP) per client SOPs and applicable global regulatory requirements (Individual Case Safety Reports) to working on various aspects of Aggregate reports such as planning, authoring, reviewing and publishing of PBRER, PSUR, DSUR, PADER, Addendum to clinical overview (AdCO), Risk Management Plan (RMP), Signal detection and validation reports (SDVR), Cosmetovigilance Safety Reports (CoSR).
The Pharmacovigilance team is also responsible for authoring and reviewing clinical documents such Protocols and amendment, Investigator Brochure, Clinical Study Reports (CSR), Synoptic/Abbreviated CSR, Safety Narratives, Clinical Overview/abbreviated Clinical Overview.
In this role, you will be expected to produce variety of clinical documents throughout the lifecycle of a (potential) treatment, starting with describing and reporting data from clinical trials, through to preparing regulatory submission documents including post approval reports.
What are we looking for?
• Ability to meet deadlines
• Ability to work well in a team
• Adaptable and flexible
Roles and Responsibilities
• In this role you are required to solve routine problems, largely through precedent and referral to general guidelines
• Your expected interactions are within your own team and direct supervisor
• You will be provided detailed to moderate level of instruction on daily work tasks and detailed instruction on new assignments
• The decisions that you make would impact your own work
• You will be an individual contributor as a part of a team, with a predetermined, focused scope of work
Interview Question & Answers for the above job role: 
What experience do you have in Pharmacovigilance, and how do you stay updated on regulatory requirements and guidelines?
Answer: I have a Bachelor of Pharmacy degree and have worked in the Pharmacovigilance field for two years. I stay updated on regulatory requirements and guidelines through regular training, attending conferences, and reading relevant publications.
2. What specific activities have you been involved in regarding the design, development, and maintenance of Clinical Database objects?
Answer: As part of my role, I have been involved in creating and updating various clinical database objects such as Case Report Forms, Study Designs, and Database Structures. I have also contributed to the development of data management plans and data validation plans.
3. Can you explain the different types of Aggregate reports that you have worked on, and your role in their planning, authoring, reviewing, and publishing?
Answer: I have experience working on various Aggregate reports, such as PBRER, PSUR, DSUR, and RMP. My role has involved planning and coordinating the reports, authoring sections of the reports, reviewing reports authored by others, and ensuring their timely publishing.
4. What clinical documents have you authored and reviewed, and how do you ensure that they are accurate and adhere to regulatory guidelines?
Answer: I have authored and reviewed various clinical documents, such as Protocols, Investigator Brochures, Clinical Study Reports, Safety Narratives, and Clinical Overviews. To ensure their accuracy and adherence to regulatory guidelines, I work closely with the study team, follow standard operating procedures, and conduct thorough quality checks.
5. How do you prioritize and manage your workload, especially when dealing with multiple deadlines and competing priorities?
Answer: I prioritize my workload by creating a to-do list, assessing the urgency and importance of each task, and setting realistic timelines for completion. I communicate regularly with my team and supervisor to ensure that expectations are clear and deadlines are met. When dealing with competing priorities, I assess the impact of each task on the overall project timeline and prioritize accordingly.
Editors Note: Accenture Pharma Pharmacovigilance job, Accenture Pharma Pharmacovigilance Subscribe to Rasayanika for the latest chemistry and Pharma job openings, follow us on Facebook and Telegram and subscribe to our youtube channel for the latest updates on chemistry and Pharma jobs and much more.