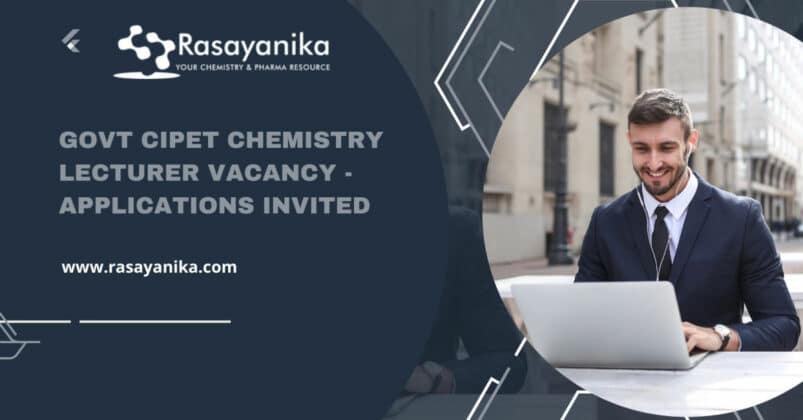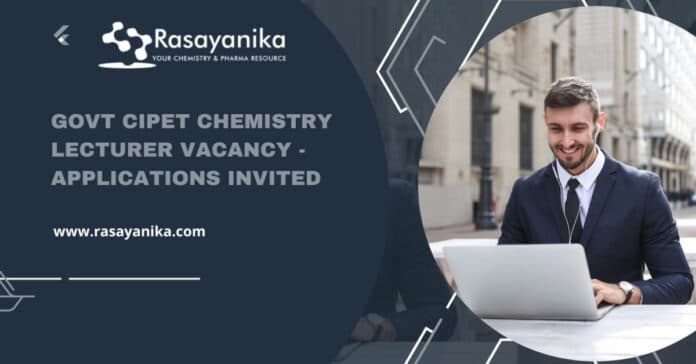 Govt CIPET Chemistry Lecturer Vacancy – Applications Invited
Govt CIPET Lecturer (Chemistry) Recruitment, Attend Walk-In. Government jobs. Chemistry jobs. MSc chemistry job. MSc Chemistry job. Central Institute of Petrochemicals Engineering & Technology Chemistry jobs. Check details on the same below
Job Title: Lecturer (Chemistry)
Eligibility Criteria:
Full-time first-class Master's degree in relevant discipline with first class or equivalent at full time Bachelor's or Master's level
Experience:
At least 1-year teaching experience in Polytechnic / Engg. College. Preference shall be given to Master's Degree holder with First Class. OR
Minimum Qualifications:
Full-time first class Master's degree in relevant discipline with first class or equivalent at full time Bachelor's or Master's level Ph.D in relevant Discipline.
Remuneration Range Rs. 30,000 /- to Rs. 35,000 /- pm
Age Limit Must be below 65 years
Maximum Term of Engagement on contract 1 Year (Renewable up to 3 years based on performance and requirement)
General Instructions / Terms & Conditions for Applying For Positions On Contractual Engagement For Limited or Fixed Period In CIPET
1. The application should be submitted only in prescribed application form for advertised positions for engagement on contract for limited or fixed period in CIPET, which can be downloaded from the
CIPET website
www.cipet.gov.in
2. These positions are purely on contract basis, renewable as per the applicable terms and conditions subject to performance and recommendations thereto by the concerned CIPET Centre Head provided the maximum term of such engagement on contract shall in no case exceed three years under any circumstances.
3. The outer cover should be super scribed with the name of the position applied for.
4. Incomplete / unsigned applications and applications without required enclosures will summarily be rejected.
5. The institute reserves the right and call to participate in the selection process only such candidates who have been recommended by the Screening Committee. Mere fulfilling the eligibility conditions will not automatically entitle a candidate to be called for participating in the election process. Personal, academic, professional and all other details of candidates, basis for short listing, bench mark by the Screening Committee, all reports of selection committee shall be maintained in strict confidence and will not be revealed to anyone under whatsoever circumstances.
6. No enquires shall be entertained from candidates regarding postal delays, conduct and result of selection process and reasons for not being called for participating in the selection process. No correspondence shall be entertained from unsuccessful candidates.
7. Capability to maintain effective working relationship in a multicultural, multi-ethnic environment is a mandatory requirement.
8. Canvassing in any form and or bringing in any influence, political or otherwise, will be treated as a disqualification on the part of applicant's candidature.
9. Age: Must be below 65 years.
10. List of enclosures: s ( Not applicable in case application is for contractual engagement for limited or fixed period or Retired / Ex-CIPET employee (s):
I. 10th Std. certificate mentioning Date of Birth as proof of age.
II. Copies of educational qualifications
III. Copies of previous employment letters including salary slip in support of last salary drawn at each of the previous employment as proof of experience claimed.
IV. Bond details with present employer, if any
V. Any one Identity Card with photograph (E.g. Voter ID/ Driving License / PAN / AADHAR Car etc.)
VI. Copy of salary certificate from the present employer (if applicable)
11. It is mandatory to send self attested photocopies of each one of the documents enlisted above along with the application form.
12. Candidates are required to process a valid email ID, which is to be entered in the application form so that intimation regarding call letters inviting the shortlisted candidate for participating in the selection process can be sent.
13. No application fee is applicable for applying for any of the advertised positions.
14. Good working knowledge of computers is desirable.
15.Application complete in all respect and strictly in the prescribed application format along with necessary enclosures, super-scribing the contractual position applied for on the top of the envelope, should be sent by registered / speed post to "The Director & Head, CIPET:CSTS, Hajipur Industrial Area, Hajipur – 844 102".
View Full Details of the Vacancy
Last Date To Apply: 28-10-2022
Editors Note: Govt CIPET Chemistry Lecturer Subscribe to Rasayanika for the latest chemistry and Pharma job openings, follow us on Facebook and Telegram and subscribe to our youtube channel for the latest updates on chemistry and Pharma jobs and much more.