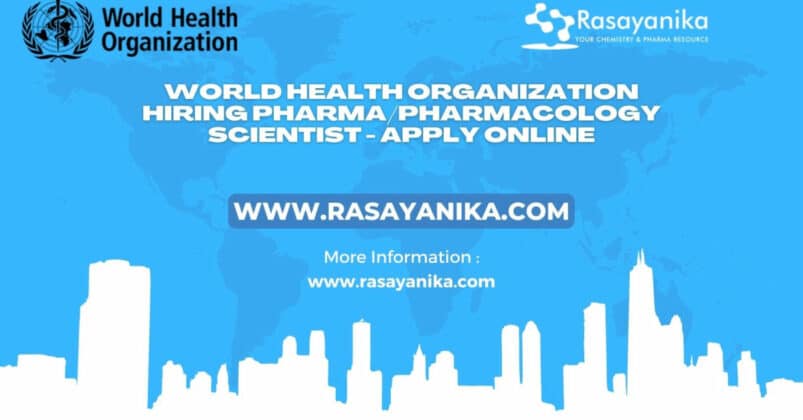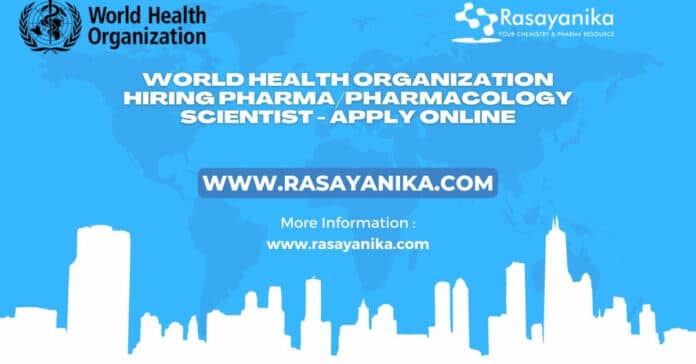 WHO Hiring Pharma/Pharmacology Scientist – Apply Online
WHO hiring Pharmacy and Pharmacology candidates for the post of vaccine regulation scientist. Scientist job opening at WHO. Pharmacology job opening 2022, M Pharmacy job opening at WHO. Intrested and eligible candidates may check out all the details on the same below:
Job Title: Scientist (Vaccine Regulation, Safety & Management) – (2208866)
Primary Location: India-New Delhi
Organization: SE/IVD Immunization and Vaccine Development
Schedule: Full-time
Eligbility Criteria: Advanced university degree in pharmacology / public-health / medicine / pharmacy or related discipline
Desirable:
Experience
Essential: At least ten years of relevant experience including five years of international experience in vaccine manufacturing or vaccine regulation or vaccine quality assurance.
Desirable: Experience in vaccine pharmacovigilance. Experience of working in policy development and in managing cross-country and multi-sectoral public health interventions, preferably in developing countries.
REMUNERATION
WHO salaries for staff in the Professional category are calculated in US dollars. The remuneration for the above position comprises an annual base salary starting at 74,55,309 INR (subject to mandatory deductions for pension contributions and health insurance, as applicable), a variable post adjustment, which reflects the cost of living in a particular duty station, and currently amounts to Rs 2,21,774.58 per
month for the duty station indicated above. Other benefits include 30 days of annual leave, allowances for dependent family members, home leave, and an education grant for dependent children.
Skills
Extensive knowledge of policies, procedures and practices in vaccine regulation production, quality control, and pharmacovigilance is essential.
Extensive knowledge and skills in analysis, proposal development and project management.
Ability to plan and execute training at national and international levels.
Demonstrated managerial skill and ability to work in a multi-cultural environment and to establish network of national and international is necessary.
Ability to write concise reports, use computers and other modern office technologies effectively and appropriately.
Communication skills needed to negotiate with national authorities and other agencies.
Objective of the Program
To contribute to the prevention and control of vaccine preventable diseases (VPD), with special focus on improving routine immunization coverage, measles and rubella elimination, maintaining elimination of polio as well as maternal and neonatal tetanus and introduction of new vaccines, including COVID-19 vaccine. To assist Member countries to establish sustainable systems that ensure good access to high quality vaccines at affordable prices including under-utilized or new vaccines of public health importance, including COVID-19 vaccines. To promote vaccine regulation and pharmacovigilance, quality assurance and quality monitoring systems.
Job Responsibilities:
Under the overall guidance of Director, CDS and direct supervision of Coordinator (COVAX, IVD), the incumbent will carry out the following duties:
Collaborate with HQ for the development and use of guidelines on vaccine regulation, quality control/quality assurance of vaccines, Good Manufacturing Practices and laboratory quality control of vaccines e.g. Licensing and Marketing Authorization (MA),
Emergency Use Authorization (EUA), Good Regulatory Practices(GRPs), Quality
Management Systems and Quality Risks Management;
Collaborate with WHO Country offices and national counterparts in countries to plan assessment, identify gaps, prepare multi-year Institutional Development Plan (IDP)for the national regulatory authorities (NRAs), and to provide technical support and capacity building activities relevant to country needs and priorities outlined in the IDP; coordinate with other agencies in monitoring access to assured quality vaccines through development of indicators and tools, collection of reliable information and analysis;
Develop innovative plans and programme approaches to guide Member countries to ensure that immunization programmes provide sufficient quantity of vaccines of assured quality from the time of production to end use, including technical support for vaccine procurement, safe injection practices, use of Auto Disable (AD)syringes, sharps waste management, and development of national vaccination policies;
Establish and maintain collaboration with outside partners and stakeholders including UN Organizations, Gavi, and other multi-and bi-lateral organizations, civil society and professional associations that are involved in improving access to assured quality vaccines in countries in South-East Asia Region;
Promote dissemination and use of guidelines and tools to implement capacity building programme for NRAs to regulate safety, quality and efficacy of vaccines;
Support Vaccine Supply and Quality, including overall guidance on technical policy and programmes ensuring vaccine quality, and surveillance for Adverse Events Following Immunization (AEFI);
Develop materials for Regional and country advocacy and participate in global, regional and country events related to access of vaccines of assured quality;
Develop in collaboration with other SEARO Departments/Technical Units, proposal to submit to donors to support NRA strengthening programme and transfer of technology for Research and Development;
Contribute in the financial planning of and, fundraising for the project's activities and provide strategic and technical inputs into the regional strategy and activities plans and to manage workplan for NRA strengthening activities in South East Asia.
Other tasks as assigned by the supervisors
Submit an assignment report after completion of the assignment (mandatory)
Last Date To Apply: Nov 4, 2022, 4:29:00 AM
Editors Note: WHO Hiring Pharma/Pharmacology job, WHO Hiring Pharma/Pharmacology WHO Hiring Pharma/Pharmacology Subscribe to Rasayanika for the latest chemistry and Pharma job openings, follow us on Facebook and Telegram and subscribe to our youtube channel for the latest updates on chemistry and Pharma jobs and much more.