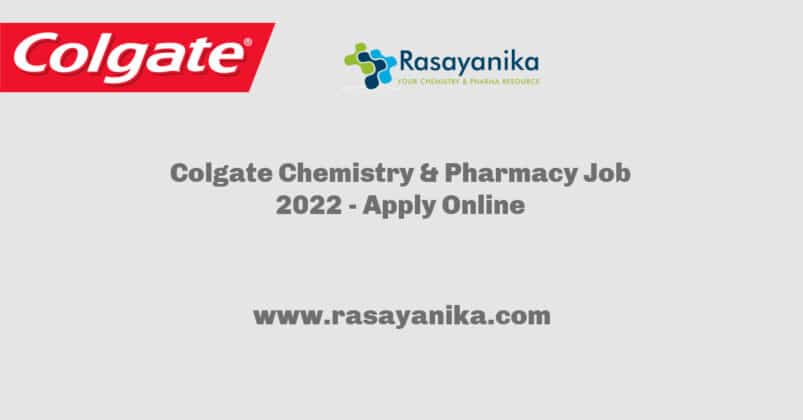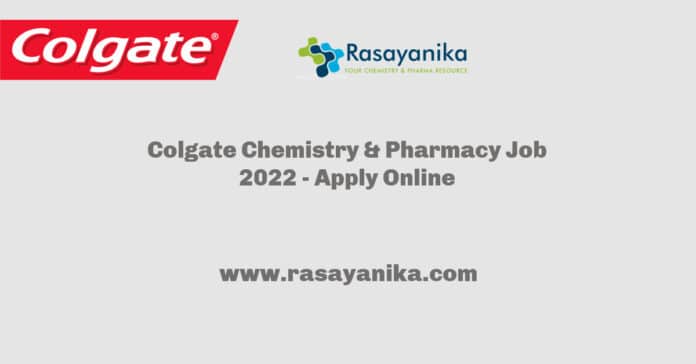 Colgate Recruitment Chemistry & Pharmacy Job – Apply Online
Colgate hiring Associate Scientist. Pharmacy job opening 2022. Pharmacy Associate – Regulatory Affairs job opening 2022. MSc Chemistry job opening 2022. Chemistry Associate scientist vacancy. Candidates with masters degree in chemistry may apply for the job vacancy at Colgate
Job Title: Associate / Sr. Associate Scientist – Analytical Science
Required (Education, Knowledge, skills, etc):
M.Sc.(Analytical Science, Inorganic/Organic Chemistry or similar qualification)/ Masters in Pharmacy
Worked as an analytical scientist with a large multinational pharma / FMCH organization with experience in supporting of stability testing and global stakeholders seamlessly
Having minimum 7 years of experience, in which 3 to 5 yrs. of experience must be in cGMP Stability testing.
Support analytical method validation, forced degradation studies, prepare method validation documentation and report generation
Maintaining knowledge of current testing methods as applicable to stability studies,
knowledge of ICH/ WHO/ FDA guidelines and cGMP requirements, ALCOA + principles for stability testing is a must.
Thorough knowledge of eLN and LIMS will be an added advantage
Technology Fundamental, Technology Innovation, Product Safety, Regulatory and
Quality, Execution Excellence, Analysis & Decision Making, Problem Solving and Business Presentation skills
Preferred Qualifications:
M.Sc. (Analytical Chemistry, Inorganic /Organic Chemistry
or similar qualification) or Masters in Pharmacy
Functional Linkages
Internal: Micro, PD/I&S, Technical services, Supply chain, manufacturing units and suppliers.
External: Global R&D, Manufacturing sites, analytical group & Quality Team.
Operational Excellence
Demonstrate mastery of knowledge in the identified scientific field. Stay abreast of the latest technical developments and breakthroughs by drawing on industry contacts, scientific literature, conferences, and patent filings. Build on technical expertise, expanding it in complementary directions. Use technical expertise and creativity to proactively identify potential problems and address them using appropriate resources.
Share internal and external technical knowledge discoveries, ideas, and vision with colleagues through documentation, presentations, publications, and patents.
Drive initiatives to simplify and improve technical processes.
Translate technical attributes into simple, Utilize statistical approaches to experimental design to maximize learning with the least amount of time and with minimum resources.
Be 100% compliant to all Product Safety, Quality and Regulatory requirements to operate with cost effectiveness and speed. Practice good documentation practices and ALCOA + principles.
Building Future Ready Agile Organization
Should handle assigned business programs independently with minimum supervision.
Should be able to give & seek feedback on an on-going basis by leveraging Colgate's coaching program and initiatives.
Job Summary:
They are looking for Associate / Sr. Associate Scientist – Analytical Sciences to join our ambitious team at our IGTeD center. The incumbent in this role will be responsible for end to end planning & implementation of planned analytical science initiatives in partnership with local & global analytical & product development teams for Oral care categories for India GTeD while being compliant to defined safety, quality & regulatory norms.
Main Responsibilities:
Analytical Sciences
Coordinate with global R&D sites to provide end to end support for stability testing in partnership with global and local analytical and product development teams.
Perform testing and report the results of routine analysis, new product formats using Analytical Instrumentation in a cGMP environment.
Transfer analytical methods and new technologies in consultation with the operational manager and provide analytical support and training for troubleshooting samples.
Proficient in the use of key analytical equipment's – HPLC, Ion Chromatography, Viscometer, AAS, ICP-OES, Particle Size analyzer, other laboratory equipment
Develop, optimize and validate analytical methods. Solve problems and apply troubleshooting to analytical instrumentation. Maintain, calibrate, qualify and troubleshoot instrumentation. Maintain accurate, up to date and concise laboratory records.
Hands on experience in working with Ion chromatography will be an added advantage.
Editors Note: Colgate Recruitment Chemistry Colgate Chemistry & Pharmacy Subscribe to Rasayanika for the latest chemistry and Pharma job openings, follow us on Facebook and Telegram and subscribe to our youtube channel for the latest updates on chemistry and Pharma jobs and much more.