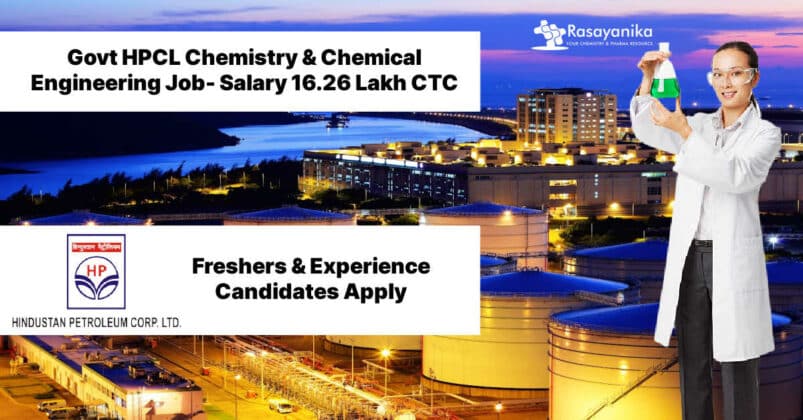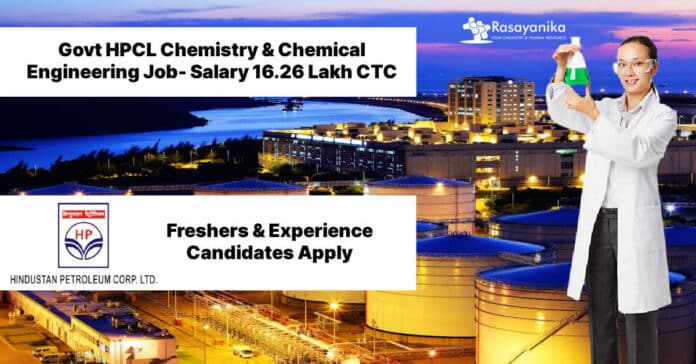 HPCL Chemistry & Chemical Engineering Job – Freshers & Experience
Chemical engineering and chemistry job. Freshers and experienced job.HPCL invites talented & motivated candidates looking for exciting career opportunities in energy sector and willing to contribute towards India's energy future by being part of our growth journey. Interested and eligible candidates can apply for the following vacancies online.
Job Title: Chemical Engineer
Post Code: E2
No.of posts: 7
Max Age: 25
Eligibility Criteria: 4 -years of full-time regular engineering course in Chemical Engineering
Experience: Freshers
Core Discipline: Chemical
Eligible Degree as mentioned on Degree Certificate: Chemical, Petrochemical, Petroleum Refining & Petrochemical, Petroleum Refining
______________________________________________________________________
Job Title: Quality Control Officer
Post Code: E2
No.of posts: 27
Age: 27
Eligibility Criteria: 2 Years full-time regular M.Sc. In Chemistry (Analytical / Physical / Organic/Inorganic )
Experience:
Minimum three (3) years post qualification relevant experience in a chemical testing
laboratory on testing/analysis/R&D/Quality Control etc. Relevant Experience in the testing of Petroleum Products will be an added advantage. (Fuel, Lube, Grease etc.) In addition to the above, the candidate should be conversant with relevant IS, ASTM, ISO and IP test methods and product standards.
Roles & Responsibilities:
Stationary Lab (job responsibilities will include but are not limited to):
1. Officer shall have to perform various scientific analyses as per prevalent national/
international standards to evaluate the quality of petroleum raw material, in Process material, and finished goods and ensure compliance to the established standards in a Quality Control Lab. Officers also would be required to maintain the Laboratory's Quality System, handle laboratory administrative duties, carry out activities in petroleum QC laboratories, and also required to promote good customer relations with stakeholders.
2. Indicative list of jobs including but not limited to the following: –
a) Knowledge on BIS/IP/ISO/ASTM test methods and specifications for Testing of Petroleum
and Petroleum Product and Testing of Aviation/Non–Aviation Petroleum Fuels/ Bio-fuels/
lubricants (Finished/used)/ greases & additives sample as per specification requirements and Lubes packaging material testing etc. as per national and international test methods and specifications and release of test reports.
b) Furnishing quality certificates of finished products & raw materials.
c) Ensuring function of manual and automatic laboratory equipment, maintenance of records of preventive and breakdown maintenance, and processing of their AMCs.
d) Verification/ calibration of Hydrometer/ Thermometers/ Pressure- gauges, Viscometers
etc., preparation of certificates and calibration of laboratory equipment (internal/ external) and maintaining calibration schedule.
e) Preparing laboratory reagents for chemical testing as per test methods.
f) Keeping of inventory stock cards of laboratory equipment, chemical, and glassware in the lab and their replenishment from time to time based on minimum inventory level (MIL).
g) Maintenance of excellent level of safety, maintenance & housekeeping at all times on static and mobile laboratories.
SHORTLISTING & SELECTION PROCESS
a. The selection process may comprise of various shortlisting and selection tools like Computer Based Test, Group Task, Personal Interview, Moot court (only for Law Officers) etc.
b. All the candidates claiming to fulfil all the eligibility criteria will be called for Computer Based Test.
c. Computer Based Test will be of objective questions with no negative marking and will comprise of two parts.
I. General Aptitude consisting of English Language, Quantitative Aptitude Test & Intellectual
Potential test (Logical Reasoning and Data Interpretation).
II. Technical / Professional Knowledge comprising of questions related to Qualifying degree / Educational background required for the applied position.
d. Candidates qualifying in the Computer Based Test in order of merit & predetermined ratio will be advised
to upload the supporting documents for certain positions.
e. Basis scrutiny of the application, uploaded documents (if applicable) and category-wise and discipline-wise merit list in Computer Based Test, eligible candidates will be called for Group Task & Personal Interview.
f. Candidates must secure minimum qualifying marks in each of the stages i.e. Computer Based Test, Group Task, and Personal Interview to be considered for further selection process.
g. A category & discipline-wise merit list will be drawn for all the candidates who qualify in all the stages. Computer Based Test + Group Task + Moot Court (only for Law Officers) + Personal Interviews + Work Experience (only for QC/Blending /Law/Experienced Electrical) & offer of appointment would be as per the category & discipline-wise vacancies available.
Salary Grade: E2
Pay Scale: ₹50000 – ₹160000
CTC: 16.26 lakhs
PLACEMENT / POSTING
Posting/ Assignment can be in any SBU/Division/Department of the Corporation at any place in the country and the services thereafter will be transferable as per the requirement of the Corporation. These positions may involve working in shift duties. Selected candidates may also be posted/assigned to any of the subsidiaries/Joint Ventures or any department of the Government of India in India or abroad.
APPLICATION PROCESS
a. Online Application will be accepted from 1200 hrs on 23rd June 2022 till 2359 hrs on 22nd July 2022
b. Candidates are requested to apply online only on www.hindustanpetroleum.com Careers → Current Openings, after reading a detailed advertisement. No other mean / mode of the application shall be accepted.
c. Applications with incomplete/wrong particulars or not in the prescribed format will not be considered.
d. The email id and mobile number provided in online application should remain valid for at least one year. Candidates must use proper e-mail ids created in their names. Applications with pseudo / fake email ids will attract appropriate action under the law.
e. All the details given in the online form will be treated as final and no changes will be entertained.
f. In the event of non-submission of completed application along with application fees (wherever applicable) from candidates for reasons whatsoever, his / her candidature will stand canceled and no further communication/consideration on the same will be entertained.
g. Candidates will be required to submit documentary evidence of eligibility during the shortlisting/selection process within stipulated time as advised by HPCL. Any mismatch in name, qualification, other criteria of documents from the data given in the application form will lead to disqualification at any stage
Last date of online application: 22nd July 2022
Queries can be emailed at [email protected] keeping the subject of the mail formatted as "Position Name –Application Number".
Editors Note: HPCL Chemistry & Chemical job, HPCL Chemistry & Chemical engg job, HPCL Chemistry & Chemical Subscribe to Rasayanika for the latest chemistry and Pharma job openings, follow us on Facebook and Telegram and subscribe to our youtube channel for the latest updates on chemistry and Pharma jobs and much more.