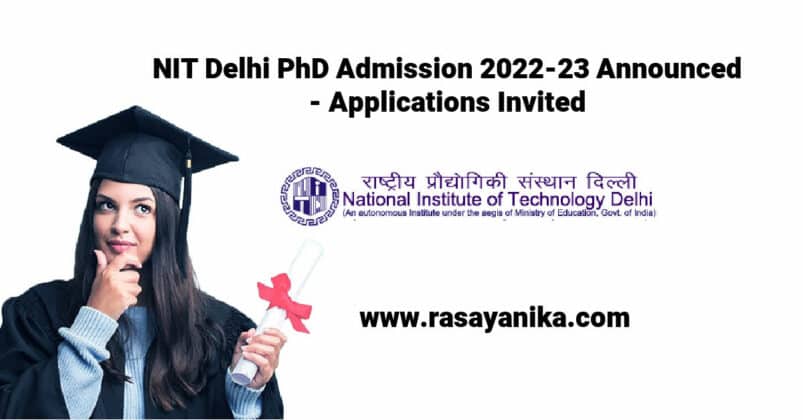 NIT Delhi PhD Admission 2022-23 Announced – Applications Invited
Online Applications are invited for admission to Ph.D. programme at NIT Delhi for the AY 2022-2023 in the respective Departments for Autumn Semester 2022-2023. NIT Delhi PhD admission 2022-23. PhD admission program announced. PhD program 2022-23. Intrested and eligible candidates may check out all the details on the same below:
Department: Applied Sciences(AS)
Area of Research: Chemistry (CY)
Broad Area of Research: Design and synthesis of new porous materials with a metal skeleton and their application in catalysis, chemical technology, host-guest chemistry (molecular adsorption and molecular recognition), electrical, optical, and magnetic properties.
Eligibility Criteria:
Ph. D in Sciences:
Minimum Requirement: Master's Degree in appropriate branch of sciences with a minimum of 60% marks or equivalent CGPA at Master's and/or Bachelor's Levels.
Additional Requirement: Candidate must have GATE score/CSIR/UGC/NBHM award/NBHM award/fellowship for full-time Ph.D
Part-time applicants will be eligible under following categories:
Candidates from organizations that have MOU with NIT Delhi.
 Organizations with R & D labs of National Repute.
 Regular faculty/ Teaching cum Research Fellow or Scientists from Educational Institutions, R & D organizations, and Govt. Department/ Govt. Undertaking provided that the applicant possesses the minimum entry qualifications for the degree as given in R 3.1 (Ph.D. ordinance 2021); the applicant is in a position to complete mandatory course requirements along with regular counterparts; the applicant proves to the satisfaction of NIT Delhi that his official duties permit him to devote sufficient time to research.
Project staff(s)/ student(s) under projects sponsored by DST/UGC/any government agency, industry or centers established from grant in aid from the government or international agencies at NIT Delhi may be given administrative clearance to seek admission on full-time/part time basis subject to recommendations of the concerned Principal Investigator of the said Project and approval of Competent Authority. However, he must fulfill the eligibility criteria as per R 3.1. (Ph.D. ordinance 2021) No relaxation will be given in the screening test.
Important Points:
To qualify/ appear the Ph.D. Entrance Examination is not mandatory for the candidates applying for Ph.D. (Part-Time)/Ph.D. (Self-financed)/ PhD (Sponsored) category.
 Minimum work experience of 2 years for a Ph.D. (Part-Time) is not mandatory.
 Ph.D. course work for Executives (having work experience of 15 years or more in Government/ State Government/ Autonomous Bodies/ Reputed Companies) may be conducted through Project Work/ Seminar.
Candidates admitted to PhD (Self Financed) may be converted to PhD (Institute Fellowship) if they Qualify NET/ GATE examination of the concerned discipline before the Comprehensive Examination of the Ph.D. program subject to the availability of the Institute Fellowship/ Scholarship.
Important Notes:
1. Merely fulfilling the above minimum eligibility criteria does not ensure the selection or even
eligibility for the entrance test/ interview or both.
2. Regarding selection, the decision of the Competent Authority will be treated as final one
Procedure for Online Application/ How to Apply:
1. Students have to fill up the online Google Form within the stipulated time mentioned. Late submissions will not be entertained, under any circumstances.
2. Link for the Online Form: https://forms.gle/wzAqBpdb4tto2oSc6
3. During filling up the online Google Form, candidates are advised to read up all the requisite details very carefully, and correctly and upload all the relevant documents (self-attested pdf format) in the appropriate sections.
4. Candidates are advised to visit the institute website: www.nitdelhi.ac.in for frequent updates.
5. A candidate interested in applying in more than one department/ category shall be required to submit separate application forms along with appropriate fees and documents.
6. Application Fee:
(a) UR/ OBC/ EWS Candidates: Rs. 1000/-
(b) SC/ ST/ PwD Candidates : Rs 500/-
(c) Women Candidates (Indian only) are exempted from the application fee.
(d) Foreign Nationals: USD 50
7. The application fee can be paid online through the following link: https://rzp.io/l/s25QiCay1R
8. Candidates should mention Transaction ID after paying the fee in the appropriate section of the application form. Women candidates (Indian only) should mention "NA" in the column.
9. Sponsored candidates should produce NOC/ Sponsorship Letter from his/her institute at the time of Interview/ Document Verification.
10. Incomplete, improper, and wrong applications will not be considered for short-listing
Applicants have to apply online (via Google Form), as mentioned in the "Procedure for Online Application/ How to Apply" Section. The cut-off date for the candidates applying for the Institute Fellowship is July 10, 2022. However, the candidates with their own fellowship (CSIR/ UGC – JRF/ SRF/ INSPIRE/ Project fellows, etc.) may apply throughout the year on Rolling Basis
Admission Process:
1. Applications for Ph.D. programs are invited from Indian and foreign nationals in the prescribed format (via online Google Form). Applications, as received, will be scrutinized at the departmental/ central level by inviting two DPGC nominees. After scrutiny, a list of all eligible applicants will be uploaded on the institute's website.
2. All eligible applicants will have to appear in one objective type written test of PG level as below:
i. Paper I: Area of Research/Specialization: 30 marks, 60 minutes duration
Qualifying marks are 40 % of the total marks (60 marks) for UR/ EWS/ OBC and 35 % for SC/ ST/ PwD. Tests will be conducted at the central/ respective department's level. Detailed guidelines for the conduct of tests (along with the tests schedule) will be uploaded on Institute's Website.
3. List of the qualifying candidates in the written test will be uploaded by the office of Dean (Academics)/ respective department on the Institute website.
4. All qualified candidates (in the written test) will be required to appear before the respective DPGC for an interview comprising of a brief presentation by the candidate related to the research area. Qualified candidates (in the written test) may contact prospective supervisors in the departments.
5. DPGC will evaluate the candidates and marks will be awarded out of 40 marks (15 marks for presentation, 15 marks for interview and 10 marks for academic achievements). Qualifying marks for this are 40% (16 marks). DPGC will submit the score sheet to the Dean (Academics).
6. Based upon their performance in written test and interaction/interview with DPGC in totality (out of 100 marks), respective DPGC will recommend to the Office of Dean Academics, the merit list of candidates by awarding marks out of 100, seat-wise (as advertised) along with proposed allotted supervisor(s). Such allotment should take care of the uniform distribution of full-time research scholars (including candidates from other departments) among all eligible supervisors. Qualified scholars if working in the Govt./industry-sponsored project/fellowship is to be supervised by the coordinating
faculty/ principal investigator provided he/she is eligible to become supervisor. In case of tie, the merit list will be prepared on the basis of the following (in order of preference):
(i) Performance of the candidate in written test
(ii) Percentage of marks in the qualifying degree
(iii) Age of the candidate.
7. After receiving the merit list as above, Dean (Academics) shall then consolidate the list of all the departments and notify the eligible applicants through appropriate means with the approval of the competent authority.
8. The provisionally selected candidates will be communicated through Email and the List will also be displayed on the Institute website.
Teaching Assistantship-cum-Scholarships/ Fellowships:
a. The candidates who have qualified GATE/ NET of respective discipline/ Institute Entrance Exam for admission to Ph.D. are eligible for Teaching Assistantship-cum-Scholarships/ Fellowships subjected to the availability.
b. Ph. D. (Full-Time) students will be awarded scholarship cum teaching assistantship as per the guidelines of the Ministry of Education Govt. of India. The scholarship cum teaching assistantship is limited subject to availability of scholarship cum teaching assistantship, otherwise, the candidate may be considered for Full-Time without scholarship cum teaching assistantship.
c. The selected candidates without scholarship cum teaching assistantship are required to submit an undertaking on judicial stamp paper that they will not claim scholarship cum teaching assistantship from the Institute in the future. However, they can submit research proposals to different funding agencies or they can apply to different outside funding agencies for scholarships.
Important Links for Prior Information:
New Ph. D Ordinance 2021-2022 NITD Website
Academics –> Academic System –> Ph.D. ordinance
PhD ordinance (2021-2022 onwards)
Academic Calendar NITD Website
Academics
Academic Calendar
The cut-off date for the candidates applying for the Institute Fellowship is July 10, 2022. However, the candidates with their own fellowship (CSIR/ UGC – JRF/ SRF/ INSPIRE/ Project fellows, etc.) may apply throughout the year on Rolling Basis.
Editors Note: NIT Delhi PhD Admission, NIT Delhi PhD Admission 2022, Subscribe to Rasayanika for the latest chemistry and Pharma job openings, follow us on Facebook and Telegram and subscribe to our youtube channel for the latest updates on chemistry and Pharma jobs and much more.