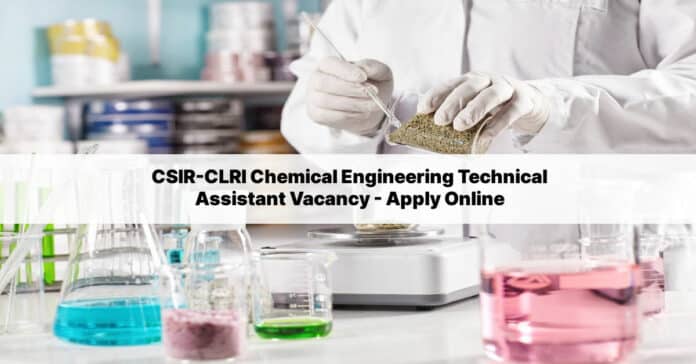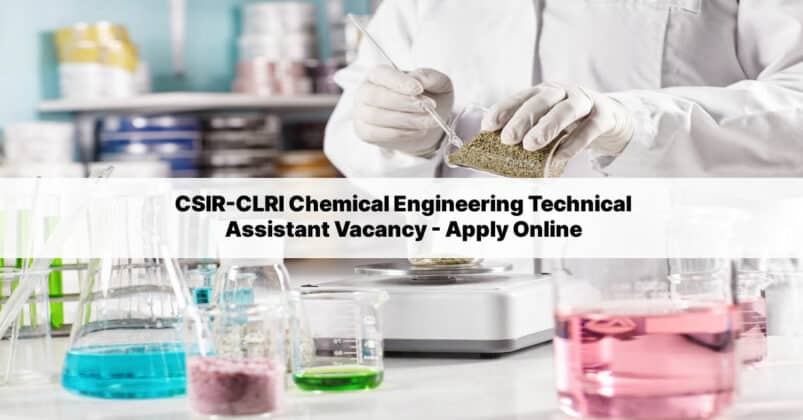 CSIR-CLRI Chemical Engineering Technical Assistant Vacancy – Apply
CSIR-CLRI chemical engineering job opening 2022, Diploma chemical engineering job vacancy 2022, Chemical engineering candidates vacancy for the post of technical assistants. Technical Assistants job opening 2022, chemical engineering job vacancy 2022. Interested and eligible candidates may check out all the details on the same below:
Post Code: TA2203
Job Title: Technical Assistants
Department: Chemical Engineering Department, Chennai
No.of posts: 01
Age Limit: 28 years
Eligibility Criteria: Diploma in Chemical Engineering with at least 3 years full time
duration, with minimum 60% marks and experience of 2 years in the relevant area/field
(OR) Diploma in Chemical Engineering with at least 2 years full-time duration in case of lateral admission in diploma courses with minimum 60% marks and experience of 02 years in the relevant area/field
Preference: Those who have experience in the Chemical Engineering field will be given preference.
Job Requirement: Operations, handling, managing, and maintenance of reactors/ lab experimental setups.
General benefits and conditions under Council Service:
a) These posts carry usual allowances i.e. Dearness Allowance (DA), House Rent Allowance (HRA), and Transport Allowance (TA) as admissible and made applicable to CSIR employees posted at CSIR-CLRI, Chennai.
b) Council employees are
also eligible for the accommodation of their entitled type as per CSIR allotment rules depending on availability in which case HRA will not be admissible.
c) In addition, provision for reimbursement of Medical expenditure, Leave Travel Concession, Conveyance Advance, and House Building Advance are applicable, as per Govt. of India/CSIR Rules.
d) The service is covered by defined contributions under the "New Pension Scheme" and as made applicable to employees joining CSIR on or after 01.01.2004. However, cases of persons selected from other Government Departments / Autonomous Bodies / Public Sector Undertakings / Central Universities, those who have joined prior to 01.01.2004 and having Pension Scheme on Gol pattern and who are presently being governed by Old Pension Scheme will be regulated as per CCS (Pension) Rules, 1972, as applicable
e) CSIR provides excellent opportunities to deserving candidates for career advancement under the Assessment Promotion Scheme for Technical staff.
f) The employees of CLRI are liable to be transferred and posted either at CLRI Headquarters, Chennai, or at any of the Regional Centers of CLRI located at Jalandhar, Kanpur, Kolkata, or Ahmedabad, as and when required.
g) The appointment to the post shall be governed by the provisions of the Central Civil Services [Conduct] Rules, 1964, Central Civil Services [Classification, Control, and Appeal] Rules, 1965 as amended from time to time, and other Service Rules to the extent made applicable to the Council Servant and decision of the Council as to their applicability shall be final.
Application Fee :
a) Candidates belonging to the General / OBC category are required to pay the application fee of Rs 100/- through SBI Collect by ONLINE / SBI Branch.
b) However, candidates belonging to SC / ST / PWD / ESM / Women / CSIR Employees are exempted from the application fee.
c) Application fee paid through any other modes will not be accepted and the application will be treated without application fee and rejected.
How to Apply
a) Eligible candidates are required to apply only through ONLINE APPLICATION in the link available on CSIR-CLRI's website https://clri.org. Instruction to fill up Online Application is also given in the CSIR CLRI website.
b) If the candidate does not have a valid email id, he/she should create a new email id before applying online.
c) The candidate has to register with his / her name, email-id, and password.
d) Candidates who wish to apply for more than one Post Code, must submit a separate Online Application form for each Post Code alongwith the Application Fee thereof (if applicable).
e) After successful registration, the candidate has to log in using the credentials and fill up the Online application form.
f) The candidate is required to upload a recent (i.e. not more than three months old) scanned colour passport size photograph in JPEG format (max 100 KB) with image dimension of about 300px (width) x 400px (height). The photograph should be without cap and both ears should be visible. The date on which the photograph has been taken should be printed on the photograph. The application without a photograph is liable to be rejected as invalid.
g) The candidate is required to upload his/her signature in JPEG format (max 100 KB) with image dimension of about 130px (width) x 150px (height). The application without a signature is liable to be rejected as invalid
h) After filling up the Online Application form, the candidate can verify/edit the application to ensure that the application is complete and correct in all aspects. After finalizing, the candidate can finally submit the application online and take a printout of the application and keep it with himself/herself.
i) After submission of ONLINE APPLICATION(s), the applicants SHOULD NOT SEND ANY HARD COPY OF APPLICATION at this stage. They should keep/retain a soft copy of their Online Application / keep a printout of the Online computer generated Application form.
j) As and when a candidate is shortlisted for Written Test (ie Stage II), he/she would be asked to submit signed Hard Copy of his/her application alongwith self-attested copies of all the certificates/documents uploaded by them in the Online Application form. Therefore, candidates are advised that at the time of submission of the Online Application, they should fill the Application form with atmost care. They should upload all certificates (including mark sheets) of 10th, 12th, ITI, Undergraduate, Postgraduate, Diploma/Certificate Courses, experience (if applicable) along with SB collect Payment Receipt (if applicable) as the eligibility of the candidate will be checked on the basis of information/documents
submitted by them in the Online Application form.
k) Any discrepancy found between the information given in the application and as evident from the supporting documents submitted will render the candidate ineligible.
l) Candidates called for Written Test will be allowed to appear for the written test only if their duly signed Hard Copy is received.
m) In case of Universities / Institutes awarding CGPA/SGPA/OGPA grades etc., candidates are requested to convert the same into percentage based on the formula as per their university / Institute alongwith the approved notification of conversion formula issued by the said University / Institution.
n) Candidates are advised not to apply more than once for a Post. Inspite of this, if a candidate applies for a post more than once, he will have to pay an application fee on each count (if applicable). In such a situation the candidate's latest application will be considered and all other previous application(s) will be rejected as invalid.
o) Application once made will not be allowed to be withdrawn and fees once paid will not be refunded on any count nor can it be held in reserve for any other recruitment or selection process.
p) Applications from employees of Government Departments will be considered only if the original application is forwarded through proper channel, certified by the employer that the applicant if selected, will be relieved within one month of the receipt of the appointment orders. They should also get their Vigilance Certificate forwarded. However, advance copy of the application may be submitted before the closing date.
Last Date To Apply: 20.06.2022 (23:30 hrs IST)
Editors Note: CSIR-CLRI Chemical Engineering job, CSIR-CLRI Chemical Engineering Subscribe to Rasayanika for the latest chemistry and Pharma job openings, follow us on Facebook and Telegram and subscribe to our youtube channel for the latest updates on chemistry and Pharma jobs and much more.