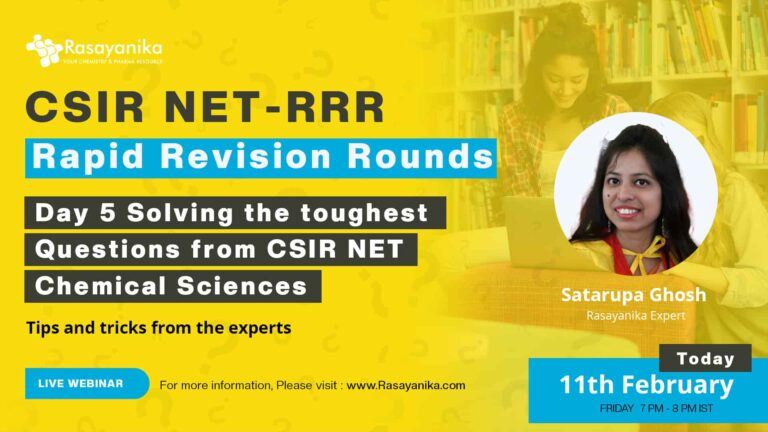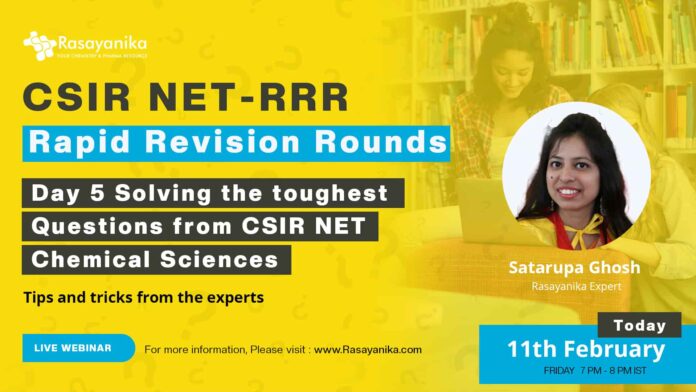 Quick Revision CSIR-NET Exam – Last Minute CSIR-NET Revision
Hey Rasayanikans
As you are gearing up for the exam of the year, we would love to aid you in your CSIR NET Exam preparations. You have less than 9 days left and we know some of you are polishing up on your notes and want to see how else you can revise quicker and faster. 
I am sure most of you have attended the many webinars Biotecnika holds and you are aware of the calibre of our experts, so now we would like to showcase our Chemical Sciences expert!
So in the same vein, we bring to you:
"CSIR NET RRR – Rapid Revision Rounds"
This is an exclusive series only on the Rasayanika YouTube Channel 
Just Subscribe to our channel, it's that simple. It's going to be a LIVE INTERACTIVE series. A Quick Revision CSIR-NET Exam Session For Last Minute CSIR-NET Revision.
What is RRR?
Rapid Revision Rounds as the name suggests is a series where our CSIR NET Expert of Rasayanika will cover all the important topics of the CSIR NET Chemical Sciences Syllabus and tackle all of the questions that make you break a sweat and it's a quick no-nonsense session. 60 minutes is all we need. 
Pfft but these questions are a piece of cake for our experts – so don't you want to know how they solve them? Our Rasayanika Expert can handle anything that is thrown at them, so this is your chance to see LIVE how their mind works and learn life-saving tips and tricks that will aid you in your examination. 
It's ABSOLUTELY FREE to attend. All you have to do is subscribe to the channel and turn on post notifications. That's it. One-click and you are all set. You will get a chance to see the magic of the Rasayanika Expert over the course of the week
Just 60 minutes a day will give you the confidence you need to help you ace this upcoming exam, and most importantly you can use these same pointers for the exams scheduled in June 2022 and December 2022. 
So let's quickly take a look at the schedule for RRR. Trust me this is not a series any CSIR NET Chemical Sciences Aspirant should miss. 
CSIR NET RRR Details:
Date – Premiers on 07th February 2022 at 7 pm
Location – Rasayanika YouTube Channel
Showtime – 7 pm to 8 pm 
Duration – Begins 7th February 2022 and Ends on 11th February 2022
Do not miss out on these awesome sessions. Team Rasayanika is pumped, are you? 
If you are looking for some help for the upcoming June 2022 and December 2022 CSIR NET Chemical Sciences Exam then This Batch Is For You!
Here's your ticket to success in CSIR NET Exams & Grabbing 20 lakhs Fellowship
How will Rasayanika's classes help you?
To ace the upcoming CSIR NET Exam you need to start from scratch and cover the syllabus and we have the perfect set of tools that are going to help you.
Exam Focussed Daily classes
Online Study Material
Unlimited Expert Assistance & Doubt Solving via chat
Class tests, Monthly practice exams, All India level test series
Video Backups of all classes & Much Much More
Various other tools to help you revise better
Subjects Available:
Batch Timings:
Morning Batch: 10 AM
Late Evening Batch: 7 PM
What's Included in the CSIR NET Coaching:
Online Coaching from Rasayanika's CSIR NET Qualified & experienced Experts, which can be taken from anywhere.
Online Study Material: Our state of art e-Learning portal equips you to prepare better for CSIR NET, contains powerpoints, animations, video tutorials on every topic of the csir net exam
Unlimited Classes – We do not limit your classes. Attend as many classes as you can, with no limits because our goal is your success
Double Success Guarantee – If you do not clear CSIR NET June 2022, then we give you free coaching for the next 6 months for CSIR NET December 2022
24*7 Chat Support for Doubt Solving
Chat with our experts, and we will help you find the perfect exam preparation strategy for you.
Want to Talk to an Admission Counselor?
Feel Free to contact us at 1800-1200-1818 or 080-5099-7000 
Your Success is Our Achievement
&
Your Research is our Responsibility