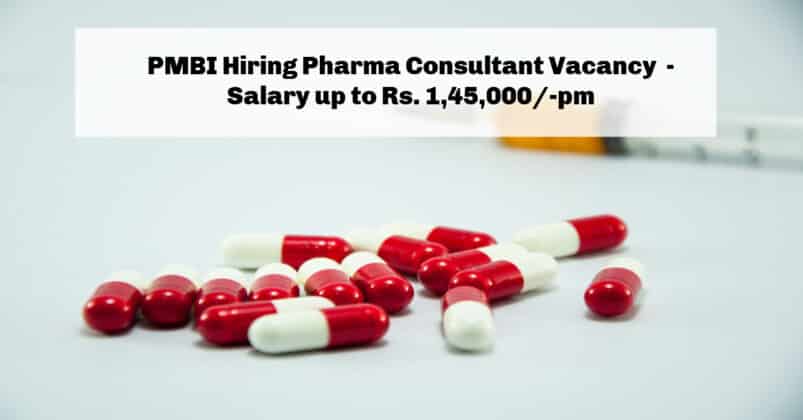 PMBI Hiring Pharma Consultant Vacancy – Salary up to Rs. 1,45,000/-pm
Pharma Bureau under Pharmaceuticals & Medical Devices Bureau of India, Department of
Pharmaceuticals, Government of India proposes to engage 02 nos. Technical Consultants
(01 for Pharmaceuticals and 01 for Medical Devices) on contract basis.
Job Title: TECHNICAL CONSULTANT [PHARMA] – 01 NO.
Department: PHARMA BUREAU. DEPARTMENT OF PHARMACEUTICALS. MINISTRY OF CHEMICALS AND FERTILIZERS.
Job Summary:
The Technical Consultant will work in the pharma burea in strengthening the
pharmaceutical sector to position India as a favorable investment and manufacturing destination. the person should also be very creative by having experience in the pharmaceutical or cognate sector and should be able to bring ideas for sectoral and institutional development.
Eligibility Criteria: Masters degree in pharmacy
Desirable: persons with m. Phil or additional qualifications, research experience, published papers, and post qualification experience in the relevant field would be preferred.
Age: Maximum age limit should not be above 40 years as on 01.12.2021.
Experience: 4 years post qualification work experience in the field of pharma regulatory affairs/pharma pricing/pharma production/pharma data analysis/drug delivery and
research in the field of pharmaceuticals and related subject abilities: must have in-depth knowledge of sectors or sub-sectors. excellent communication and writing skills
research and analytical skills. good knowledge of working in ms office
Remuneration: Monthly remuneration of rs. 80,000/- to rs. 1,45,000/- will be payable. the actual remuneration will be decided by the selection committee after consultations with the applicants considering his/her domain specialization and years of experience in the relevant field.
Application fee: nil.
Terms & Conditions
1. TA/DA: The Individual consultants may be required to undertake domestic tours
subject to approval of competent authority and they will be allowed TA/DA reimbursement at par admissible to Under Secretary to the Government of India.
2. Standards of Conduct: The Technical Consultants shall comply with all laws/rules
and regulations bearing upon the performance of their duties. Failure to comply
with the same is grounds for termination of the services of the individual Consultant.
3. Prohibition of Sexual Exploitation and Abuse: In the performance of his duties,
the individual Consultants shall comply with the Sexual harassment of Women at Workplace (Prevention, Prohibition and Redressal) Act, 2013. Any breach of the provisions thereof shall a ground for termination of his services. Any further action may also be recommended for appropriate legal action.
4. Service Incurred Death or Grievous Injury: In the event of death or grievous
injury to the individual consultant during the course of his duties, compensation
may be payable as per extant guidelines of the Department.
Other Terms & Conditions of the Contract:
(i.) Candidates shall be hired on a contractual basis for a given piece of work or for a period of up to 1 year. This term can be extended up to 3 years depending on the performance of the candidate or needs of the Department.
(ii.) The Consultants shall be selected by a Selection Committee set up by
the Department.
b) The contract can be terminated at any time by the Department giving one
month's notice without assigning any reason. The services can also be terminated if the competent authority is dissatisfied with their performance.
c) The Consultants shall perform the duties assigned to him. The competent authority reserves the rights to assign any duty as and when required. No extra/additional allowance will be admissible in case of such assignment.
d) Consultants shall be eligible for 08 days leave during the period of one year beside the Gazetted holidays. However, un-availed leave shall not be carried forward, in case of extension beyond one year.
e) 'No work no pay' will be applicable during the period of contract, if more
than prescribed leave will be taken.
f) Basic support like office space, furniture, stationery, computer, access to internet etc. will be provided where needed by the department so that assigned duties may be handled smoothly.
g) Selected Personnel hired as Technical Consultants will be offered appointment letters to get the assignment. They would be required to join within prescribed period as indicated in the appointment letter.
h) The Consultant shall not be entitled to any benefit like Provident Fund, Pension, Insurance, Gratuity, Medical Attendance Treatment, Seniority, Promotion etc. or any other benefits available to a Government Servant appointed on regular basis.
i) The Consultants will not be granted any claim or right or preference or regular appointment to any post in Government set up.
j) The Consultants shall not be entitled to any TA for joining the appointment.
k) If any declaration given or information furnished by Consultant proves to be false or if he/she is found to have willfully suppressed any material information, he/she will be liable for removal from such contract and also such other action as the Government may deem necessary.
l) The hiring/contract will be subject to physical fitness and the consultant is required to submit a certificate to this effect at the time of joining.
How To Apply:
Interested, eligible candidates can send their applications at recruitment@janaushadhi.gov.in or can send their applications (Hard Copies) by
post/courier to CEO, PMBI at E-1, 8th Floor, Videocon Tower, Jhandewalan Extn., New
Delhi – 110055 up to 14.02.2022 (Till 05:00 PM). Application form along with detailed
terms & conditions, qualifications for engagement, etc. are available at our website:
www.janaushadhi.gov.in.
Editors Note: PMBI Hiring Pharma Consultant PMBI Hiring Pharma Consultant Subscribe to Rasayanika for the latest chemistry and Pharma job openings, follow us on Facebook and Telegram and subscribe to our youtube channel for the latest updates on chemistry and Pharma jobs and much more.