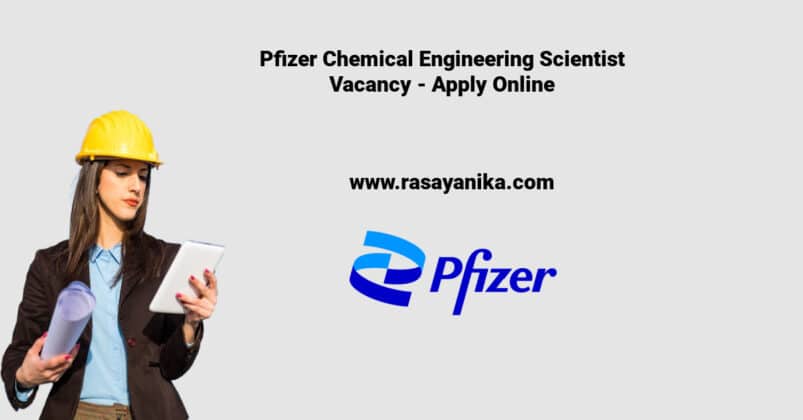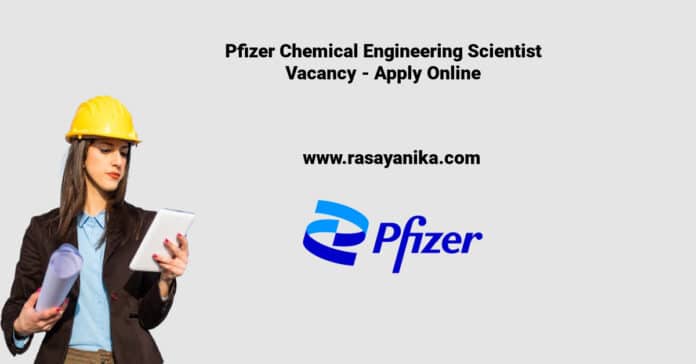 Pfizer Chemical Engineering Scientist Vacancy – Apply Online
The Global Parenteral Product Development team in PCOE (Worldwide R&D), Pfizer seeks a Senior Scientist (Ph.D. level) to develop new computational tools to support the development of sterile drug-dosage forms. The successful candidate will use simulation techniques to solve industrial research problems related to powder/granular flows, fluid flows, and multiphase flows in pharmaceutical manufacturing, or to model component integrity/behavior during manufacturing and use for device components. Experience with computational techniques is required, such as: discrete element method (DEM), computational fluid dynamics (CFD), process models and flowsheets, statistical techniques, population-balance models (PBM), and engineering models.
Job Title: Senior Scientist (Computational) Process Modeling and Engineering Technology
Location: India – Chennai
Eligibility Criteria:
Applicants must have a doctoral (Ph.D. / Ph.D.) degree in Chemical Engineering, Mechanical Engineering, Pharmaceutical Engineering, Physical Sciences, or related discipline with a focus on computational modeling. Close collaboration with Pfizer project scientists is essential – candidates must have excellent communication skills and be able to identify opportunities to apply modeling to develop drug products.
Major duties and requirements
Work with Pfizer project scientist to understand the challenges and needs when developing drug-dosage forms (sterile injectables, solutions, suspensions, multi-particulate systems, etc.).
Work with device design engineers to understand the design specifications, end-use objectives and requisite characteristics, risk involved during use, etc.
Identify opportunities to use engineering knowledge and computational tools to help solve projects challenges. Be able to work independently, with minimal supervision, to define the problem statement, then develop and execute a modeling work plan to solve the issue.
Using a variety of computational techniques, develop predictive tools and models to support drug development/manufacturing efforts for the Pfizer portfolio. Modeling techniques include, but are not necessarily limited to discrete element method (DEM), computational fluid dynamics (CFD), process models and flowsheets (e.g., gPROMS, ASPEN), statistical techniques, population-balance models (PBM), and first-principles engineering models.
Plan and execute experimental studies in collaboration with experimental experts to support/validate modeling efforts. Work with Pfizer scientists to apply and implement modeling tools into project workflows.
Communicate and present results internally at meetings and, on occasion, at external forums. Present scientific results to a diverse audience through data analysis and visualizations.
Support Pfizer's key technology platforms: sterile injectables manufacturing, multi particulates system, and devices, via computational modeling.
Work with external partners (e.g., universities, research organizations) and vendors (e.g., software companies) to execute and deliver well-defined modeling projects.
Main Responsibilities
Under the guidance of external partners in process consulting and customized digital solutions, champion internally the definition and roll-out of sound process engineering approach in the product development and tech transfer within the organization.
As an internal champion in process engineering activities, work with formulation development, tech transfer teams, and device design teams, via hands-on involvement, to understand various internal protocols in the product life cycle journey
Help define product-wise, process engineering strategies, and accordingly, the needs in process modeling capabilities from ground level perspectives
Facilitate and aid in the development, knowledge transfer and roll-out of relevant capabilities by the partner organizations, to meet internal needs
Guide teams as an individual contributor and as an expert in the adoption of such approaches across various product needs across the product life cycle
Lead efforts in helping develop appropriate internal mechanisms for the adoption of process engineering capabilities and their incorporations into FDA submissions as a routine
Support routine engineering needs for product development
Preferred skills and experience
Doctoral degree in chemical, mechanical, pharmaceutical engineering, physical sciences, or related disciplines, with a relevant educational background in computational modeling (experience with CFD, FEA, or other numerical analysis, with an ability to work with mainstream CFD software). Knows 3D design software.
Strong understanding of engineering fundamentals, including fluid mechanics, heat and mass transfer, and solid mechanics.
Strong interest and relevant hands-on industrial experience (3- 5 years, preferably pharma) in providing solutions to complex technical problems applying scientific approaches.
Familiarity with and understanding in leveraging modeling and simulations for process development and tech transfer needs. Demonstrated initiative in developing and implementing innovative solutions.
Be comfortable being hands-on and taking a deep dive into novel technical areas when required, to achieve broader objectives. His creative, innovative, and dynamic. Has an excellent synthetic and analytical mind and an aptitude for problem-solving.
Be a good listener, understanding the needs of non-engineer internal customers.
Excellent oral communication, technical writing, and interpersonal skills (fluent in English).
Good teaming skills and ability to work with a wide range of technical teams and projects, internal and external partners.
Working knowledge of data analytical approaches.
Demonstrated programming experience (Python, Matlab).
Editors Note: Pfizer Chemical Engineering Scientist Subscribe to Rasayanika for the latest chemistry and Pharma job openings, follow us on Facebook and Telegram and subscribe to our youtube channel for the latest updates on chemistry and Pharma jobs and much more.