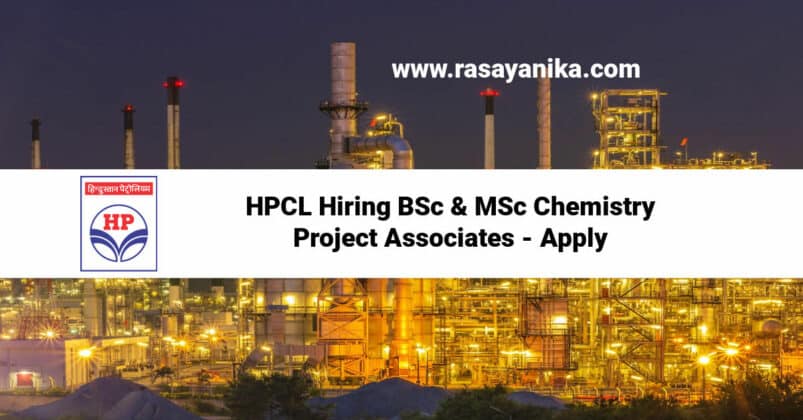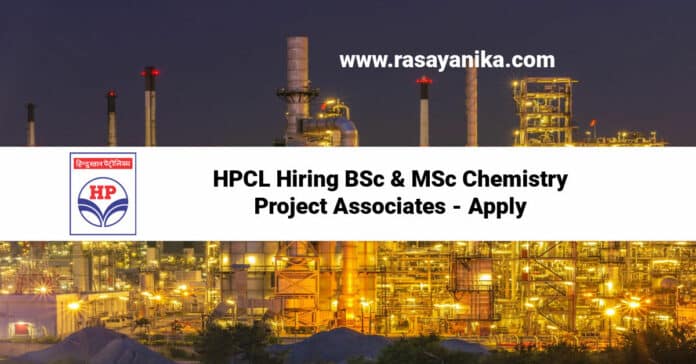 HPCL Hiring BSc & MSc Chemistry Project Associates – Apply
HPCL Hiring BSc jobs. HPCL Hiring BSc jobs HPCL is looking to hire dynamic and aspiring candidates with B. Sc, M.Sc, Diploma, PG Diploma (As mentioned under Sl.No 2 Educational qualification of Advertisement) as FIXED TERM PROJECT ASSOCIATES on Fixed Term basis at HP Green R&D Centre, Bengaluru. Interested candidates are advised to apply online in the prescribed format. Terms of reference and other details regarding the engagement of Project Associates on a fixed-term basis are enumerated.
Eligibility Criteria: 
MSc/BSc Chemistry
Chemistry -Material Science
Job Description & Fixed Term Project Associates:
To assist Scientists carrying out a research project(s).
 Prepare samples for establishing methods of analysis & carrying out routine analysis related to the assigned project(s).
 Monitoring batch reactions for optimizing reaction conditions
Running pilot plants in shifts.
 Carry out any other job(s) assigned by the reporting scientists/Officers.
Duration of Assignment:
The engagement is initially for a period of one year, which may be extended by one more year at a time based on the project requirement and performance of the candidate subject to a maximum of 3 years.
MODE OF SELECTION:
Selection will be made on the basis of screening of applications and Testimonials as per the eligibility norms of eligible candidates followed by a personal interview by the Selection Committee. In the event of a number of applications being large, the corporation will adopt shortlisting criteria to restrict the number of candidates to be called for interview to a reasonable number by any one or more of the following methods:
On the basis of higher educational qualifications than the minimum prescribed in the advertisement.
 On the basis of higher experience in the relevant fields than minimum prescribed in the
advertisement
On the basis of an Application screening (on eligibility criteria)
 On the basis of Resume shortlisting ( Work experience, Academic marks (taking aggregate marks of all semesters/years i.e., taking average of all the semesters/years, irrespective of weightage given to any particular subject (including languages)/semester/year of the Institute/University)).
By holding a written test.
Candidates shortlisted after initial scrutiny will be intimated thru the portal. Candidates are advised to visit the portal from time to time for completing this exercise.
Incomplete applications will be summarily rejected.
A category & discipline-wise merit list will be drawn for all the candidates who qualify in Shortlisting Criteria/Computer Based Test + Personal Interviews & offer of appointment would be as per the vacancies available category & discipline-wise. Candidates belonging to SC /ST / OBC-NC & PwBD would be assessed under relaxed standards during group task and personal interviews.
A category wise merit list of scores (Minimum qualifying Marks (60 % for UR & EWS, 54% of OBCNC /SC/ ST/PwBD) in scores of all Interviews) will be drawn for all the candidates who qualify in all the selection parameters
Salary:
An all-inclusive stipend of Rs. 40,000/- to Rs. 50,000/- per month depending on qualification & experience, is payable. This includes HRA, Accident Insurance, Medical Insurance, etc. the company does not provide any transport facility for commuting to the office. However, there is a sharingbus facility that has to be availed by the PROJECT ASSOCIATEs on a pay and use basis. Breakfast and lunch facilities are provided at the office premises for which a nominal monthly lump sum amount will be deducted. The premium towards Insurances will be deducted from the stipend. As part of the discharge of their duties, they may be required to travel to other locations. Work-related travel expenses will be separately reimbursed as per the entitlements
How To Apply:
Login to http://hindustanpetroleum.com/hpcareers and click on our current openings. Visit Fixed Term Project Associates, R&D Centre, Bengaluru. Read all the instructions given on the website carefully. Candidates should keep a scanned copy of the Passport size photo (in jpg/gif format less than 50 kb) and a Soft copy of the detailed CV (including a brief description of the Ph.D. topic in case of Ph.D. candidates) ready before filling the online application form.
Fill in the online application form with all the relevant details carefully (details once submitted cannot be modified). Upload Scan copy of your latest passport size photograph and DetailedCV.
Upon completion, submit the online application by clicking the Submit button at the bottom of the page You will get a system-generated unique 12 Digit Application / Reference No. Please note that this Application / Reference No. is important and will be required for all future references throughout the selection process.
Candidates are advised to take a Printout of the online Application Form, affix his/her recent passport size photograph, put his/her signature at the space provided and keep with him/ her safely for future reference. Candidates are not required to submit hard copy of the application form to HPCL.
Candidates with multiple applications for the same discipline are liable to be rejected.
The details filled in the online application form will be considered final and no changes will be entertained w.r.t. personal/ any other details, later on.
General Instructions:
1. The post of PROJECT ASSOCIATE is a fixed-term post. As such the post will be
named/called/designated as Fixed Term Project Associate. If selected, initial engagement will be for a period of one year which is extendable by one year at a time based on the project requirement and performance of the candidate, subject to a maximum of 3 years.
2. The candidates must have an active e-mail id and cell phone/landline number, which must remain valid for at least the next one year. All future communication with the candidates will take place through e-mail/cell phone /landline number only.
3. The candidates should have the relevant documents like percentage of marks obtained in the qualifying examination, caste/sub-caste certificate, date of issue, name of issuing authority, state of origin, etc. readily available with them before they commence the application process. This information will be required at the time of filling in the online application.
4. Wherever CGPA/OGPA/DGPA or Letter Grade in a degree/ diploma is awarded, its equivalent percentage of marks must be indicated in the application form as per norms adopted by University/ Institute. Candidates should produce their degree conversion certificate issued by the Competent Authority of the University/ Institute in support of the conversion.
5. Candidates not found to be meeting the prescribed eligibility criteria shall be rejected at any stage of the selection process.
6. All the details given in the online form will be treated as final and no changes will be entertained.
7. HPCL will not be responsible for any loss/ non-delivery of email/any other communication sent, due to invalid/wrong email id or due to any other reason.
8. Furnishing of wrong/false information will lead to disqualification and HPCL will not be responsible for any of the consequences of furnishing such wrong/false information. Since all the applications will be initially screened without documentary evidence, the candidates must satisfy themselves of the suitability for the position to which they are applying. If at any stage during the recruitment process or after recruitment or joining, it is found that the candidates have furnished false or wrong information, their candidature will be rejected.
9. Only short-listed candidates who are found eligible based on the details given in the application form will be called for the written test and/or personal interview as the case may be. Candidates are required to bring original and copies of the certificates/testimonials during the interviews along with the printed application form. One set of the copies of Certificates/Testimonials and the printed application form has to be attested. Such Testimonials will be verified in detail with the originals and if found not meeting the norms, the candidate will be summarily rejected. Such rejected candidates
will not qualify for appearing for the interview.
10. HPCL reserves the right to raise/relax the minimum eligibility standards and / or relax age, experience criteria in otherwise suitable cases. The Management reserves the right to fill or not to fill all or any of the above positions without assigning any reason whatsoever.
11. Any canvassing directly or indirectly by the applicant will disqualify his/her candidature. Any dispute with regard to recruitment against this advertisement will be settled within the jurisdiction of Bengaluru Court only.
12. The candidates should write their correct mobile number and correct e-mail address neatly. Please note that the intimation for the interview will be given through e-mail addresses/cell phone/landline only. Candidates shortlisted for an interview would be reimbursed II Class Sleeper train fare by the shortest applicable route from their normal place of residence to the interview venue. Candidates will be
required to produce all relevant documents as proof of travel to and fro for claiming reimbursement.
13. Candidates are advised to visit the corporation website- www.hindustanpetroleum.com under Career Opportunities section regularly for the latest updates, as no separate communication will be sent.
14. Interested candidates should only apply online on our website http://hindustanpetroleum.com/hpcareers/current_openings . Any further corrigendum/addendum would be uploaded only on our website
http://hindustanpetroleum.com/hpcareers/
15. It may please be noted that submission of online applications under fictitious/ pseudo names/ email ids /cell phone/landline numbers is strictly prohibited. Any candidate resorting to such practices will be liable for suitable action under the provisions of the IT Act 2000.
16. Candidates may write to the e-mail: hpgrdcfixedtermcareers@mail.hpcl.co.in for any further queries and information.
Online Application Dates:
Commencement of online application 11 October 2021
Last date of online application by candidates 31 October 2021
View Main Notification
Editors Note: HPCL Hiring BSc, HPCL Hiring BSc HPCL Hiring Project job 2021,HPCL Hiring Project Subscribe to Rasayanika for the latest chemistry and Pharma job openings, follow us on Facebook and Telegram and subscribe to our youtube channel for the latest updates on chemistry and Pharma jobs and much more.