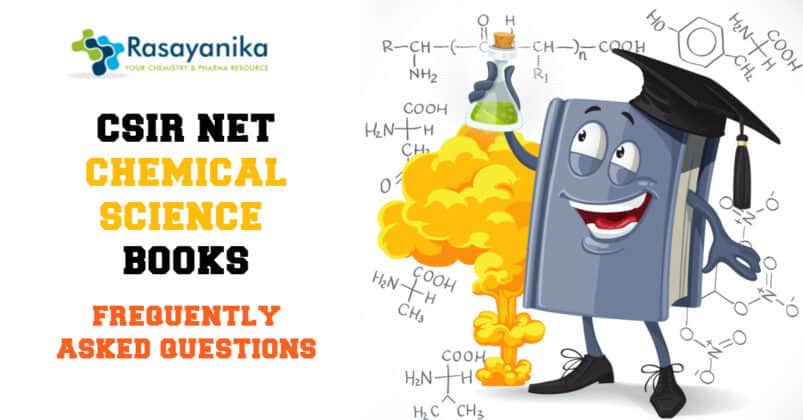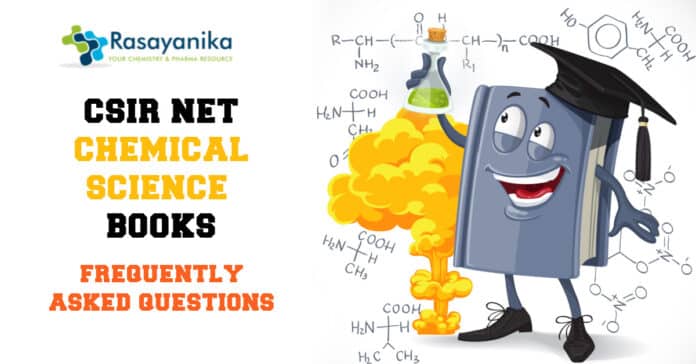 Books For CSIR-NET Chemical Sciences Exam – FAQs
CSIR-NET and GATE are currently the most prestigious competitive examinations for pure science students all over India. They also have a remarkable reputation for being among the toughest ones. Out of the lakhs of students who attend the exam each year, only 1% qualify for the CSIR junior research fellowship. Therefore, students are recommended to avail the best coaching like the one provided by Biotecnika and Rasayanika.
It certainly makes sense to seek advice from those who have already achieved what we aspire to do. That is why CSIR-NET aspirants are often attracted to the words of someone who has already cracked the examination for tips and advice. Although the preparation strategy of each student may be different according to what works for them, a few essential tips may go a long way in helping you prepare effectively. Let us look at the most common questions by CSIR-NET Chemical Science aspirants and the answers given by those who have cracked the exam.
How many books did you refer to crack CSIR-NET and GATE exams?
Answer – The common assumption is that those who have secured a good rank at CSIR-NET or GATE must have referred to many Books for CSIR-NET Chemical Sciences. However, this isn't true all the time. There are a few standard books (most of them by foreign authors) that you may refer to. Standard publication books get their content from actual research material, including scientific articles and journals, and are thus recommended for reference. CSIR-NET or GATE qualifiers would have referred to at least 5-6 books, but this depends on how they find it convenient to study.
2. How long did you study for?
Answer – The common assumption here is that an exam qualifier or topper must have studied for 15-18 hours. It isn't necessarily so all the time.
Most aspirants start preparing while they are in college or a job. So 15 hours of study would be impossible. Consider this – The aspirant has to attend college or work for 8-9 hours (might be longer for a job). Since sleep is undoubtedly vital for physical and mental health, it is necessary to sleep for 7-8 hours. Upon considering travel duration, time taken for daily chores, etc., what's left is 5-6 hours, or sometimes, 3-4. According to most toppers, no matter whether you're an MSc. student or employed, you need to dedicate at least 3-4 hours every day to study. Keep a fixed schedule with designated breaks and study marathons however you like, according to your capacity and needs.
3. What are the right conditions for exam preparation?
Answer – Exam preparation is a serious matter that you dedicate your time and concentration to. The primary condition is to ensure that what you are studying is relevant to the exam. This can be easily determined by going through the syllabus and being thorough with it. For example, suppose Thermodynamics is the unit you wish to study at present. In that case, you need to go through the syllabus, which is available on the CSIR-NET and GATE websites, and see what topics are mentioned under "Thermodynamics." The next thing is to make sure that the book you refer to has content relevant to the exam. This is why many aspirants prefer reading the topics mentioned in the syllabus from different books and make their notes for revision. You can also use Google to just search for a subject and reading it in sufficient detail. It is, however, of utmost importance that you study topics from an exam point of view.
4. Can you mention what books you referred to for each topic?
Answer – Here are some of the books that most CSIR-NET Chemical Sciences toppers have referred to:
Sl. No.
Topic
Reference books
Authors
1
Organic Chemistry
Organic Chemistry
Jonathan Clayden, Nick Greeves, Stuart Warren
Modern Methods of Organic Synthesis
W. Carruthers
2
Inorganic Chemistry
Concise Inorganic Chemistry
J. D. Lee
Basic Inorganic Chemistry
Ajay Kumar
Inorganic Chemistry: Principles of Structure and Reactivity
James E. Huheey
Inorganic Chemistry
Catherine E. Housecroft
3
Physical Chemistry
Physical Chemistry
Peter Atkins, Julio De Paula
Fundamentals of Molecular Spectroscopy
C.N. Banwell
A Textbook of Physical Chemistry
KL Kapoor
Chemical Thermodynamics
R.R. Misr, R.P. Rastogi
Principles of Physical Chemistry
B.R. Puri, L.R. Sharma, M.S. Pathania
5. How do you read textbooks for exam preparation?
Answer – When someone tops an exam, many aspirants assume that the former has read specific textbooks multiple times. However, it isn't so. Let's take that you read a textbook twice but didn't get any sense of application or couldn't remember the concepts correctly. Then that kind of studying would have been a waste of time. Textbooks and other books for CSIR-NET Chemical Sciences teach you concepts in a certain way. What you need to do is understand those concepts thoroughly. Keeping notes and writing important points in them as you study help immensely. These short notes will not only prevent you from going through the entire chapter in the textbook if you forget at any time, but they will also help you revise whenever you need to. Another helpful action is to solve relevant questions from previous years' question papers as you apply the concepts you learn effectively. This helps you understand the idea better, and the memory of having applied it will aid you in remembering the concept itself. So follow these three instructions:
Read the book
Make notes
Solve PYQs (Previous Year Questions)
6. How do you make notes while preparing for CSIR-NET or GATE?
Answer – Now, making notes may not seem important at the time of studying, but you will realize its value when you sit down to revise. Try this – Make notes for 70% of concepts in a chapter and don't make an for the remaining 30%. After a few days or a week, go through your notes, and you will realize that you can understand, revise, and remember that 70% better because of the notes you made, while you wish you had taken a few minutes to make notes for the remaining 30% as well.
If you read five pages in 2 hours, then take some short notes. If you studied 25 pages, take notes in 5 pages. Also, remember that it's not the number of pages that matters, as you may have big handwriting or consider many points essential and thus, use a lot more pages. The point here is that – Avoid writing stories in your notes. Make them short, crisp, and precise so that you remember what you understood when you go back to revise. Ensure that you don't take the same amount of time to revise what you took while studying the concepts for the first time.
7. What are some Organic Chemistry books for CSIR-NET and GATE?
Answer – Some of the Organic Chemistry books that you can reference, along with essential chapters, are given below:
Two important Organic Chemistry textbooks are those by Clayden and Carruthers.
Modern Methods of Organic Synthesis by Carruthers has seven important chapters. Chapters 2, 4, and 5 are a must as direct questions are asked from them.
In chapter 4 of Carruthers, the portion about radicals is very well explained. Chapter 5 deals with the functionalization of Algae, while not many questions are asked from chapters 6 and 7.
You may refer to Organic Chemistry by Clayden et al. for concepts related to the carbine.
You must always consider the time factor during any exam preparation. If you do have time, you can read chapters 2, 4, and 5 from Carruthers and the entire book by Clayden. If you don't have that much time, you can read the following topics from Clayden – read Pericycle, Heterocycles, Substitution & Elimination and Regioselectivity, Stereoselectivity, and Stereospecificity.
Other vital concepts in organic chemistry are photochemistry and spectroscopy, which you can read from either book.
Numerical problems in spectroscopy must be solved.
8. What are some important books and chapters for Inorganic Chemistry?
Answer – A few important authors of Inorganic Chemistry textbooks are Ajay Kumar, Huheey, and Catherine E. Housecroft.
Basic Inorganic Chemistry by Ajay Kumar has concepts explained in straightforward language. It has an excellent explanation for coordination chemistry and organometallic compounds.
You may refer to the Bioinorganic chapter from the textbook by Huheey.
A crucial topic for CSIR-NET and GATE is f-block elements as the last two years' question papers have seen many questions from this topic which can be studied from Inorganic Chemistry by Catherine E. Housecroft. You can also refer to the book for topics such as chemical bonding, main block elements, and acids & bases.
9. What are some important textbooks and topics for Physical Chemistry?
Answer – The most important authors for Physical Chemistry are Banwell, KL Kapoor, Rastogi & Mishra, and Puri, Sharma & Pathania.
The textbook Fundamentals of Molecular Spectroscopy by Banwell has detailed information about spectroscopy, while KL Kappor's A Textbook of Physical Chemistry can be referred to for Electrochemistry and Conductance concepts.
Chemical thermodynamics by Rastogi & Mishra can be referred for the topic of Thermodynamics.
The Physical Chemistry textbook by Puri, Sharma & Pathania has an excellent feature of questions given after each topic.
10. How can we prepare for the General Aptitude section of CSIR-NET and GATE question papers?
Answer – The General Aptitude section of CSIR-NET and GATE often stumps many a student. The best way to study for it would be to solve PYQs from that section. You may also refer to the following books for the CSIR-NET Chemical Sciences exam:
Made Easy's Aptitude and Reasoning book.
Christy Varghese book for NET Aptitude, where there are many solved PYQs.
These were the most preferred books used to prepare for CSIR-NET and GATE Chemical Sciences. We hope these FAQs gave you an idea about how to start and go ahead with your preparation. Enrolling in a good coaching institute like Biotecnika will help you study every concept thoroughly without any hassle and give you access to the most efficient notes. Make sure to figure out the most comfortable study method and approach for yourself and follow it diligently. We wish you all the best in your preparation.