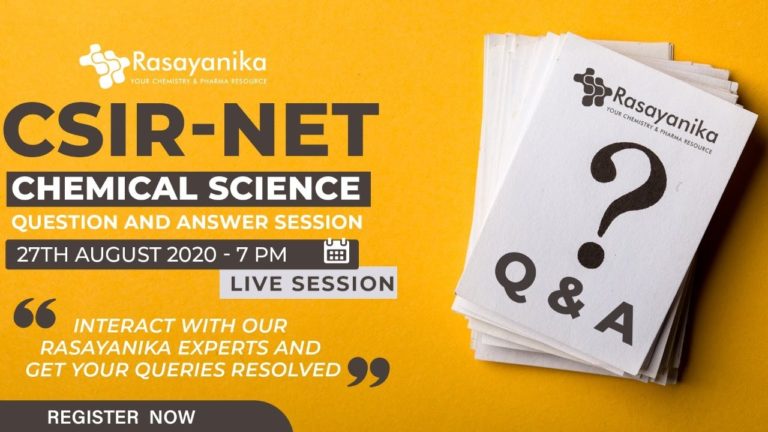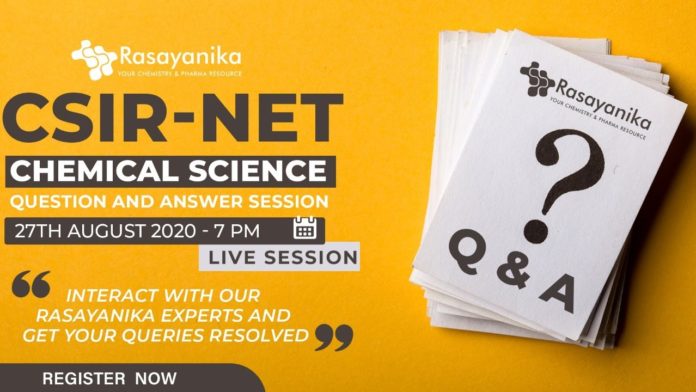 CSIR NET Chemistry Q&A
RASAYANIKA PRESENTS
EXCLUSIVE & FREE
LIVE Q&A SESSION WITH CSIR NET CHEMICAL SCIENCE EXPERTS
Many students hesitate to take up competitive exams like CSIR NET & GATE, mainly due to the fear! But once you overcome the fear and crack these exams, the opportunities which open up are endless. 
Our experts discussed the strategy you must apply while preparing for CSIR NET Exam and gave you plenty of tips and tricks in our previous webinar. We hope we could erase the stigma around the CSIR NET exam, and you have benefited from the session. As promised to all our attendees, we are back with a live session for all CSIR NET Chemical Science Aspirants. 
Live Question & Answer Session with the CSIR NET Chemical Science Experts – CSIR NET Chemistry Q&A
Why should you ask questions?
Asking questions is the best way to learn! Especially when it comes to competitive exams like CSIR NET, one might often feel lost and confused. It can be about the syllabus or preparation strategy or even the eligibility! When you ask the right people those questions you can receive guidance that can probably change your life.
We are here to throw some light on the most common questions asked by the aspirants. 
Take away from the session-
Answers to most common questions about CSIR NET Chemical Science Exam

Better clarity and understanding on how to proceed with your preparation.

Understand how your fellow peers are preparing for the exams.

Lots of inspiration
Live Session Details:
Date

: 27th August 2020

Time

: 7 PM 

Mode Of Webinar

: Online

Registration Fee

: Free of cost for all Rasayanika Subscribers & CSIR NET Aspirants

Subject

: Chemical Science 
Who should attend?
All CSIR NET Chemical Science aspirants who are currently preparing for the exam.

Students planning to take up the exam in the future.

BSc, Btech, Msc Graduates unaware of CSIR NET Exams
In case you missed our previous session, do watch it and prepare your questions.
Do not miss this opportunity to interact with experts and clear your doubts. 
So, do not hesitate. Keep your questions ready. Our experts are here to help you out!
Call 1800-1200-1818 / 080-5099-7000 / 080-5099-2444 for more details.
If you are having any trouble CHAT HERE with our experts
CSIR NET Chemistry Q&A