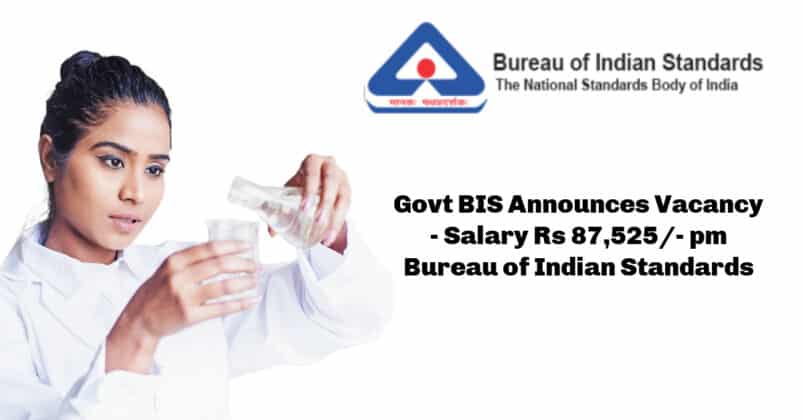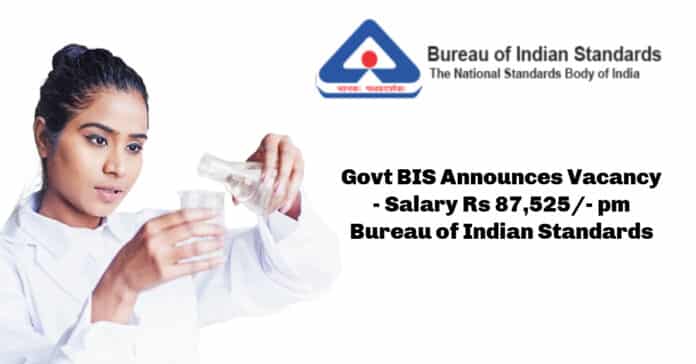 Govt BIS Announces Vacancy 2021 – Salary Rs 87,525/- pm 
Govt BIS Announces Vacancy BIS offers excellent career opportunities to bright, young dynamic persons for the post of Scientist-'B' in the specified disciplines and categories. These posts are in the Pay Level 10 as per the Seventh Central Pay Commission plus allowances as applicable. The gross emoluments at the time of joining will be approximately Rs. 87,525/- at Delhi at present. For important Service, Conditions refer to Annex 1.
Bureau of Indian Standards (BIS), a statutory body under the administrative control of
Ministry of Consumer Affairs, Food and Public Distribution, Govt. of India, is the National
Standards Body of India and is responsible for activities in the field of Standardization, Product and System Certification, Hallmarking of Gold/Silver Jewellery, Laboratory Testing, etc., in the country. BIS is also responsible for Standardization and Certification at the International level.
Job Title: Scientist 'B'
Department: Chemistry
No.of posts: 07
Eligibility Criteria: Master's Degree in Natural Sciences or equivalent [in Chemistry discipline only] In case of dual specialization/ qualification, "Chemistry" must be appearing as a major specialization in the Degree of essential qualification.
Corresponding GATE Paper and its Code: GATE CY
Salary: Rs. 87,525/-
Selection Procedure: The selection methodology will comprise of following
stages:–
a) Short-listing based on GATE 2019, GATE 2020 & GATE 2021 Score: The shortlisting of candidates for Personal Interview will be based on the valid score of GATE
2019, GATE 2020, or GATE 2021, as may be applicable. Short-listing of candidates for
Personal Interviews will be done in order of merit of valid GATE Scores. In case of a tie,
with two or more candidates having the same GATE score, then the seniority in the
merit will be decided based on the following criteria:
(i) Candidates having a higher Percentile will be given seniority in merit. The percentile
will be calculated by the following formula:
Percentile = (Number of Candidates appeared in concerned GATE paper– All
India Rank of Candidate in the concerned GATE paper)/ Number of Candidates
appeared in concerned GATE paper.
(ii) In case of a further tie in Percentile, seniority in merit will be based on the age of
candidates, with the candidate having an earlier date of birth (i.e. elder in age) given
higher seniority.
b) Personal Interview: Only the Short Listed candidates will be called for Personal
Interview. The number of candidates to be called for an interview will not be higher than 4 times the number of vacancies in the concerned discipline & category. The candidates will be allowed to take part in the Personal Interview process only after successful completion
of the Document Verification process. The date, time, and venue of the interview will be
intimated by e-mail. The same will also be hosted on our website: www.bis.gov.in.
c) Final merit list: Candidates shall be selected discipline wise on the basis of merit as
determined by the aggregate marks obtained by giving eighty-five percent (85%)
weightage to GATE Score and 15 percent (15%) weightage to the marks obtained in
the interview. In case a tie occurs in the aggregate marks obtained after the interview (GATE Score + Interview Marks), the seniority of the candidate will be based on the following criteria:
i)The tie may be resolved based on GATE Score with the candidate obtaining a higher score
given high seniority in the merit list.
ii)In the unlikely case of the GATE Score getting tied too, based on age criteria, with the
applicant elder in age given high seniority in the merit list.
How To Apply:
Candidates are required to apply On-Line from 05.06.2021 to 25.06.2021 through BIS website www.bis.gov.in. No other means/mode of submission of
applications will be accepted under any circumstances. For further details refer to Annex 4.
Application Fees/Payment Mode:
The Application Fees [Payable from 05.06.2021 to 25.06.2021 (only through Online payment mode) both dates inclusive] is Rs. 100/-and is Non-Refundable. No fees are required to be paid by SC/ST/ Ex-Serviceman/ Person with benchmark disability/Women Candidates. Bank Transaction charges, if any, for Online Payment of application fees/ intimation charges will have to be borne by the candidate.
Online Mode:
1. The application form is integrated with the payment gateway and the payment
the process can be completed by following the instructions.
2. The payment can be made by using Debit Cards, Credit Cards and Internet
Banking.
3. After submitting your payment information in the online application form,
PLEASE WAIT FOR THE INTIMATION FROM THE SERVER. DO NOT PRESS BACK OR REFRESH BUTTON IN ORDER TO AVOID DOUBLE CHARGE.
4. On successful completion of the transaction, an e-Receipt will be generated.
5. Non-generation of 'E-Receipt' indicates PAYMENT FAILURE. On failure of payment, Candidates are advised to log in again using their Provisional Registration Number and Password and repeat the process of payment.
6. Candidates are required to take a printout of the e-Receipt and online Application Form containing fee details. Please note that if the same cannot be generated, online transactions may not have been successful.
7. For Credit Card users: All charges are listed in Indian Rupee. If you use a nonIndian credit card, your bank will convert to your local currency based on
prevailing exchange rates.
8. To ensure the security of your data, please close the browser window once your
transaction is completed.
Announcements:
All further announcements/ details pertaining to this process will only be published/ provided on BIS website www.bis.gov.in from time to time. Candidates are
advised to regularly keep in touch with the authorized BIS website www.bis.gov.infor details and updates.
View Main Notification
Editors Note: Govt BIS Announces Vacancy Subscribe to Rasayanika for the latest chemistry and Pharma job openings, follow us on Facebook and Telegram and subscribe to our youtube channel for the latest updates on chemistry and Pharma jobs and much more.