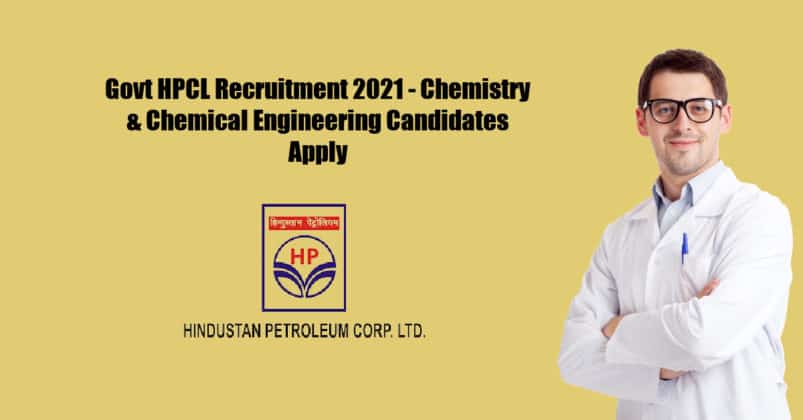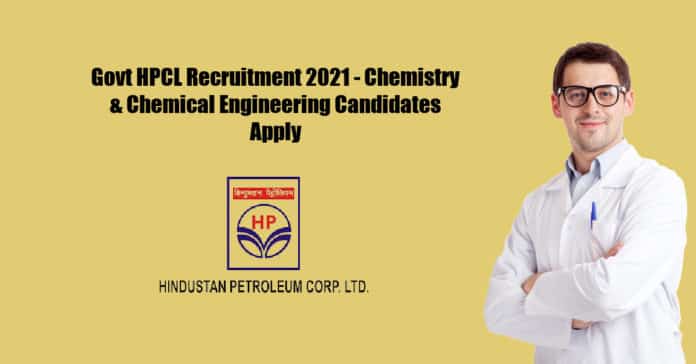 Govt HPCL Recruitment 2021 – Chemistry & Chemical Engineering
Govt HPCL Recruitment 2021 HPCL invites talented & motivated R&D professionals looking for exciting career opportunities in the energy sector and willing to contribute towards India's energy future by being part of our growth journey. Interested and eligible candidates can apply for the following vacancies ONLINE.
Job Title: Assistant Manager – Intellectual Property Rights Cell
No.of posts: 2
Age: 34
Eligibility: BE/B.Tech in Chemical / MSc (Chemistry) / PhD in Chemical Engineering or Chemistry or other relevant areas of Chemical Sciences AND Registered Patent Agent with Indian Patent Office or any other patent
office such as USPTO & EPO.
Experience: 4 years
Work Experience:
Work experience must be a minimum of 4 years out of which 2 years of experience has to be:
As IP Professional (filing Patents/ Trademarks) in petroleum refinery /research, petrochemical units or in consultancy services company executing large and medium-size projects in petroleum refinery/research, petrochemical units in supervisory/executive category is essential.
Experience as an IP professional will be considered only from the date of passing the Patent Agent Examination. The candidate needs to submit the examination passing proof/certificate with the date of the exam mentioned.
Preference will be given to candidates having higher experience as IP professionals.
Job Description:
Assess and advise on the patentability of innovations submitted by scientists.
Draft / assist in drafting patent applications and File patent applications either directly through patent
attorneys in India and abroad as required. Process payments for filing patents and monitor.
Conduct a patent search and provide search reports to scientists.
Maintain records of patents filed and actions to be taken from time to time, maintaining granted patents.
Any other jobs assigned from time to time by the management.
Job Title: Officer -Crude & Fuels Research
No.of posts: 1
Age: 32
Eligibility: Ph.D. in Chemical Engineering or other relevant areas of Chemical Sciences M.E./M. Tech. in Chemical Engineering
Experience: Nil
Age: 27
Preference will be given to candidates having higher relevant experience and having patents and publications in high-impact journals in relevant areas.
Salary Grade PayScale Cost to Company (CTC) Approx.
A 60000-180000 18.21 lakhs
B 70000-200000 22.08 lakhs
C 80000-220000 25.24 lakhs
E 100000-260000 33.95 lakhs
F 120000-280000 42.18 lakhs
Job Description:
Undertake and execute research activities in crude distillation, crude assays and compatibility, true boiling point apparatus, Pot still and Mini Potstill apparatus, etc.
Working in 4-5 research projects related to crude processing technologies and additives.
Carry out preparation of crude assay reports for various crude and blends.
Carry out crude unit process modelling and simulation, developing kinetic & empirical models, LP modelling to evaluate the crude assay data to enable plant yield improvements
 Develop methods to predict crude compatibility for processing opportunity crudes/unconventional crudes in HPCL refineries.
Ensuring reliability of pilot plants or lab units through periodic maintenance and calibration.
Carry out pilot plant operations in shifts.
 Maintain and operate the R&D facilities as per the best safety practices and protocols
OTHER TERMS & CONDITIONS
For all the above positions, candidates must secure minimum 60% marks (50% for SC/ST/PwBD candidates) in Graduation as well as Post Graduation.
Eligibility for Ph.D. holders would be Ph.D. after M.E/M.Tech, B.E/B.Tech or M.Sc. in relevant branch.
Candidate with Integrated Ph.D. may also apply. However, such candidates must produce master's degree qualifications.
For Ph.D. in other relevant areas of chemical sciences, the relevancy of Ph.D. will be decided by subject matter experts.
 All work experience must be in a supervisory/executive capacity.
Work experience posts minimum educational qualification will only be considered as relevant work experience.
For the positions where Ph.D. is mandatory, the experience will be counted from the date of a successful defense of Ph.D. Dissertation/Thesis. It is mandatory for candidates possessing Ph.D. qualifications to mention the date of a successful defense of Ph.D. in their application/resume.
Research work carried out during the course of acquiring Ph. D will not be considered as work experience.
The courses offered by Autonomous Institutions / Foreign universities should be equivalent to the relevant courses approved/recognized by the Association of Indian Universities (AIU/UGC/AICTE).
Research Experience has to be in the relevant specialized area. Teaching experience will not be considered for calculating total work experience.
APPLICATION PROCESS
a.Online Application will be accepted from 1200 hrs on 3 rd March 2021 till 2359 hrs on 15th April 2021.
b.Apply online only on https://www.hindustanpetroleum.com/hpcareers/current_openings after reading a detailed advertisement. No other mean/mode of the application shall be accepted.
c.Applications with incomplete/wrong particulars or not in the prescribed format will not be considered.
d.The email id/mobile number provided in online application should remain valid for at least one year. Candidates must use proper e-mail ids created in their names. Applications with pseudo/fake email ids will attract appropriate action under the law.
e.All the details given in the submitted online form will be treated as final and no changes will be entertained.
f.In the event of non-submission of completed application along with application fees (wherever applicable) from candidates for reasons whatsoever, his / her candidature will stand canceled and no further communication/consideration on the same will be entertained.
g. Candidates will be required to submit documentary evidence of eligibility during the course of the shortlisting/selection process. Any mismatch in name, qualification, other criteria of documents from the data given in application form will lead to disqualification at any stage
APPLICATION FEES
a.The application fees are applicable to all positions.
b.SC, ST & PwBD candidates are exempted from payment of application fee.
c.UR, OBCNC and EWS candidates are required to pay a Non-Refundable Amount of ₹1180/- + payment gateway charges if any (Application fee of ₹1000/- + [email protected]% i.e ₹180/- + payment gateway charges if applicable).
d.Payment Mode: Debit / Credit card/UPI/Net Banking: On paying application fee online, the payment status will automatically change to "Your Transaction is successfully completed", on successful receipt of fees.
e.All the candidates must ensure that the payment status is "Completed" as the transaction will be considered "incomplete" in case of any other payment status. Once the payment is done, candidates are required to take print of acknowledgment of payment and preserve the same for future reference.
f. No other mode of payment than those mentioned above will be accepted.
g.Application fee once paid will not be refunded under any circumstances.
GENERAL INSTRUCTIONS
a. Only Indian Nationals are eligible to apply.
b. The last date for reckoning age and all other eligibility criteria will be considered as of 3rd March 2021.
c. Queries can be emailed at [email protected] keeping the subject of the mail formatted as "Position Name
– Application Number".
d. Admit Card for Computer Based Test, Interview Call Letters, etc. will not be sent to candidates in hard copy. Candidates will be required to download the same from the HPCL website.
e. The total number of vacancies and the reserved vacancies is provisional and may increase/decrease at the discretion of the Corporation basis actual requirements. HPCL reserves the right not to fill any or all of the above posts advertised at any stage of selection.
f. All the candidates are requested to remain updated at each step of the selection process by visiting our website www.hindustanpetroleum.com. Candidates may please note that personal calls and/or interaction with any of the HPCL's officials during the recruitment drive is discouraged, except when absolutely necessary/critical. Candidates are requested to visit our website with respect to full details on the role, shortlisting, selection process and syllabus pertaining to this recruitment drive.
g. HPCL will not be responsible for any loss/ non-delivery of email/admit card sent/ any other communication sent, due to invalid/wrong email id or contact number.
h. All the qualifications should be full-time regular course/s from AICTE approved / UGC recognized University/Deemed University. The courses offered by Autonomous Institutions should be equivalent to the relevant courses approved/recognized by the Association of Indian Universities (AIU/UGC/AICTE)
i. Wherever CGPA/OGPA or letter grade in a qualifying degree is awarded, an equivalent percentage of marks should be indicated in the application form as per norms adopted by University/Institute. Please also obtain a certificate to this effect from the University / Institute which shall be required at the time of interview shortlisting.
j. HPCL reserves the right to cancel or add any examination / Personal Interview center depending on the response in that area/center.
k. The Corporation also reserves the right to cancel/restrict/ curtail/ enlarge the recruitment process and/or the selection process thereunder without any further notice and without assigning any reasons.
l. Candidates can apply for positions in different grades. However, applications for multiple positions within the same grade are not allowed.
m. Candidates are advised to submit only one application. In case of multiple applications from a candidate for the same position, the latest one shall be considered as final and the older applications shall be rejected without any notice.
n. Candidates presently employed in Government Departments / PSU's / Autonomous Bodies owned by the Government should submit their application through the proper process.
They must produce a No Objection Certificate at the time of Group Task and Personal Interview, failing which they will not be allowed to appear for the Group Task and Personal Interview process and their candidature will not be entertained.
o. Candidates must be in possession of all applicable Degree Certificates and mark sheets at the time of application.
p. All applicants must fulfill the essential requirements of the post and other conditions stipulated in the advertisement. They are advised to satisfy themselves before applying. No inquiry asking for advice as to eligibility will be entertained.
Last date of online application: 15th April 2021
Govt HPCL Recruitment 2021
View Main Notification

Editors Note: Govt HPCL Recruitment 2021 Govt HPCL Recruitment 2021 Subscribe to Rasayanika for the latest chemistry and Pharma job openings, follow us on Facebook and Telegram and subscribe to our youtube channel for the latest updates on chemistry and Pharma jobs and much more.