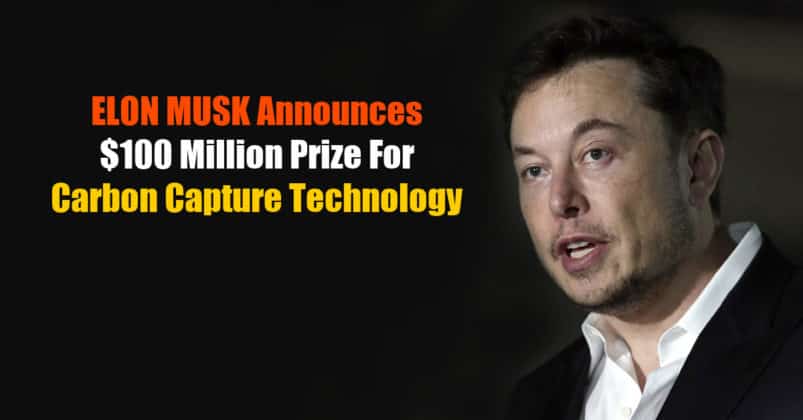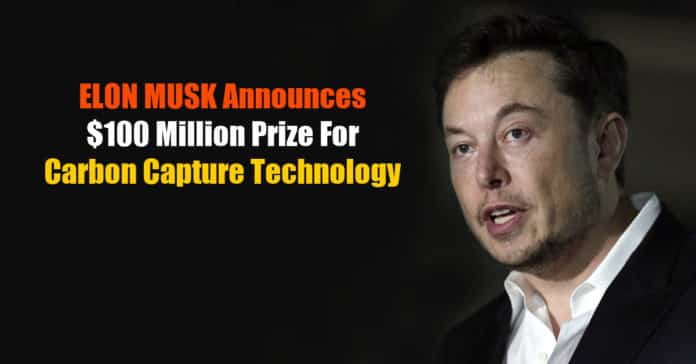 Elon Musk Announces $100 Million Prize For New Carbon Capture Technology
The globe is turning miserably warm because of human's emphasis on combusting fossil fuels. Elon Musk, Tesla Inc chief and billionaire entrepreneur – the richest person on earth has announced a $100 Million prize for new carbon capture technology.
In his Twitter account, Elon Musk Tweeted that he will give a $100 million reward for the development of the "best" innovation to capture carbon dioxide emissions.
Capturing earth-warming emissions is growing to be a crucial part of several strategies to keep climate change in control; however, extremely little progression has been made on technology till now, with attempts concentrated on decreasing emissions rather than taking carbon out of the atmosphere.
Am donating $100M towards a prize for best carbon capture technology

— Elon Musk (@elonmusk) January 21, 2021
The International Energy Agency claimed in 2020 that an explicit increase in the deployment of carbon capture technology was required if nations are to reach net-zero emissions objectives.
Elon Musk stated that he is donating $100M towards a reward for exemplary carbon capture tech, followed by a second tweet that declared that details would be published in the following week.
Tesla officials did not promptly respond to a request for added details.
Musk currently leads a few of the most advanced companies on the planet. Besides Tesla, Musk owns a rocket company SpaceX and Neuralink, a new company that is establishing ultra-high bandwidth brain-machine interfaces to connect the human brain to computers.
Joe Biden, U.S. President, has vowed to increase the growth of carbon capture technology as part of his comprehensive strategy to deal the climate changes. On 21st Jan 2021, he selected Jennifer Wilcox, a specialist in carbon removal technologies, as the principal deputy assistant secretary for fossil energy at the Dept of energy, United States.
The EFPL recently established a capture system for semis that transforms 90% of the automobile's emissions into liquid carbon dioxide; scientists at Oxford developed a method to transform it into jet fuel, while others have converted the greenhouse gas into diamonds.
Keywords: Musk Carbon Capture Tech