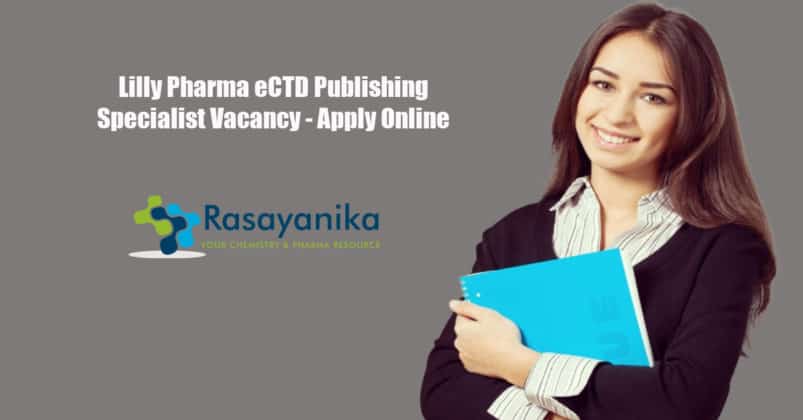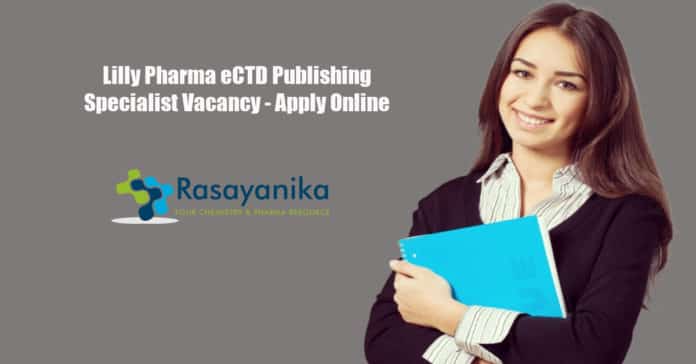 Lilly Pharma eCTD Publishing Specialist Vacancy – Apply Online
Lilly eCTD publishing specialist Post Pharma & Chemistry job opening at Lilly. Pharma job opening at Lilly. Pharma job opening at Lilly. Lilly eCTD publishing specialist– Applications Invited.eCTD publishing specialist Job Opening. eCTD publishing specialist vacancy 2020.
Job Title: eCTD publishing specialist
Location: India, Bangalore
Basic requirements :
Minimum Qualification Requirements. The following skills and abilities are directly related to the essential functions of the job:
M Pharm
Minimum 2 to 6 years of relevant experience in eCTD publishing domain.
Strong high-end PC skills and word processing/editorial skills.
Sound organizational skills and ability to prioritize work.
Accuracy, detail-oriented.Flexibility, ability to handle time pressures.
Must be able to work as a team member and independently.
Self-motivated.
Effective communication/interpersonal skills.
Purpose:
The Central Regulatory Registration (CRR) Submission Publisher creates and maintains US regulatory registrations from candidate selection through end of product lifecycle. The CRR Submission Publisher also creates global registrations and provides maintenance support as needed for major markets (excluding Japan). The Submission Publisher meets customer demands by optimizing business processes and tools and ensuring implementation of the regulatory agency's preferred electronic common technical document (eCTD) specifications in a quality way to aid a timely review by the regulatory agency. The Submission Publisher builds eCTD expertise and partners with Regulatory Associates, Regulatory Scientists, other publishing centers, vendors, and/or other contributing areas to align on submission specific requirements and to ensure adherence to submission regulations and guidelines. Although submission publishing work is technical, producing dossiers is a cross-functional process done in an environment of critical time frames and potentially changing priorities, and, therefore, a strong emphasis is placed on teamwork, communication, and self-management.
Responsibilities:
1. Plan submission workload:
Responsible for managing multiple submissions types across assigned molecules.
Coordinate and communicate with Regulatory Associates to plan compliance and strategic submissions.
Review and monitor the CRR Calendar for planned documents for submissions.
Maintain and create document and submission calendar entries: proactively update document status to manage workload and provide information on specific documents' status as it pertains to any specific submission.
Proactively manage 30-day packets to ensure compliance.
Maintain and update the submission table of contents.
Escalate issues that may impact submissions and timelines.
2. Manage submissions for assigned molecules:
Partner with contributing areas (e.g., GMC, Data Services, Regulatory Scientists, NIS, RACMC, etc.) to retrieve, publish, and submit Modules 1,2, and/or 5 reports/documents and combine files into electronic submissions (eCTD) according to the master table of contents for the dossier.
Retrieve and publish CRFs and datasets required for regulatory submissions; help train and educate others about submission required CRFs and datasets; work closely with others to successfully meet CRF and dataset timelines. Retrieve and publish literature references (bibliographies). Help train and educate others about submission required
literature references; work closely with others to successfully meet literature references time lines.
Retrieve, publish, and Retrieve, process, publish, and submit U.S. FDA required post-Marketing supplements and amendments (IsRA).
Ensure compliance with 30-Day Packet and Med Watch submissions.
Create different dossiers for Europe, the U.S., Canada or other supported worldwide markets. Dossiers are distributed to regulatory agencies and Lilly affiliate offices worldwide.
3. Submit and archive registrations:
Submit and archive submitted registrations, incoming correspondence, and ROCs assuring all metadata fields are complete in eFiles.
Manage FDA Webtrader account to enable submissions via electronic gateway.
Assure all appropriate metadata fields are completed when archiving in electronic filing system (eFiles).
Assure accurate entry for future retrieval if/when requested.
4. Build on high level of expertise in electronic publishing:
Achieve a high level of technical and practical proficiency with eCTDXPress and Adobe Acrobat..
Successfully complete the formal training modules.
Stay up to date on system and tool upgrades that impact publishing.Share technical information among staff members and apply what is learned to the day to-day work.
Apply learning from quality review of submission work.
Keep up to date in subject matter expert area.
5. Assist with other submission-related tasks, as appropriate:
Train other Submission Publishers.  Develop procedures and/or job aids.
Define and refine processes by looking for efficiency gains.
Perform validation testing of new software.
Represent the Submission Publishers at cross-functional meetings, etc.
6. Asset Protection/Compliance:
Ensure compliance with FDA/Regulatory Agencies regulations and Lilly policies and procedures.
Ensure quality assurance of submission documents and materials.
Comply with all required formal and informal training.
Comply promptly and thoroughly with all investigation or audit request
Editors Note: Lilly Pharma eCTD Publishing Subscribe to Rasayanika for latest chemistry and Pharma job openings, follow us on Facebook and Whatsapp and subscribe to our youtube channel for latest updates on chemistry and Pharma jobs and much more.