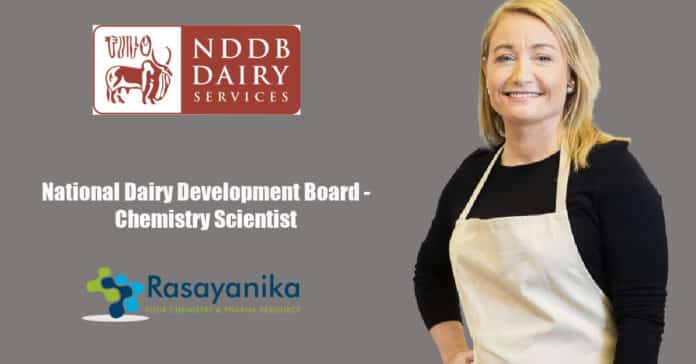 National Dairy Development Board – Chemistry Scientist
The National Dairy Development Board is an institution of national importance set up by an Act of Parliament of India. The main office is in Anand, Gujarat with regional offices throughout the country.
Job Title Scientist-I (CALF)-Reserved for EWS (Economically Weaker Section)
Description
NDDB offers an excellent learning environment with considerable freedom for creative and innovative activities. We are looking for a young and energetic Scientist for Centre for Analysis and Learning in Livestock and Food (CALF) laboratory.
Job Category Centre for Analysis and Learning in Livestock and Food (CALF)
Profile Summary
​Responsible for routine testing of samples; method development, standardizations, validation & verifications; compliance to ISO 17025 & regulatory agencies guidelines; assisting in activities of National Reference Laboratory (NRL) & Proficiency Testing (PT) programs; and conducting sponsored/internal analytical research trails & training.
Key roles and Responsibility
​1)Analysis of milk and milk products, feed, water, fats and oils samples as per defined protocols and adhering to the ISO 17025 practice.
2)Carrying out various activities as per ISO 17043 and ISO 17034. Plan experiment for homogeneity & stability studies for Proficiency Testing in a different product.
3)The candidate shall be well versed with the
statistical analysis, use of excel and computer programmes for the preparation of technical and scientific reports. Statistical analysis of data for PT evaluation and report preparation.
4)Review of literature, writing and carrying out research projects, preparation of reports, research publications and writing of SOPs/ MSPs/ OIs.
5)Maintaining documentation of National Reference Laboratory (NRL) for routine technical operations.
6)Handling of routine and state-of-art equipment like LC-MSMS/GC-MSMS/ICP-MS/LC-IRMS/EA-IRMS/NMR/ICP etc. for analytical work.
7)Method development, standardization, validation, method harmonisation.
8)Organizing internal/external training programs.
9)Supervision of the analytical work of Trainee /Scientist/ Technician in Laboratory.
10)Following Good Laboratory practices and safety guidelines.
11)Proper handling, maintenance of sophisticated equipment.
12)Usage & proper storage of CRM/SRM.
13)Ensure good housekeeping and maintain required environmental conditions as per test method.
14)It may be required at many times to work in night shifts.
15)Any other relevant work assigned by the supervisor.
Qualification & Experience
​1.The incumbent should have a Master's degree in Chemistry (any discipline)/ Dairy / Food Technology /Food Science with 2-5 years of experience in the testing/analytical R&D of Food/ Dairy products using routine and state-of-art equipment like HPLC/ GC/ LC-MSMS/ GC-MSMS/ ICP-MS etc. or
PhD in any of the above disciplines with minimum 1-year experience in the testing/ analytical R&D of Food products using routine and state-of-art equipment like HPLC/ GC/ LC-MS/ GC-MS/ ICP-MS etc.
2.Candidates with prior work experience in an accredited laboratory as per ISO-17025 will have an added advantage.
Location Anand
Other Essential attributes and skills
​Skills/ Attributes:
Technical:
1.Incumbent shall have basic knowledge on composition, micronutrients and safety hazards of dairy/ food products.
2.Understanding of Regulatory limits as per FSSAI/ BIS/ Codex/ EU etc.
3.Hands on experience in various advanced analytical equipment.
4.Understanding of ISO 17025 &17043
5.Understanding Statistical analysis /tools /packages for routine quality control evaluation.
Managerial:
1. Working as per timelines and handle work pressure
2.Research & innovation-oriented and creative & strategic thinking.
3.Being adaptable, effective in building a relationship and work in a team.
4.Capable of persuading, resolving conflicts and other problems.
5.Good communication and presentation skills and proficiency in English.
Remarks
​Last date of receiving the updated online applications is 04 December 2020.
(Candidates above 30 years of age as on 01 December 2020 need not apply)
The position is on fixed-term employment for a period of 5 years which is renewable. This position is reserved for candidates belonging to Economically Weaker Section (EWS).
Location: Anand, Gujarat and the candidates should be ready to work anywhere in India.
Editors Note: National Dairy Development Board Subscribe to Rasayanika for latest chemistry and Pharma job openings, follow us on Facebook and Whatsapp and subscribe to our youtube channel for latest updates on chemistry and Pharma jobs and much more.