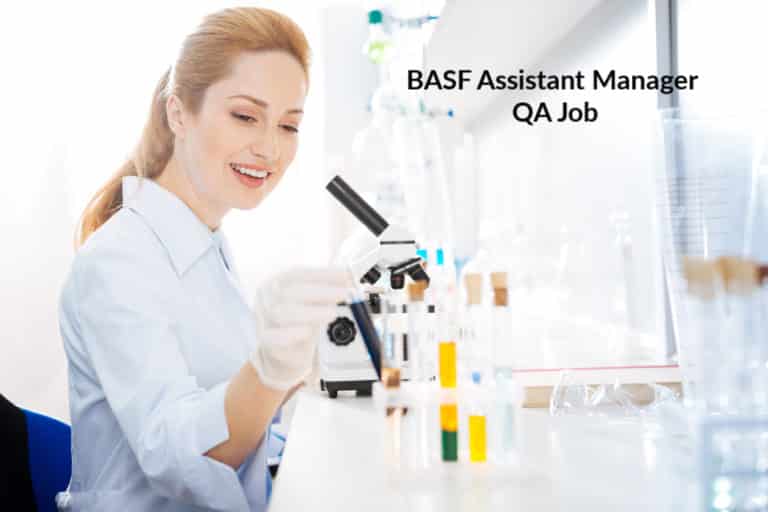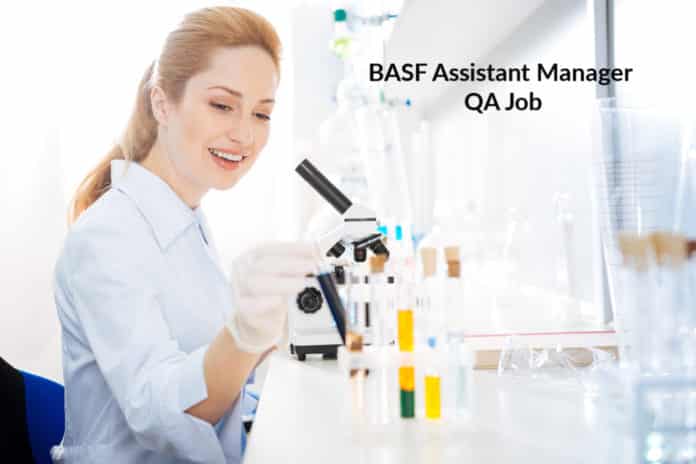 BASF Assistant Manager QA Job – Chemistry Candidates Apply
BASF Assistant Manager QA BASF Announces job opening for candidates with postgraduate and MSc degree in chemistry for the post of Manager. Interested and eligible candidates with relevant experience may apply for this job post. Candidates may apply online. Check out all the details on the same below:
Job Title: Assistant Manager – QA
Qualification Required for the Position
• M.Sc. in Chemistry with 5 – 6 years of experience or B.Sc. in Chemistry with 5 – 8 years of experience in relevant field / working in Quality control Lab.
• Familiar with Computer Operation / SAP
• Basics of Good Laboratory Practices / Good Manufacturing Practices
Objectives of the Position
• The Quality Management (QM) aims to ensure that product or service provides is fit for its purpose and meets customer expectations and BASF standard. Non-Conformance Management to meet the BASF and customer requirements. Where appropriate, the QM advises on changes and their implementation and provides training, tools and techniques to enable others to achieve quality.
• Since maintaining quality demands constant change to meet customer expectations, Quality Management (QM) employ a variety of measures to place quality at the
heart of an organization. These include management systems such as ISO 9001, IATF16949, philosophies, such as Total Quality Management, and methodologies such as Continuous Improvement. Main Task
• Testing of the Raw Materials, Packing material and Finished Product as per the Quality Specification.
• Customer Complaint Investigation and ensure the Correction and Corrective action to avoid reoccurrence.
• Plant Rounds / In process quality checks
• Respond to the Customers request of COA at the earliest.
• To perform development trials in Pilot level at laboratory under the guidance of Technical. New Product setup at plant.
• Provide feedback in Departmental Safety Meeting, Monthly production meeting, weekly meetings on Issues and concerns.
• Ensure continual improvements in the testing procedures of raw material, packing material and finished goods.
• Monitor & ensure compliance to all regulatory requirements with respect to QC lab in construction chemicals Plant.
• Monitor and ensure inventories in coordination with Purchase/Supply chain to ensure no-delay in Production.
• To issue General Work Permits for maintenance activities pertaining to lab.
• Ensure implementation of Responsible Care Management system of all RC codes in the lab. • Responsible for RC codes Product Stewardship, Management of MSDS of all the RM and FG used at Plant.
• Ensure proper implementation and continued improvements on Quality and Environmental Management Systems, ISO 9001 and ISO 14001 respectively. Conduct ISO 9001 / ISO 14001 Internal audits as per plan
. • Carry out new vendor development/vendor audits.
• To take corrective actions for Non-Conformance, if any in the lab, pertaining to safety / Quality.
• Work in co-ordination with Production team and implement corrective actions against the Root Causes analyses
• Plant/Process audits to identify processes that could result in a potential non-conformance.
• Maintain SPC for key products for key parameters.
• Data analysis and interpretation of Data for continual improvement.
• Compliance to EHS requirement in lab and Plant
• Ensure and maintain overall cleanliness of Tools, Equipment and good housekeeping in the work area. Ensure everyone in the laboratory wears relevant PPE's while working and develop a Safety culture not only in the lab but also in the Plant.
• Ensure continual Process Development through various innovative ideas by closely coordinating with other departments, decrease of batch cycle time by simplifying test procedures without affecting the quality product to the Customers.
• Training to the plant staff on various quality and safety-related topic
• Identify Quality and safety near miss and take necessary action for compliance.
Editor's Note: Job Vacancy 2019 @ BASF – Apply Online, Chemistry job opening at BASF, Job opening 2019 at BASF for chemistry candidates. Chemical Science job opening at BASF, BASF, Subscribe to Rasayanika for latest chemistry and Pharma jobs. Follow us on Facebook.