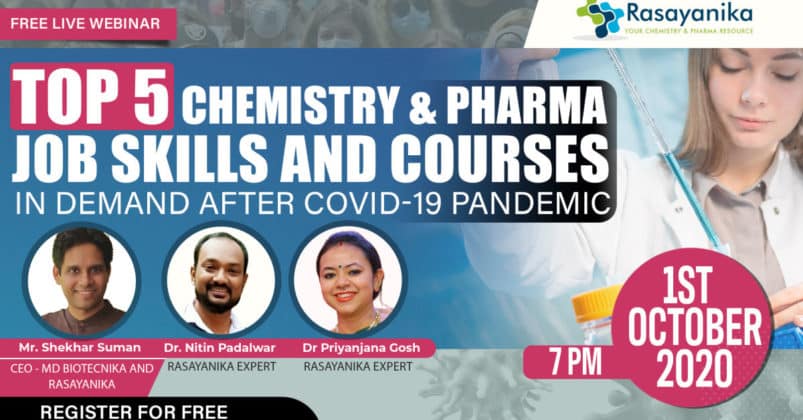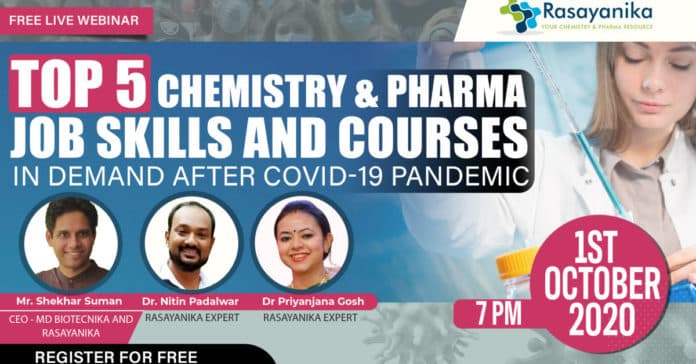 Chemistry & Pharma Job Skills & Courses In Demand Post COVID-19 pandemic
EXCLUSIVE FREE WEBINAR
Exclusive Webinar For Chemistry & Pharma Professionals
The industry in the spotlight since the Covid 19 pandemic is the Chemical & Pharmaceutical Industry. Pharmaceutical companies and research organizations worldwide are invested in developing a vaccine, finding suitable treatment options for the ongoing pandemic.
Were we prepared for a pandemic to this extent? Not exactly.
But as a scientific community, we can gear up and be prepared for any such health emergencies that might arise in the future.
To make that possible, we need researchers who are skilled in the latest technologies and knowledgeable candidates who can readily take up challenges. The Covid 19 crisis has called to the whole world's attention to the need for research activities and the importance of funding in research programs. As a direct result of this, there will be a steady increase in the chemical and pharmaceutical industry jobs.
The experts at Rasayanika have compiled the top 5 skills, which will be in demand in the coming days. Attend the exclusive session where we will be discussing the skills and courses required to launch your career.
Webinar Agenda: Discussion on top 5 chemistry & pharma Job Skills and Courses which will be in high demand after the Covid-19 pandemic
Webinar Details:
Date: 1st October 2020
Time: 7 PM IST
Mode Of Webinar: Online
Duration: 2 hours
Registration Fee: Free of cost for all Rasayanika Members, All Chemical Science Professionals & Students
Speakers: Mr. Shekhar Suman, Dr. Nitin Padalwar & Dr. Priyanjana Ghosh
Who should attend?
Every student, research scholar, professional in the Chemical & Pharma industry must attend. Gain a new perspective and learn how to boost your career in the coming days.
The Indian Pharmaceutical Sector is Expected to Grow to 100 Billion USD by the year 2025. To be a part of this growing industry, get skilled today!
Chemistry & Pharma Job Skills
Having trouble or any questions? Shoot them here!
Our team will be happy to help you out.
Call 1800-1200-1818 / 080-5099-7000 / 080-5099-2444 for more details.