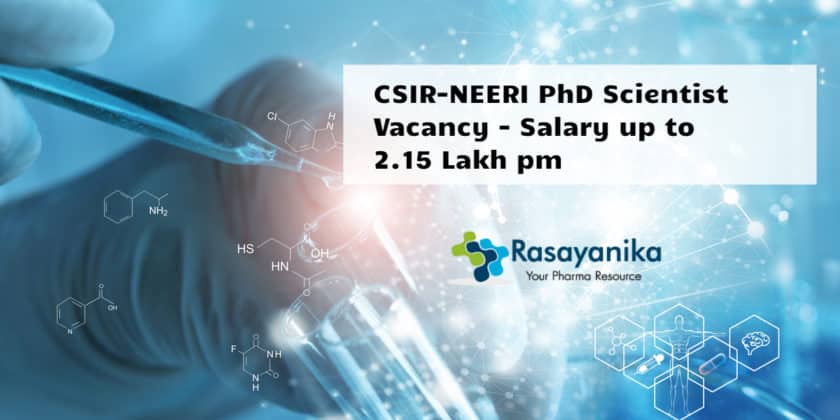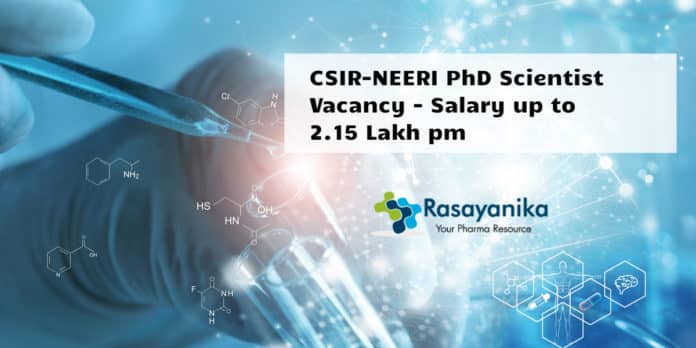 CSIR-NEERI PhD Scientist Vacancy – Salary up to 2.15 Lakh pm
CSIR-NEERI PhD Scientist Online applications are accordingly invited from Indian Nationals for the sr scientist post. Chemistry job opening in CSIR – National Environmental Engineering Research Institute (CSIR-NEERI). CSIR-NEERI announce PhD candidates recruitment. Check out all the details on the same below:
CSIR – National Environmental Engineering Research Institute (CSIR-NEERI) established in the year 1958 with its headquarters at Nagpur and at present having its five Zonal Centers at Delhi, Mumbai, Chennai, Kolkata and Hyderabad, is one of the constituent institutes of the Council of Scientific & Industrial Research (CSIR), a premier multi-disciplinary R & D organization in India which is an autonomous body of the Department of Scientific & Industrial Research under the aegis of the Ministry of Science & Technology, Government of India.
The Institute is engaged in Research & Development in the areas ofAir Pollution Control Technology, Water and Wastewater Technology, Environmental Biotechnology and Genomics, Municipal Solid and Hazardous Waste Management, Environmental System Design, Cleaner Technology, Environmental Impact & Risk Assessment, Environmental Health Studies, Strategic Urban Management, Environmental Materials, Energy Resources and Management, Climate Change and Capacity Building etc. The Institute is looking for enthusiastic, talented researchers/professionals with the brilliant academic record, proven scientific achievements and zeal for innovative research and translational R&D for technology development.
Post Code: SS-02 :
No.of posts: 2 posts [UR-02]
Job Title: Sr Scientist/ Principal Scientist
Pay Matrix : Level 12 (Rs 78,800- 2,09,200/- ) Sr Scientist
Pay Matrix : Level 13 (Rs 1,23,100/- – 2,15,900/- ) Principal Scientist
Eligibility: Ph.D. (Chemistry)
Area:-
Teaching and other academic/non-academic duties.
Age Limit and Experience: For Senior Scientist Age Limit: 37 years.
Experience: 2 years.
For Principal Scientist Age Limit: 45 years.
Experience: 3 years.
Desirable:
For Senior Scientist:
Work experience of overall at least eight years in teaching and other academic & non-academic duties for the smooth functioning of the institute. Experience should preferably be in llTs/llSc Bangalore/llSERs or any similar Indian or foreign institutions of comparable standards.
For Principal Scientist:
Additional two years of Work Experience in the same fields as mentioned above for Senior Scientist.
Nature of Job:
Management of teaching and training activities such as AcSlR, skill development, etc.
Content design for courses. Research in green chemistry/nanotechnology/environmental processes.
The normal Selection Procedure for Scientists –
The candidates will be shortlisted by the duly Constituted Screening Committees as per the criteria fixed by them and its recommendations will be duly approved by the competent authority. [The desirable experience may be the guidelines for Screening Committee but it may devise its own criteria apart from it depending upon the response of the candidates]. The Candidates may be considered for further written/screening test or seminar (if required) for shortlisting the candidates to be called for interview. The candidates so shortlisted will be considered for an interview by the duly constituted Selection Committee(s) to evaluate their suitability for the posts on merit.
The Recommendations of the Selection Committees will be duly approved by the competent authority.
The Director, CSIR-NEERI reserves the right to cancel the advertisement without assigning any reason thereof.
Selected candidates have to join at the CSIR-NEERI Headquarters at Nagpur for the posts applied for. However, the selected candidates are liable to be posted in any of the establishments under the administrative control of the Director, CSIR-NEERI viz. at the Headquarters in Nagpur or its Zonal Centres at Delhi, Mumbai, Chennai, Kolkata and Hyderabad, in the public interest.
Applicants must disclose as to whether any of their close or blood relatives are employees of CSIR-NEERI or CSIR or any other laboratory/institute of CSIR in the application form. Close relations would include wife/husband/son/daughter/brother/ sister/son-in-law/daughter-in-law and those who could be termed as blood relations.
Notifications from time to time regarding interview dates, recommendations of the screening committees along with criteria adopted by it shall be displayed on the website: https://www.neeri.res.in (Link: Recruitment). NO INTERIM ENQUIRY
OR CORRESPONDENCE SHALL BE ENTERTAINED.
Canvassing in any form and/or bringing any influence political or otherwise will be treated as a disqualification for the post.
 The recruitment to the posts of scientific categories is governed by the "CSIR Scientists Recruitment and Promotion Rules, 2001" as amended from time to time. Hence, all other terms and conditions not stipulated herein will be applicable as per the said Recruitment Rules.
Last Date for Receipt of Online Applications: 29.09.2020 (upto 5.00 pm)
Editors Note: CSIR-NEERI PhD Scientist Subscribe to Rasayanika for latest chemistry and Pharma job openings, follow us on Facebook and Whatsapp and subscribe to our youtube channel for latest updates on chemistry and Pharma jobs and much more.