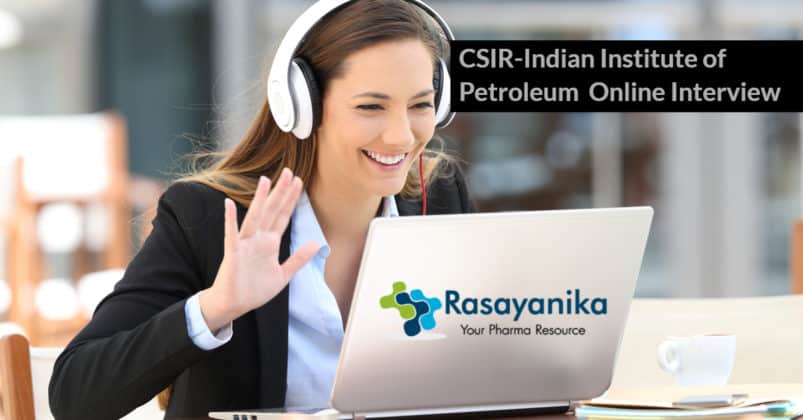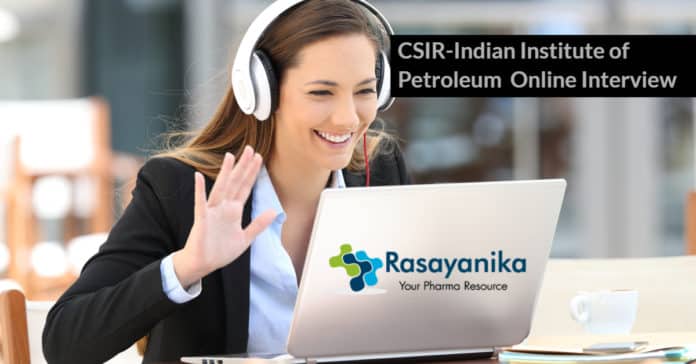 CSIR-IIP Chemistry Job Opening 2020 – Salary up to Rs 42,000/- pm
CSIR-IIP Chemistry The Director, CSIR-Indian Institute of Petroleum, Dehradun on behalf of the sponsors of the projects is interested to engage "Senior Project Associate, Project Associate-I & Laboratory Assistant", and for empanelment for future positions/requirements for various time-bound projects in different schemes. The eligibility criterion and No. of positions are as follows:-
Post Code – 1
Job Title: Project Associate-I
No.of posts: 18
Essential:M.Sc.(Chemistry) from a recognized University
Desirable: (i) Experience in working Pilot Plant, R&D Labs, experience with
GC or other characterization equipment. OR (ii) Minimum 3 months Research
experience in the area of catalysis especially catalyst preparation,
characterization, activity test. OR (iii) CSIR-UGC (NET-LS) qualified OR (iv)
Research experience in material science.
Age: 35 Years
Salary: Rs. 31000/- plus HRA
______________________________________________________________________
Post Code-8
Job Title: Senior Project Associate
No.of posts: 01
Essential: PhD (Chemistry) from a recognized University
Desirable: Research experience in Carbon Materials.
Age: 40 Years
Salary: Rs. 42000/- plus HRA
Mode of Selection: Selection is to be done on the basis of online Interview through Skype. Date of interview will be notified on CSIR-IIP website separately.
General Terms & Conditions:
1. Eligible and interested candidates are required to apply ONLINE through our website http://www.iip.res.in.
2. If the candidate does not have a valid E-mail ID, he/she should create a new valid E-mail ID before applying online.
3. The candidates are required to fill all details related to their educational qualification, experience etc. in the online application form as this data will be used for screening of applications.
4. The last date for applying the above-mentioned positions is 24.07.2020.
5. Candidates are required to upload scan copy of following documents while applying, failing which, their candidature will be summarily rejected:
(i) Scan copies of original documents viz. (a)Educational Qualification, (b)Age, (c)Caste Category (in case of SC/ST/OBC/PWD/EWS candidates) (d)Experience certificate, if any; (e) Publications/Patents, if any and
(ii) detailed biodata etc.
6. Mere fulfilling of minimum qualification will not vest any right in a candidate for being called for Interview. If a large number of applications received, the Screening Committee will adopt it own criteria for shortlisting the applications and preference will be given to the candidates having qualification and experience over and above advertised qualification/experience.
7. The shortlisted candidates will be invited for online interview through SKYPE, information for which will be communicated through CSIR-IIP website. Therefore, candidates are advised to visit CSIR-IIP website regularly for updates.
8. Engagement will be initially for a period of Six Months/One Year depending upon the project requirement, which may be extended or curtailed depending on the duration of the Project/desired level performance or conduct of the incumbent, as the case may be.
9. Tenure of engagement of the Project Staff shall be co-terminus with the project. However, under no circumstances, the tenure would be allowed to exceed five years duration. The performance of the Project Staff would be reviewed periodically so that anyone not found up to the mark, could be terminated without assigning any reason.
10. All these positions are temporary and are on behalf of the sponsors and, therefore, will not confer any right on
the incumbent to any claim, implicit or explicit for absorption on any post in CSIR-IIP/CSIR.
11. On completion of the tenure in one project, in case, one wants to apply for engagement in another project, he/she will have to go through the process of selection by submitting a fresh application under the new project. Engagement of the Project Staff under the new project would be made only after submission of resignation and "No Demand Certificate" in the previous project.
12. Wherever possible accommodation will be provided to project staff, if accommodation is not possible, HRA will be paid as per rules. If accommodation is provided, the licence fee would be deducted as per CSIR rules.
13. The Project Staff shall be permitted to avail leave and dispensary facility, as per rules.
14. The Institute provides canteen facilities as is being provided for regular staff members on payment of suitable charges.
15. Experience, where required, will be calculated from the date of acquiring minimum educational qualification.
16. Final semester and results awaited candidates are not eligible for above-mentioned positions.
17. TA/DA will not be paid for reporting to duty after selection.
18. A number of positions may vary depending upon the project requirements.
With reference to this Institute Advt. No. 03/2020, it is notified to all concerned that applications were invited from Indian Nationals for the temporary positions of 'Senior Project associate', 'Project Associate-I' & 'Laboratory Assistant', due to technical reasons the online application could not commence w.e.f. 15.07.2020. Candidates are now advised to apply online through the Institute website www.iip.res.in and after applying online send scan copies of original documents related to educational qualification, experience, caste etc. through Email on [email protected] latest by 29th July 2020.
Candidates are required to mention 'Advt. No.', 'Post Code' and 'Application Number' in the
'Subject' line of the Email while sending documents. (for example: Advt. 03/2020, Post Code-1, Appl. No–123)
Last Date To Apply: 29.07.2020
View Main Notification
Corrigendum 
Editor's Note: CSIR-IIP Chemistry CSIR-IIP Chemistry Subscribe to Rasayanika for latest chemistry and Pharma job openings, follow us on Facebook and Whatsapp and subscribe to our youtube channel for latest updates on chemistry and Pharma jobs and much more.
Upload your CV to Rasayanika Talent Pool