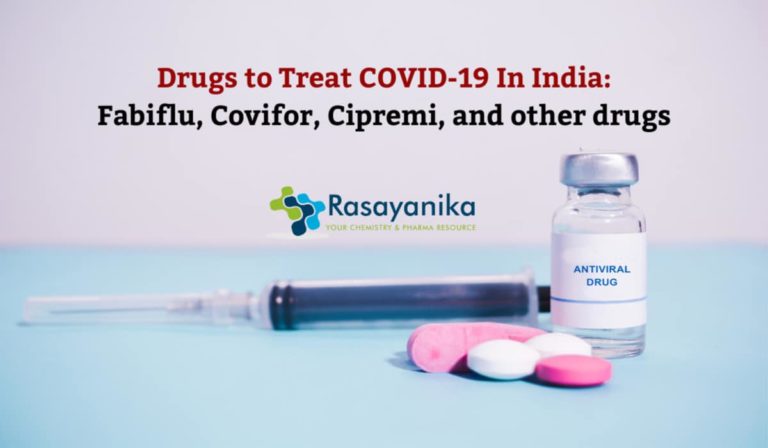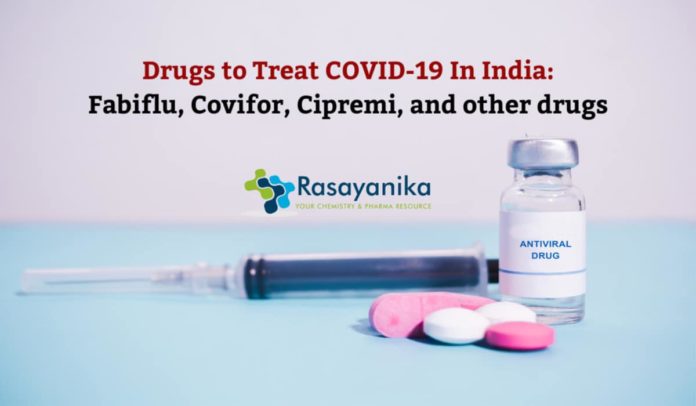 Drugs to Treat COVID19 In India
Fabiflu, Covifor, Cipremi, and other drugs
At the time when the coronavirus pandemic has infected over 4 lakh people and killed over 14000 people across the country, the DGCI has given nod to 3 companies, Glenmark, Cipla, and Hetero, to roll out their COVID-19 treatment medicine in India.
At least five drugs have been repurposed to help treat coronavirus patients by India's pharmaceutical companies. The generic version of the drugs are being introduced to treat coronavirus patients, originally, these drugs were designed to treat other diseases like any skin disease or arthritis.
Fabiflu
On June 22, Mumbai-based Glenmark Pharmaceuticals launched the antiviral drug Favipiravir, under its brand name FabiFlu for treating COVID-19 patients with mild to moderate infection. Favipiravir is an antiviral drug used to treat influenza and is one of the most widely used drugs to treat coronavirus in the world. For the treatment of COVID-19, FabiFlu is the first oral Favipiravir-approved medication in India, and India's drug regulator has given Glenmark the manufacturing and marketing approval.
For all those who have a medical prescription, the drug will be available. Fabiflu is priced at ₹103 per tablet. The intake of the tablet is recommended twice on day one (1800 mg dose), followed by 800 mg dose twice from day 2 to day 14.
Glenmark Pharmaceuticals said that the drug will be available at a maximum retail price ₹3,500 for a strip of 34 tablets, as a 200 mg tablet.
Cipremi and Covifor
An antiviral drug, Remdesivir was first used to treat Ebola. The pharmaceutical giants Cipla and Hetero have repurposed this drug and introduced generic versions of Remdesiver for the treatment of COVID-19. However, for children below 12 years of age, pregnant and lactating women, and those who have several renal impairments, this drug is not recommended.
The cost of Cipremi is yet to be decided by Cipla and only for patients who are on oxygen support, this drug will be made available.
Hetero said that a vial of Covifor, its version of Remdesivir will be available between ₹5,000 to ₹6,000.
Jubilant Lifesciences and Mylan, apart from Cipla and Hetero Labs are also working to manufacture the drug in India. To produce Remdesivir in India, voluntary permission from Gilead Sciences has been received by Zydus Cadila Healthcare, Biocon firm Syngene, and Dr. Reddy's Laboratories.
Tocilizumab and Itolizumab
When the body's immune system mistakenly attacks your own body's tissue, these drugs used to treat a disease.
More than a hundred severe cases of Covid-19 in Mumbai are being treated with a drug used to treat rheumatoid arthritis, Tocilizumab. Roche pharma produces this drug and Cipla markets the Tocilizumab drug.
Another drug being used in Delhi and Mumbai is a medicine used for those suffering from autoimmune disorders, multiple sclerosis, rheumatoid arthritis, and skin disorder psoriasis, the drug Itlolizumab. Under a joint venture between Biocon and Centre for Molecular Immunology (CIM), Itlolizumab is currently developed in India.
Sun Pharma is conducting human trials on 210 patients across 12 centers and is working on a drug that was first developed to treat dengue. By October this year, the company is expecting the results to be out.
Source
Drugs to Treat COVID19 In India – Fabiflu, Covifor, Cipremi, and other drugs
Upload your CV to Rasayanika Talent Pool