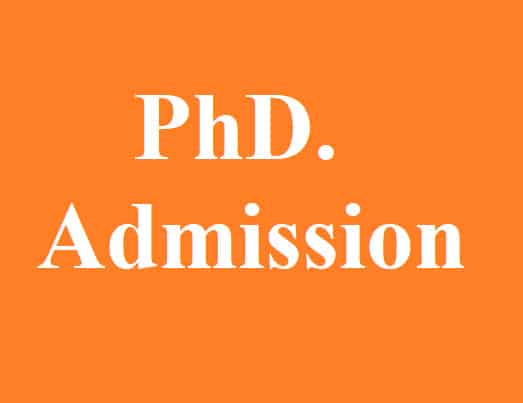 IIT Palakkad Phd Programme – August, 2019 Session: Application Details
IIT Palakkad invites Chemistry candidates for Ph.D. programme beginning in August 2019. Indian Institute of Technology Palakkad invites chemistry candidates for Agust 2019 Ph.D. admission program. Ph.D. programme 2019, Ph.D. chemistry. Interested candidates with a good academic track record and a strong intent to pursue a Ph.D. in chemistry may apply for the programme via online mode. Check out all the details on the same below:
Eligibility: Master's degree in chemistry with a good academic record and having a valid GATE score or UGC/CSIR-NET/NBHM or equivalent qualification tenable for the
current year in the relevant area. Master's degree holders in Engineering/Technology are also eligible.
Research Areas:
Chemistry:
Biophysical chemistry and molecular dynamics simulations, Mechano-chemistry, Equilibrium and non-equilibrium statistical mechanics of soft matter, Structure and dynamics of polymers and supramolecules, Nanostructures for Biomedicine, Materials Chemistry and Heterogeneous Catalysis, Organic macromolecules – Design, Synthesis and Applications.
Research facilities to carry out both theoretical and experimental work are available. A High-Performance Computing Cluster (HPC) consisting of 64 compute nodes, each having a dual 12-core Intel processor running at 2.2 GHz with 4 GB of RAM per core is available for faculty, research staff and students at IIT Palakkad to investigate complex research problems in science and engineering. A well-equipped chemical synthesis lab is available for the research in experimental chemistry. Analytical facilities include chromatography and spectroscopy equipment such as HPLC, LCMS, TG-DTA-MS, Bench-top NMR, FT-IR, Chemisorption, UV-vis and Fluorescence Spectrophotometer. In addition to this, major research equipment such as Xray diffractometer, Raman spectrophotometer and an electron microscope will be installed very soon at the Central Instrumentation Facility of IIT Palakkad.
Admission Guideline:
Application: A candidate can apply to more than one department. The maximum number of departments to which he/she can apply will be three.
Financial Assistance: Assistance will be as per MHRD norms. Fulltime Scholars admitted to Ph.D. and M.S. programmes are eligible for the Half-time Teaching/Research Assistantship (HTRA) for which:
a. They should work for 8 hours per week for the Institute to earn this assistantship. The
work would normally involve assistance in teaching/research, and will be assigned by
the Institute.
b. Renewal of assistantship every semester will be contingent on enrolment, satisfactory
progress in research work and good performance during the preceding semester in the
discharge of responsibility as teaching/ research assistant. Other scholarships like UGC- JRF, CSIR-JRF, ICMR, ICAR & AICTE etc. may also be available for those who have qualified for these schemes and get admission and the amount of fellowship will be as per the norms of the funding agency.
Selection Procedure:
Eligible candidates possessing the minimum educational qualifications (as given in
section 4) and satisfying additional and stiffer criteria set from time to time, will be called for an interview and/or test by the Selection Committee. For candidates who have obtained PG degree 10 years earlier as on the last date prescribed for receipt of the completed application, a departmental test will be conducted.
The applications of foreign nationals may be considered without a personal interview /
test .
Based on the academic record and the performance of the candidates in the interview
and/or test, the Selection Committee will recommend to the Chairman, Senate the names of candidates found suitable for admission.
How To Apply:
Kindly read the Information Brochure carefully to make sure that you are eligible for the program and to identify the disciplines which match your areas of interest. You can apply to at most two disciplines.
Click on Create new account on the sidebar in this portal. Enter a valid email address and a username to create a new account.
A welcome message with login instructions will be sent the email address entered above.
Please check the spam folder, in case you do not see the mail in your inbox.
The link in the welcome mail can only be used once to log in and will lead you to a page where you can set your password. After setting your password, you will be able to log in at this portal using your username and password.
Login to this portal.
In order to complete the application form, you will need a soft-copy of a recent passport type photograph.
Select the program to which you wish to apply from the Start a New Application link on the right side.
Fill the application form carefully. After filling all the details, preview the application once and then submit it.
You will be directed to a page from where you can pay the application fee. Your application will be only processed only if you fill all the required data, make the payment, enter the CCAvenue reference number that you obtained on your email/sms to the application form, and click Submit Application once more . Applications remaining incomplete till the closing day will be automatically deleted by the system.
You can make minor changes to the submitted applications before the closing date using the My Applications link in the Applicant Menu on the right. But after making any change(s), you will have to go to to the last page and click on "Submit Application" once more for the change(s) to be submitted. No changes will be allowed after the closing date.
List of candidates shortlisted for Test/Interview will be published in this portal on the second week of May 2019.
Important Dates:
| | |
| --- | --- |
| Advertisement to Appear | March 20, 2019 |
| Application Portal Opens | March 20, 2019 |
| Last date for submission of application online ATest and Interview | April 19, 2019, June 3 to June 22, 2019 |
| Selection list to appear | June 26, 2019 |
| Last date to issue admission letters | July 2, 2019 |
| Date of Joining | July 15, 2019 |
Editor's Note: IIT Palakkad Ph.D. programme 2019. PhD August 2019 session, PhD chemistry admission, Ph.D. pharmacy admission, Ph.D., Chemistry, Pharma, Subscribe to Rasayanika for latest job updates.
Upload your CV to Rasayanika Talent Pool