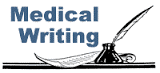 Established in 2006, Crest is an IT and ITES company that offers services in premedia, data conversion, software development, research & analysis and marketing & BPO. We are a Springer group company with invaluable insight into European and American markets and the advantage of being based in India. We have perfected our offshore delivery system, working with some of the world's largest STM publishers.
Post: Scientific and Medical Writer
Job Description
–  Required background and experience: you will have working experience in the pharmacovigilance/drug Identifying and evaluating individual case safety reports (ICSRs) of adverse drug reactions from the published literature
–  Creating summary content in a range of formats (narrative summaries, structured database inputs, electronic formats for regulatory filing ) to support the drug safety reporting and information requirements of Pharma industry clients
–  Safety field and a background in medicine or pharmacy
–  Ideal experience would include
– Scanning the literature or other data sources to identify reportable adverse drug reactions based on accepted industry and regulatory guidelines
– Detailed evaluation of individual case reports e.g. determining seriousness of adverse events, determination of drug causality, subsuming signs and symptoms into clinical diagnoses etc.
– Familiarity with the reporting and
regulatory requirements for pharmaceutical companies as mandated by drug safety authority.
Candidate Profile
– Minimum 1+ years of experience in Pharmacovigilance
– Scanning scientific literature or other data sources to identify reportable adverse drug reactions based on accepted industry and regulatory guidelines
– Familiarity with the reporting and regulatory requirements for pharmaceutical companies as mandated by drug safety authorities
– Knowledge of global pharmacological regulations
– Excellent command over English language (written and verbal)
– Decent knowledge of ICH guidelines and regulations relating to safety reporting
Interview Process
–  Screening–Candidates appear for Language and Technical tests
– First round–Telephonic/Personal Interview with Team Lead includes Technical questions and topics and assessing your skills for the position
– Second round–Skype/Personal Interview with Sr. manager to determine your suitability for a particular group within the division you have applied to
– HR round – Discussing Company policies and salary expectations. If you are successful in the interviews an offer is rolled out along with compensation structure and other rules related to employment