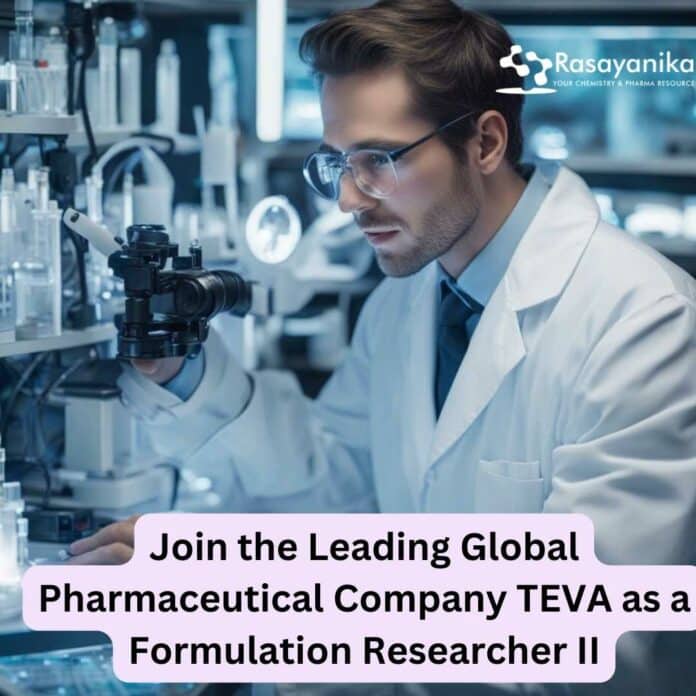 TEVA Formulation Researcher Job – PhD & MSc Apply
Formulation Researcher II
Date: Oct 5, 2023
Location: Ambernath, India, 421506
Company: Teva Pharmaceuticals
Job Id: 51641
Who we are
Together, we're on a mission to make good health more affordable and accessible, to help millions around the world enjoy healthier lives. It's a mission that bonds our people across nearly 60 countries and a rich, diverse variety of nationalities and backgrounds. Working here means working with the world's leading manufacturer of generic medicines, and the proud producer of many of the products on the World Health Organization's Essential Medicines List. Today, at least 200 million people around the world take one of our medicines every single day. An amazing number, but we're always looking for new ways to continue making a difference, and new people to make a difference with.
The opportunity
Bench scientist with good analytical acumen in the area of formulation research and development, process development, Regulatory and Intellectual property for global markets.
Planning and conducting of experimentation in line with QbD paradigm, using OFATs and DOE.
Should have worked on products at different stages from selection to launch with scientific principles of QbD, DoE, statistics and scaleup
principles.
Discuss and deliberate needful measures for timely execution of batches and ensure regulatory filing, approval and launch of generic drug products.
Your experience and qualifications
Ph.D. in Pharmaceutical Sciences with 3 Yrs. +/ M.Pharm in Pharmaceutical Sciences with 6yrs+ from reputed universities.
Experience in working in a high-performance team in known generic space/ organizations with known generic footprint in regulated markets. Viz. US/EU/Canada.
Skills and specific knowledge required
Technical Skills:
Formulation Development of Solid Oral Dosage forms, exposure from development and submission to regulatory agencies.
SME within team and Provides solutions to moderate problems within team.
Frequent use of scientific theories and principles.
Good learning acumen
Basic level understanding on recent ICH, regulatory guidelines, IP requirements; understanding of Bioequivalence, GMP, Quality and SOP compliance, GLP etc.
People Skills:
Must be Confident, able to work in the team and a good team player.
Stable and calm, Supports functional colleagues.
Shows respect, listens effectively, show caring.
Strong technical communication skills, has the ability to take comprehend facts and data to help the decision making.
Shows respect, listens effectively, show caring & be compliant with the core values of TEVA.
Demonstrates timeliness.
Interpersonal Skills:
Collaborates with team within functional area and cross functional teams.
Strong technical communication applied locally and contributor to local and/or global project teams.
Delivers technical presentations & Recommends project strategy.
Ability to work with very little supervision, Train and supervise junior staff.
Ability to work independently on individual products.
Mentor functional colleagues.
Manages internal and external partners.