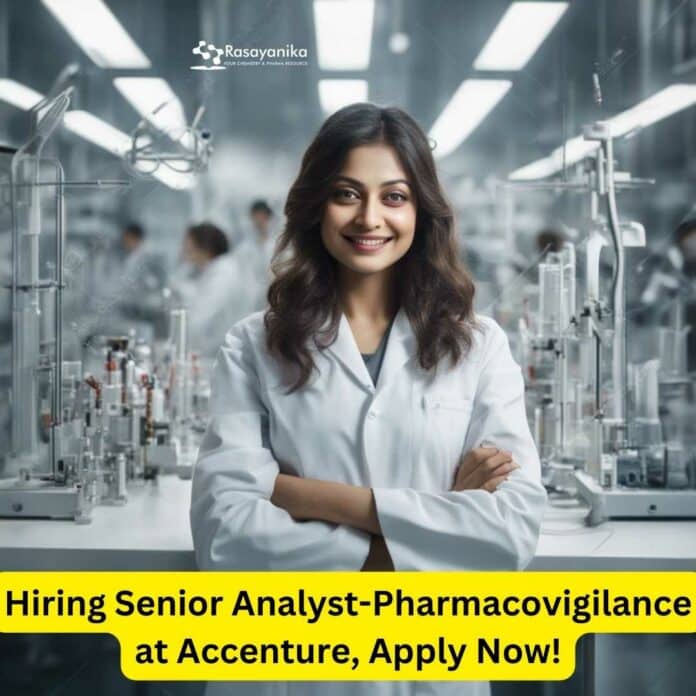 Senior Analyst-Pharmacovigilance at Accenture For Pharma Candidates
Quality Auditing Senior Analyst-Pharmacovigilance
Job No. 291481
About Accenture
Accenture is a global professional services company with leading capabilities in digital, cloud and security. Combining unmatched experience and specialized skills across more than 40 industries, we offer Strategy and Consulting, Technology and Operations services, and Accenture Song— all powered by the world's largest network of Advanced Technology and Intelligent Operations centers. Our 699,000 people deliver on the promise of technology and human ingenuity every day, serving clients in more than 120 countries. We embrace the power of change to create value and shared success for our clients, people, shareholders, partners, and communities.
Job Description
Skill required: Pharmacovigilance – Pharmacovigilance & Drug Safety Surveillance
Designation: Quality Governance Scientist
Job Location: Bengaluru
Qualifications:
Bachelor of Pharmacy/Master of Pharmacy/Bachelor in Physiotherapy
Years of Experience: 5 to 8 years
What would you do?
Primary responsibility will be to Conduct audits, draft audits reports, approve CAPA responses and track CAPA actions to closure. Quality Management System & Change Management. Comply QMS procedures as per requirement specified in the Quality Manual, applicable Accenture policies and SOPs/Guidance documents. Develop SOP/SWI/Guidance documents for QMS Review SOPs developed by pharma projects. Maintain
QA document repository. Review request for changes, perform impact assessment and recommend actions as applicable in compliance with the applicable procedural documents. Review and confirm completeness of documentation for the change request and seek approval. Provide support and guidance as required during client audit / regulatory inspections. Provide support in performing RCA and drafting CAPA responses for Inspections/client Audits and ensure timely closure of CAPAs You will be part of a dynamic Pharmacovigilance team with an array of capabilities ranging from detection, assessment, understanding and prevention of adverse effects or any other medicine/vaccine related problem following Good Pharmacovigilance Practice (GVP) per client SOPs and applicable global regulatory requirements (Individual Case Safety Reports) to working on various aspects of Aggregate reports such as planning, authoring, reviewing and publishing of PBRER, PSUR, DSUR, PADER, Addendum to clinical overview (AdCO), Risk Management Plan (RMP), Signal detection and validation reports (SDVR), Cosmetovigilance Safety Reports (CoSR). The Pharmacovigilance team is also responsible for authoring and reviewing clinical documents such Protocols and amendment, Investigator Brochure, Clinical Study Reports (CSR), Synoptic/Abbreviated CSR, Safety Narratives, Clinical O In this role, you will be expected to create and manage case identification, data entry, MedDRA coding, case processing, submission, and follow-ups for ICSRs in the safety database as per client guidelines and applicable global regulatory requirements.
What are we looking for?
GXP auditing experience Clinical Data Management
Clinical EDC Build
Clinical EDC Design
Clinical eTMF Management
Quality Assurance (QA)
Commitment to quality
Prioritization of workload
Results orientation
Strong analytical skills
Roles and Responsibilities
Primary responsibility will be to Conduct audits, draft audits reports, approve CAPA responses and track CAPA actions to closure. Quality Management System & Change Management. Comply QMS procedures as per requirement specified in the Quality Manual, applicable Accenture policies and SOPs/Guidance documents. Develop SOP/SWI/Guidance documents for QMS Review SOPs developed by pharma projects. Maintain QA document repository. Review request for changes, perform impact assessment and recommend actions as applicable in compliance with the applicable procedural documents. Review and confirm completeness of documentation for the change request and seek approval. Provide support and guidance as required during client audit / regulatory inspections. Provide support in performing RCA and drafting CAPA responses for Inspections/client Audits and ensure timely closure of CAPAs In this role you are required to do analysis and solving of increasingly complex problems
Your day to day interactions are with peers within Accenture
You are likely to have some interaction with clients and/or Accenture management
You will be given minimal instruction on daily work/tasks and a moderate level of instruction on new assignments
Decisions that are made by you impact your own work and may impact the work of others
In this role you would be an individual contributor and/or oversee a small work effort and/or team
Please note that this role may require you to work in rotational shifts
Qualifications
Bachelor of Pharmacy/Master of Pharmacy/Bachelor in Physiotherapy
Link to Apply: Click Here
Keywords: Senior Analyst-Pharmacovigilance, Quality Auditing, Pharmacovigilance, Quality Governance Scientist, Bengaluru, Bachelor of Pharmacy, Master of Pharmacy, Bachelor in Physiotherapy, GXP auditing experience, Clinical Data Management, Clinical EDC Build, Clinical EDC Design, Clinical eTMF Management, Quality Assurance, SEO