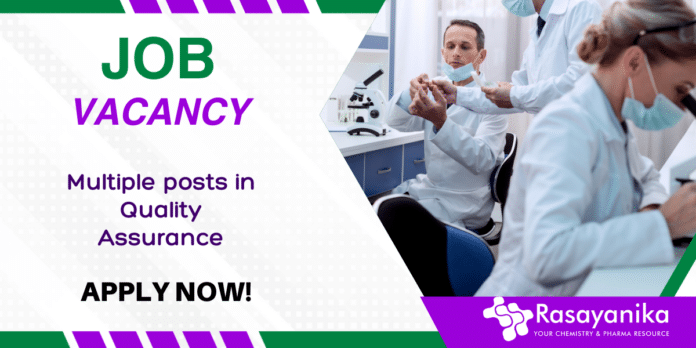 Latest Rubamin jobs. BSc Chemistry QA Jobs. You can find the details below. Kindly go through the same and apply online.
Job role :
Trainee Chemist
Chemist/ Jr. Officer
Sr. Officer / Officer
Qualification Required: B.Sc. in Chemistry
Experience:
Trainee Chemist : Fresher
Chemist/ Jr. Officer – 05 years
Sr. Officer / Officer – More than 5 years
Competencies required (Functional and Behavioral) :
Good Knowledge of Chemistry (Basic understanding of what has learnt in the course curriculum)
Good understanding/grasping power
Exhibits Analytical approach
Demonstrates Sincerity
Job Description:
Handling of Instruments like AAS, ICP, UV Spectro,Auto titrator,Auto Diluter,bomb cal. Meter Sulphur ,pH meter,Surface Area,COD apparatus ,Weigh Balance etc.
Solution preparation and Standardization.
Sampling and Analysis of Raw Material and Finished goods
In process sample analysis
Wet Analysis by classical method
Chemical and glassware handling.
Reporting verbal and written, (Barcode & SAP)
Safe operation with PPE
FG & RM Report preparation
House Keeping
Responsible for ensuring OH & SMS related aspects in the section. Take ownership in case of any emergency / disaster as per the Emergency Preparedness Plan / Disaster Mgt. Plan
Greetings, everyone! We have compiled a selection of interview questions and corresponding answers to help you
prepare for your upcoming interview for BSc Chemistry QA Jobs. We encourage you to review these materials thoroughly to enhance your interview performance for the BSc Chemistry QA Jobs. Best of luck with your interview!
1. Question for Trainee Chemist (Fresher):
Question: What inspired you to pursue a career as a Chemist, and how do you plan to apply the knowledge you gained during your B.Sc. in Chemistry to this role?
Answer: During my studies, I developed a strong passion for chemistry and its applications in various industries. I believe this role as a Trainee Chemist will provide me with the hands-on experience I need to bridge the gap between theoretical knowledge and practical applications. I'm excited to work with the instruments mentioned in the job description, such as AAS and UV Spectro, and to contribute to the quality control and analysis processes.
2. Question for Chemist/Jr. Officer (5 years experience):
Question: Can you share an example of a challenging analytical problem you encountered in your previous role and how you approached and solved it?
Answer: In my previous position, we faced an issue with inconsistent results in our pH meter readings, which was affecting product quality. I took a systematic approach, conducting a calibration check, troubleshooting the equipment, and ensuring proper maintenance. By collaborating with the team, we identified and corrected the issue, resulting in consistent and reliable pH measurements, which significantly improved our quality control processes.
3. Question for Sr. Officer/Officer (More than 5 years experience):
Question: How do you stay updated with the latest advancements in analytical chemistry, and how have you applied any new techniques or technologies to improve your work in the past?
Answer: I believe in continuous learning and staying current in the field of analytical chemistry. I regularly attend industry conferences and workshops, read scientific journals, and participate in online forums to keep up-to-date with the latest developments. In my previous role, I introduced an automated sample handling system, which reduced analysis time and increased efficiency, ultimately improving the overall workflow and accuracy of our results.
4. Question for all levels (Behavioral):
Question: The job description mentions the importance of demonstrating sincerity. Can you provide an example from your previous experience where your sincerity and commitment to safety played a crucial role in your work?
Answer: In my previous role, we had a situation where there was a minor chemical spill in the lab. Instead of ignoring it or assuming someone else would handle it, I immediately followed our safety protocols, donned appropriate personal protective equipment (PPE), and took responsibility for containing and cleaning up the spill. This incident highlighted my commitment to safety and ensured that no one was put at risk.
5. Question for all levels (Problem-solving):
Question: The job description mentions responsibility for OH & SMS aspects. Can you describe a situation where you had to respond to an emergency or disaster in your previous role and the steps you took to address it?
Answer: During a sudden equipment malfunction in my previous role, there was a risk of chemical exposure to the team. I acted swiftly by alerting everyone, evacuating the area, and following the Emergency Preparedness Plan. I also ensured that necessary safety measures were taken, and I communicated with the designated emergency response team. This experience reinforced the importance of preparedness and quick action in emergency situations.