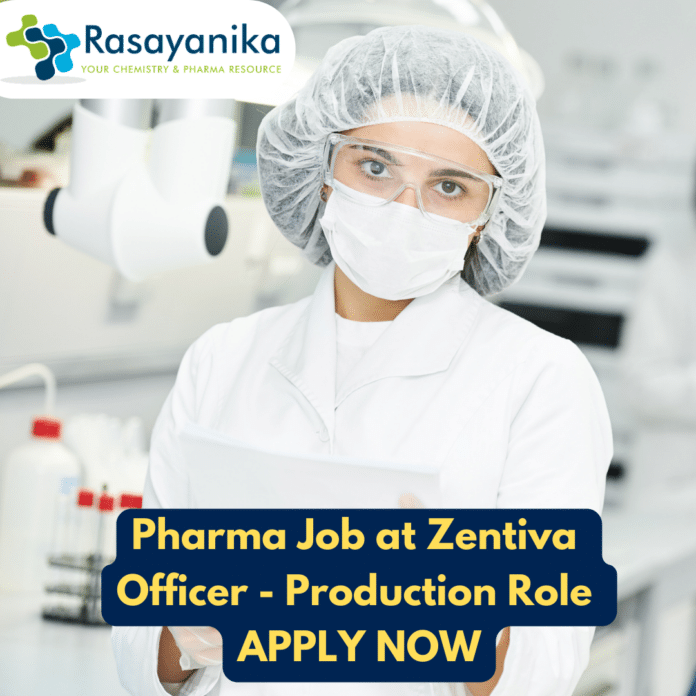 Pharma Job at Zentiva – Officer – Production Pharmaceuticals Role – BPharm/MPharm Graduates Apply Now
Role : Officer – Production Pharmaceuticals
Locations : India / Ankleshwar
Time type : Full time
Job requisition id : R2465537
Pharma Job at Zentiva – check out the details below and apply
Job Description:
Production
Implementing monthly schedule with consistent quality, adhering to Regulatory, GQS, and HSE guidelines, with proper utilization of resources and optimum cycle time.
Performing the production activities in assigned areas in order to achieve 100 % customer service.
ISO 14001 and SAP
Adhering to ISO 14001 activities and objectives in Pharma Mfg. Performing all the SAP related activities as and when needed.
Compliance
Implementing and ensuring compliance to GQS, HSE and ISO guidelines / standards and maintaining documentation for the same including process validation and qualification.
Coordinating with
Engineering department for preventive and break down maintenance, modifications etc.
Purchase for procuring and controlling auxiliaries.
Quality operations for all quality related matters.
Performing the function related to SAP activities.
Coordination with packaging department for bulk availability.
Yield monitoring
Implementing and making efforts for continuous improvement of yield of assigned products
Training
Impart training to the operative staff on GMP, Data Integrity ,HSE, ISO requirement & process improvement and maintaining good industrial relation in the plant by effective grievance process.
Others
Carrying out any other assignments or projects like qualifications and validations as per the instruction of the Dept. Head to meet the organizational priorities.
Identifying and correcting unsafe conditions or behavior and promptly reporting other potentially hazardous situations.
Maintaining plant assets in good condition and making optimum use of all resources.
Ready to work in each shift & in any allocated areas
Educational Qualification and work Experience:
B. Pharm / M. Pharm from reputed university
2 to 4 years of Experience in pharmaceutical manufacturing department.(OSD plant)
Explore Rasayanika for the latest updates
Here are some interview questions and sample answers for the Pharma Job at Zentiva – Officer – Production Pharmaceuticals role:
1. Can you explain your experience in pharmaceutical manufacturing, particularly in OSD (Oral Solid Dosage) plant operations?
Sample Answer: "I have 2 to 4 years of experience working in pharmaceutical manufacturing, specifically in the OSD plant. During this time, I have been responsible for various aspects of production, including adhering to production schedules, ensuring product quality, and complying with regulatory and safety guidelines. My experience has provided me with a solid foundation in OSD manufacturing processes."
2. How do you prioritize and manage your daily production tasks to ensure consistent quality and adherence to regulatory guidelines?
Sample Answer: "To prioritize and manage production tasks effectively, I rely on a combination of planning and teamwork. I start by reviewing the production schedule and allocating resources efficiently. I ensure that all team members are well-trained in GMP (Good Manufacturing Practices) and HSE (Health, Safety, and Environment) guidelines. Regular communication and coordination with quality operations, engineering, and other departments are key to maintaining consistent quality and compliance."
3. Could you describe your experience with ISO 14001 and SAP activities in pharmaceutical manufacturing?
Sample Answer: "I have experience in adhering to ISO 14001 environmental management activities within the pharmaceutical manufacturing context. This includes ensuring compliance with environmental objectives and goals. Regarding SAP, I have performed various SAP-related activities as needed, such as inventory management, order processing, and reporting, to support production and overall plant operations."
4. How do you ensure compliance with GQS (Good Quality Standards), HSE (Health, Safety, and Environment), and ISO guidelines in your daily work?
Sample Answer: "Compliance with GQS, HSE, and ISO guidelines is of utmost importance in pharmaceutical manufacturing. I ensure compliance by actively following documented procedures, conducting regular audits, maintaining accurate documentation, and promptly addressing any non-compliance issues. I also collaborate closely with quality operations, safety teams, and environmental management to align our efforts and maintain high standards."
5. Can you provide an example of a situation where you identified an opportunity for yield improvement in your assigned products and how you implemented it?
Sample Answer: "In a previous role, I noticed that there was a recurring issue affecting the yield of a specific product. To address this, I initiated a root cause analysis, which involved collaborating with cross-functional teams to identify the underlying factors. After identifying the cause, we implemented process improvements and optimized certain parameters, resulting in a notable increase in yield."
ALL THE BEST!