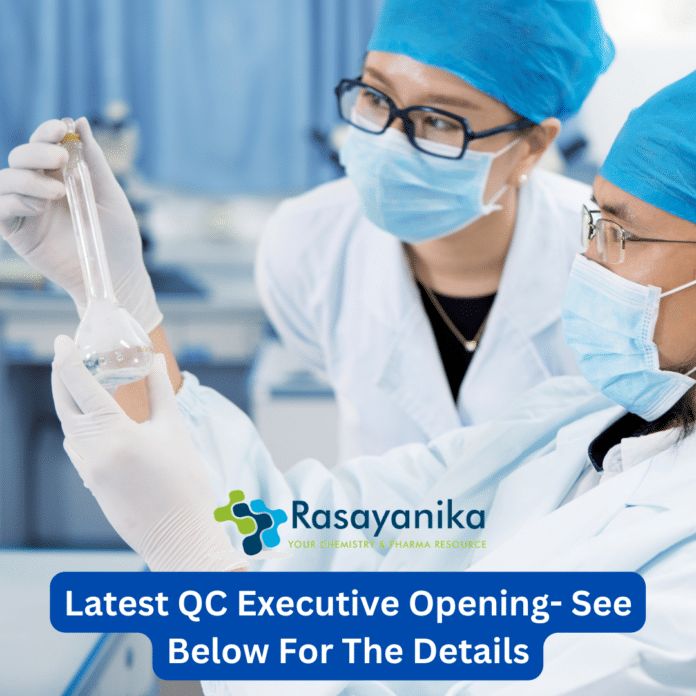 Sanofi is dedicated to supporting people through their health challenges. MSc Quality Control Job details are provided below. Please check the same. Apply online if your qualifications match and you are eligible.
Job role – Executive Quality Control
Job ID – R2714483
We at Goa Pharma are involved in producing oral solid dosage and supplying it to domestic and regulated markets. The position is in Quality control department involved in testing of raw materials and finished products.
Main responsibilities:
Sampling of Raw Material, intermediate and Finish Product as per the relevant SOP's
Ensure proper storage as per Storage conditions for Raw Material, intermediate, stability samples and Finish Product as per the relevant SOP's.
Analysis of stability samples, finished goods as per the required specifications in time.
Ensure cGLP in the laboratory activities.
Checking of chemical stores for proper storage and labelling.
Analysis of Raw materials as per specification and test procedures.
Analysis of Miscellaneous samples like cleaning validation and process validation samples.
Carry out instrumental analysis of stability samples, Raw materials, Finished Goods such as potentiometer, IR spectrophotometer, Raman Analyzer, Dissolution tester,
Disintegration tester, Microscope, UV-Vis Spectrophotometer, Conductivity meter, pH Meter, Sieve shaker, Karl Fischer, HPLC
Prepare and maintain raw data and analytical records in compliance with the current regulatory requirements.
Maintain the raw data as per regulatory requirements.
Scanning and Proper Storage of Raw Material ATR in the documentation store.
Filling and documentation of ILI/Deviations at the site.
Carry out the validation of analytical methods as per the testing procedure
To perform Calibration and PM of instruments like Dissolution tester, UV
Experience: 1-2 years
Soft skills: Communication Skills
Technical skills: UV, Disolution, HPLC, GC
Education: (not mandatory): MSc
Languages: English
Hi, everyone! We've assembled a collection of interview questions and their respective answers to assist you in getting ready for your upcoming interview for the MSc Quality Control Job. Take advantage of these resources to help you excel in your interview for the MSc Quality Control Job.
Question: Can you describe your experience with sampling raw materials and finished products in a quality control setting?
Answer: In my previous role, I was responsible for sampling raw materials, intermediates, and finished products according to relevant SOPs. I ensured that proper storage conditions were maintained for each sample category. Timely and accurate sampling is critical for quality control, and I have a strong track record in this area.
Question: What instruments and analytical techniques are you proficient in for quality control analysis, and how have you used them in your previous role?
Answer: I have experience with a range of instruments and analytical techniques, including UV spectrophotometers, dissolution testers, HPLC, and GC. These tools are essential for assessing the quality of raw materials and finished products. I've conducted numerous tests using these instruments, ensuring that products meet the required specifications.
Question: Can you discuss your approach to maintaining cGLP (current Good Laboratory Practices) in laboratory activities? Why is this important in quality control?
Answer: Maintaining cGLP is crucial to ensure the reliability and integrity of test results. I follow strict protocols to adhere to cGLP standards, including proper documentation, sample handling, instrument calibration, and data management. This commitment to cGLP not only ensures accurate results but also contributes to regulatory compliance.
Question: How do you handle the preparation and maintenance of raw data and analytical records in compliance with regulatory requirements?
Answer: I understand the importance of maintaining accurate records in the pharmaceutical industry. I meticulously prepare and organize raw data and analytical records, ensuring they comply with current regulatory standards. This includes proper documentation, data storage, and record-keeping practices.
Question: Can you provide an example of a situation where you had to perform instrument calibration and preventive maintenance (PM) on analytical instruments? How did you ensure their accuracy and reliability?
Answer: In my previous role, I regularly performed instrument calibration and PM on instruments like dissolution testers and UV spectrophotometers. I followed manufacturer guidelines and established protocols for these tasks. This ensured that the instruments were operating accurately and reliably, which is essential for obtaining trustworthy analytical results.