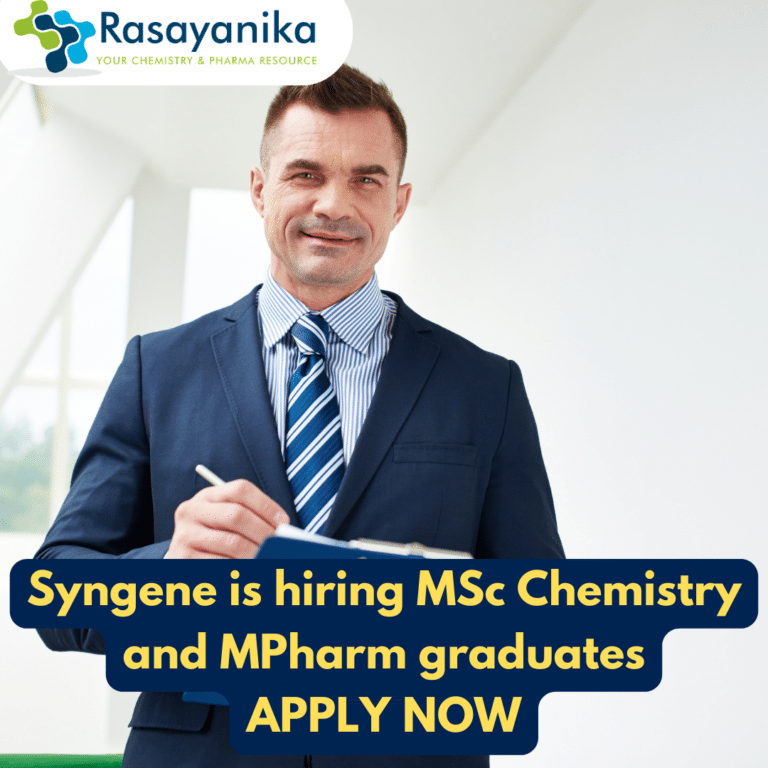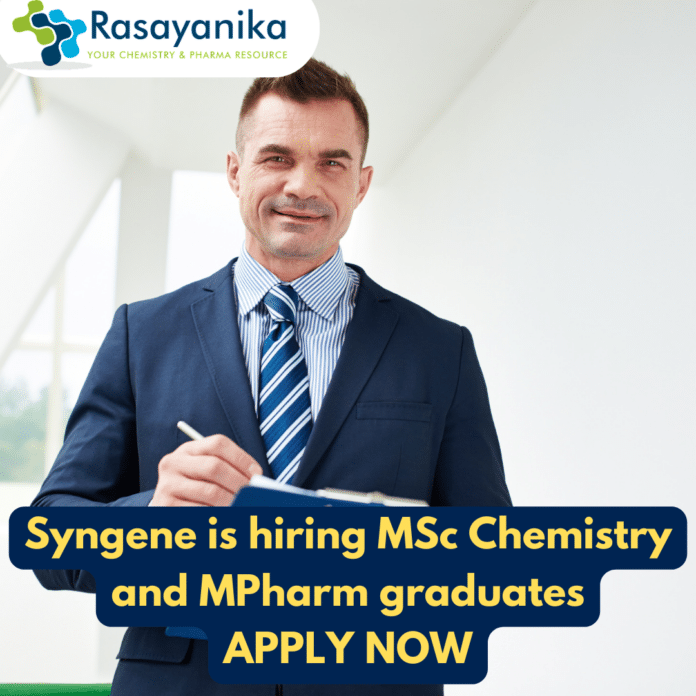 Job Opening at Syngene for MSc Chemistry and MPharm Graduates – Apply Now
Syngene is hiring! We are looking for a highly motivated and creative Deputy Manager in Sourcing (Biologics) who is results-oriented. This role is responsible for achieving business objectives by ensuring the timely submission of cost sheets to project management and the supply of necessary input materials, including raw materials, consumables, solvents, reagents, packing materials, spares, and stationery.
Job Opening at Syngene for MSc Chemistry and MPharm Graduates – check out the details below and apply
Details are as follows:
Open Position: Deputy Manager – Sourcing (Biologics)
Qualification: MSc with Chemistry or MPharma as one of the subjects during degree studies
Experience: 8 – 12 Years
Job Location: Bangalore
Roles and Responsibilities:
Possess a solid understanding of raw materials, process consumables, chemicals, excipients, and packing materials (biology background preferred).
Familiarity with GMP and regulatory requirements.
Strong negotiation skills and experience in vendor development.
Prior purchasing experience in CROs, CMOs, or pharmaceutical companies.
Last date to Apply: 26th Sep 2023
How to Apply:
Interested candidates may please apply to [email protected] with a subject line of Syngene International | Deputy Manager – Sourcing(Biologics) | 8 – 12 years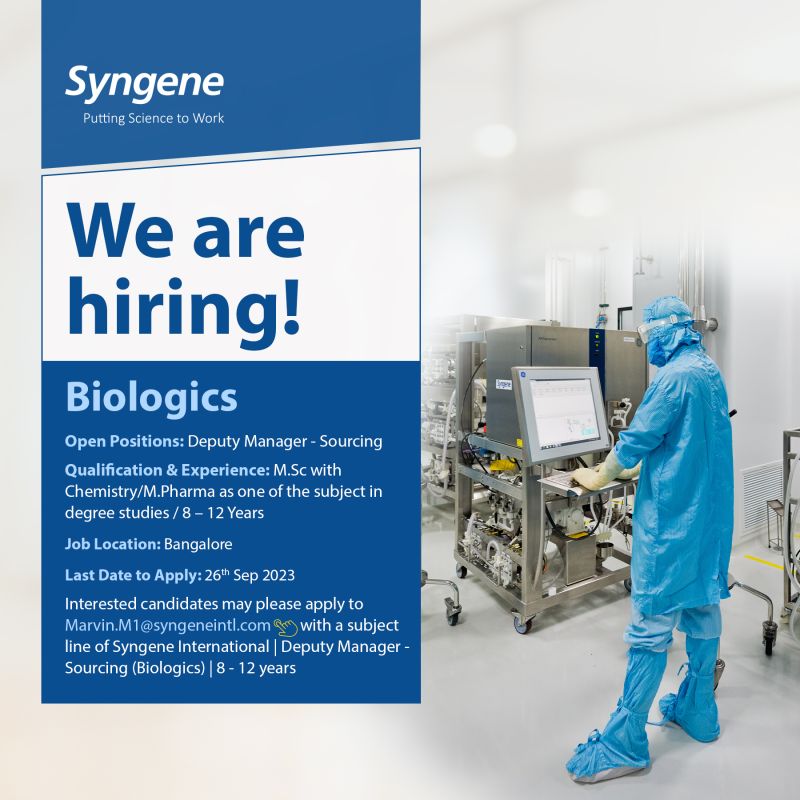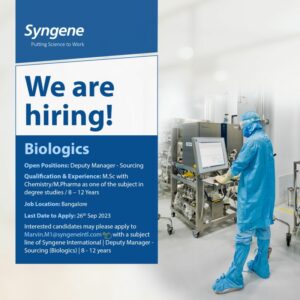 Here are few potential interview questions and sample answers for the Deputy Manager position at Syngene:
1. Can you describe your experience with raw materials and consumables sourcing in a biologics or pharmaceutical context?
Sample Answer: "In my previous role as a Sourcing Manager at [Previous Company], I was responsible for sourcing raw materials and consumables for biologics production. I developed strong relationships with suppliers, conducted market research, and ensured the timely delivery of materials to meet production deadlines. This experience has given me a solid understanding of the complexities and criticality of sourcing in the biologics industry."
2. How do you stay updated with regulatory requirements and GMP (Good Manufacturing Practices) in the biologics sector?
Sample Answer: "I stay updated with regulatory requirements and GMP by actively participating in industry conferences and seminars. Additionally, I subscribe to industry publications and follow relevant regulatory agencies' updates, such as the FDA and EMA. In my previous roles, I also ensured that our sourcing processes and materials met these standards by collaborating closely with quality assurance and regulatory affairs teams."
3. Can you provide an example of a challenging negotiation you've successfully conducted with a vendor?
Sample Answer: "In my previous role, we were facing cost pressures, and I needed to negotiate a significant reduction in the price of a critical raw material. I initiated discussions with the vendor, highlighting our long-standing partnership and our potential to increase our order volume. Through effective communication and a thorough understanding of our cost structure, I was able to negotiate a 15% reduction in the material cost, which resulted in substantial savings for our organization."
4. How do you approach vendor development to ensure a stable and reliable supply chain?
Sample Answer: "Vendor development is a critical aspect of ensuring a stable supply chain. I start by conducting a comprehensive supplier assessment to evaluate their capabilities, financial stability, and adherence to quality standards. Once a supplier is onboarded, I maintain open lines of communication, conduct regular performance reviews, and work collaboratively to address any issues promptly. This proactive approach helps in building strong, long-term relationships with vendors, ensuring a reliable supply chain."
5. How do you prioritize and manage multiple sourcing projects with tight deadlines?
Sample Answer: "Prioritization and time management are crucial in sourcing roles. I begin by creating a detailed project plan, identifying critical path items, and setting clear milestones. I also delegate tasks when necessary and closely monitor progress. In addition, I maintain open communication with project management teams to ensure alignment and adjust priorities as needed to meet tight deadlines. My experience has taught me the importance of flexibility and adaptability in managing multiple projects effectively."
Check out Rasayanika for the latest updates
ALL THE BEST!
Editor's Note: Job Opening at Syngene. Subscribe to Rasayanika for the latest chemistry and Pharma job openings, follow us on Facebook and Telegram and subscribe to our youtube channel for the latest updates on chemistry and Pharma jobs and much more.