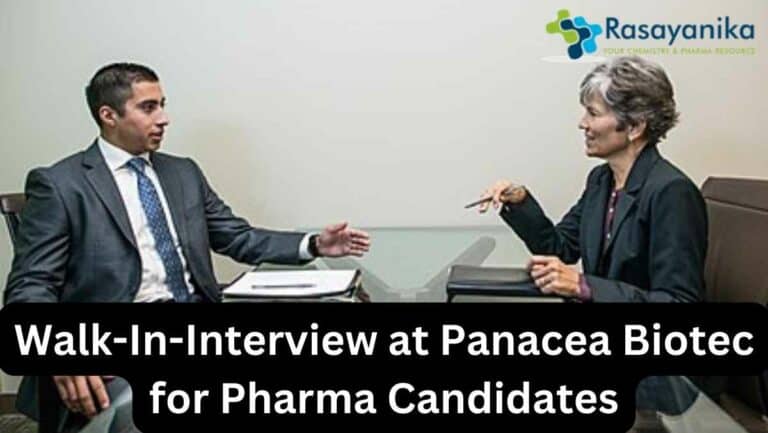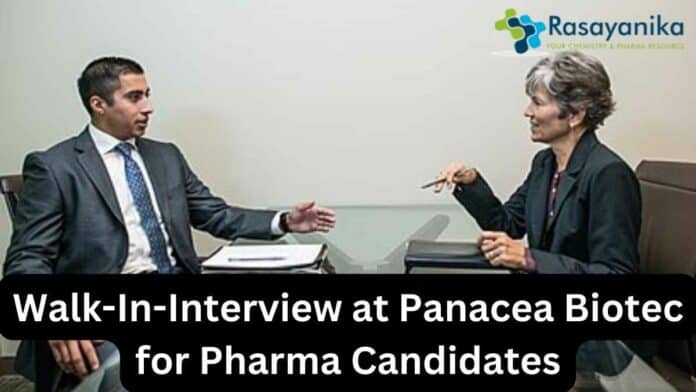 Walk-in-Interview for Pharma Graduates!
Join us at Panacea Biotec's Walk-In-Interview for Sales Representatives and embark on a dynamic career in the pharmaceutical industry. Explore exciting opportunities and make a significant impact in healthcare sales with a leading company. Don't miss this chance to shape your future with us!
Job Title: Territory Business Manager (Sales Representatives)
Company: Panacea Biotec
Headquarters: Lucknow, Moradbad, Faizabad, Varanasi, Kanpur.
Age: 23-25 years.
Work Experience:
2+ years experience
Target achievers having sound knowledge of Nutrition/Pharma/vaccines.
Interview Date: 16th September 2023, 17th September 2023.
Location of Walk-in-Interview for Pharma Graduates: Lucknow
Venue: HILTONN GARDEN INN, TCG 7/7 Vibhudi Khand, Gomti Nagar, Lucknow, UttarPradesh, 226010.
Information to Candidates: Interested candidates can attend walk-in-interview between 10..am to 5.00pm. Or, send their application to [email protected]
Walk-in-Interview for Pharma Graduates. The possible interview Q & A to help you with:
Can you tell us about your relevant sales experience and how it applies to the pharmaceutical industry?
Answer: "I have over two years of experience in sales, with a focus on the pharmaceutical industry. During this time, I successfully promoted and sold pharmaceutical products, including vaccines, to healthcare professionals. My experience has equipped me with a strong understanding
of the industry's dynamics, compliance requirements, and the ability to build and maintain strong client relationships."
How do you approach achieving sales targets in a competitive market like healthcare and pharmaceuticals?
Answer: "In a competitive market, I believe in a proactive and strategic approach. I start by thoroughly researching the market, identifying potential customers, and understanding their needs. I prioritize relationship-building and customer engagement to ensure their needs are met. Additionally, I am diligent in tracking my progress and adjusting my strategies as needed to meet and exceed sales targets."
What do you think are the key challenges faced by sales representatives in the pharmaceutical industry, and how do you handle them?
Answer: "One of the main challenges in the pharmaceutical industry is regulatory compliance, which can be complex and ever-changing. To address this, I stay updated on industry regulations and ensure that my sales practices are in strict compliance. Another challenge is building trust with healthcare professionals. I tackle this by being transparent, providing accurate information, and establishing myself as a knowledgeable and reliable resource."
How do you stay informed about the latest developments and trends in the healthcare and pharmaceutical sectors?
Answer: "Staying informed is crucial in this rapidly evolving industry. I regularly attend industry conferences, webinars, and subscribe to reputable publications. Networking with colleagues and industry professionals also helps me exchange insights and stay updated on the latest trends, innovations, and market dynamics."
Can you share an example of a challenging sales situation you've encountered and how you successfully resolved it?
Answer: "Certainly. In a previous role, I faced a situation where a key client was considering switching to a competitor's product due to pricing concerns. To address this, I initiated a detailed cost-benefit analysis, demonstrating the long-term cost savings and additional benefits our product offered. I also negotiated a customized pricing package that aligned with their budget constraints. Ultimately, we retained the client and increased their order volume by showcasing the value our product provided."