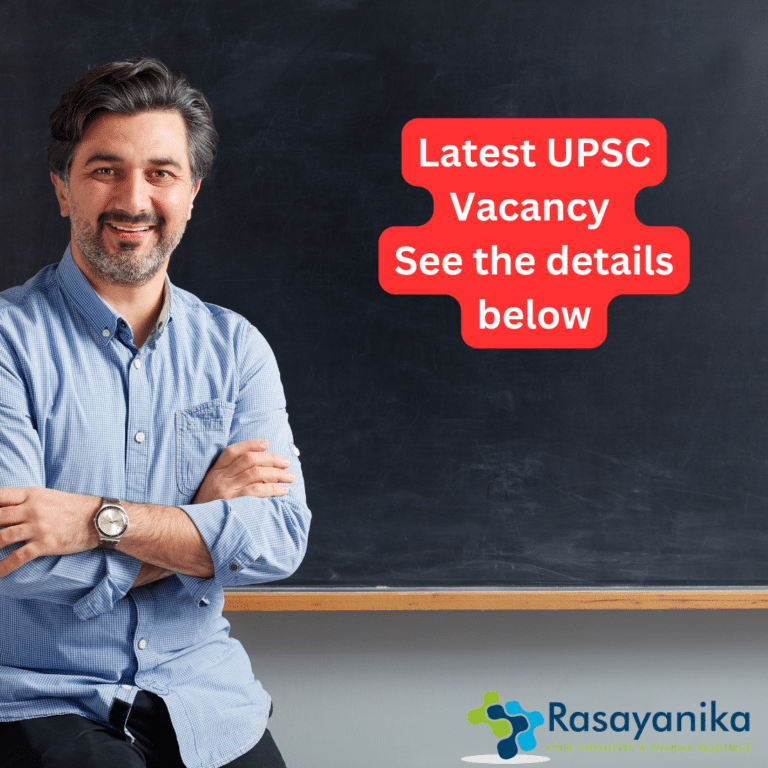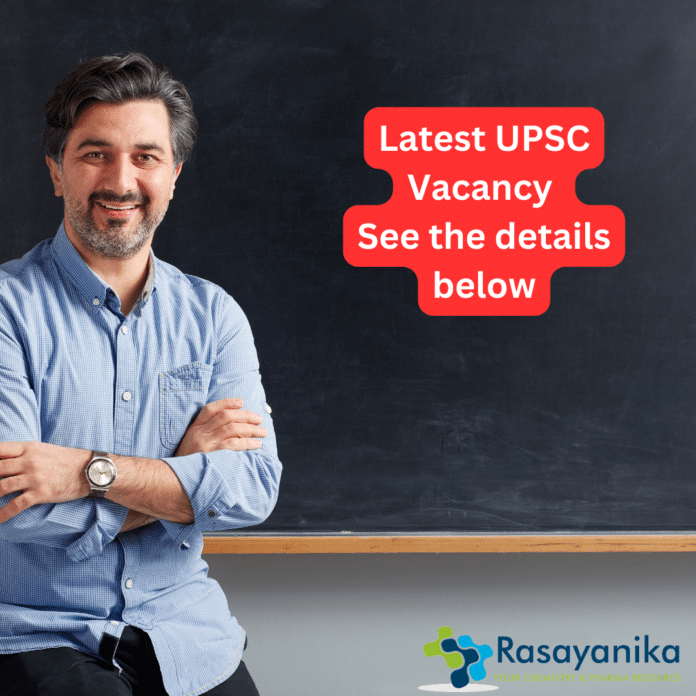 UPSC Teaching Job Chemistry – PGT Chemistry Vacancy, Apply Online
UPSC Teaching Job Chemistry – PGT Chemistry Vacancy, Apply Online. Govt UPSC Recruitment! PGT Chemistry For MSc Candidates – Apply Now. Post Graduate Teacher (Chemistry) UPSC vacancy. Apply online if you are qualified and eligible. MSc Chemistry Teaching Job. Apply now.
Job role : Post Graduate Teacher (Chemistry)
Vacancy Number : 23091703309
Ministry/Administration : Ministry of Jal Shakti
Organisation : Farakka Barrage Project
No of Post : 1 (UR)
Age: Not exceeding 30 years as on normal closing date. Relaxable for regularly appointed Central/U.T. Government Servant up to Five Years as per instructions/orders issued by Govt. of India time to time. For age concession applicable to some other categories of applicants, please see relevant paras of the 'Instructions and Additional Information to Candidates for Recruitment by Selection'.
Pay Scale : Pay Band 2, Rs 9300-34800/- with Grade Pay Rs 4800/- (Pre-revised)
Essential Qualification (s) :
(A) EDUCATIONAL
(i) Master Degree with 50% marks from recognized university in the relevant subject i.e. Chemistry.
(ii) Bachelor of Education from a recognized University/Institute and
(iii) Studied Bengali as a subject up to 10th standard.
Note: Qualifications are relaxable at the discretion of the Union
Public Service Commission for reasons to be recorded in writing, in the case of candidates otherwise well qualified.
Duty(ies) : To teach students of Higher Secondary Classes of FBPHS School. Evaluation of answer scripts and invigilation duty
Probation : Two years
Headquarters : Farakka Barrage Project
Other Details : General Central Service Group "B" Gazetted, Non Ministrial. The post is permanent.
Hello, everyone! We're excited to provide you with a collection of interview questions and their answers, designed to assist you in your interview preparation for the MSc Chemistry Teaching Job. Feel free to leverage these valuable resources to boost your preparedness and stand out during your upcoming interview for the MSc Chemistry Teaching Job.
1. Question: Can you describe your educational qualifications and how they align with the requirements of this position?
Answer: Certainly. I hold a Master's degree in Chemistry from a recognized university, meeting the educational requirement of having a Master's degree with 50% marks in the relevant subject. I also possess a Bachelor of Education degree from a recognized institution, fulfilling the criteria of having a B.Ed. degree. Additionally, I have studied Bengali up to the 10th standard as required for this role.
2. Question: What inspired you to apply for the Post Graduate Teacher position at Farakka Barrage Project?
Answer: I have always been passionate about teaching and fostering a deep understanding of chemistry among students. When I came across the vacancy at Farakka Barrage Project, I was particularly drawn to the opportunity to teach Higher Secondary Classes and contribute to the education of students in this unique setting. This aligns perfectly with my career goals and interests.
3. Question: How would you handle a classroom of diverse students, including those with varying levels of understanding in chemistry?
Answer: In a diverse classroom, I would adopt a differentiated teaching approach. I would start by assessing the students' prior knowledge and understanding of chemistry. Based on their levels, I would tailor my teaching methods to ensure that all students receive the necessary support and challenges. Additionally, I believe in creating an inclusive and engaging learning environment where students feel comfortable asking questions and seeking clarification.
4. Question: As a Post Graduate Teacher, you will also have evaluation and invigilation duties. How do you plan to manage these responsibilities effectively?
Answer: I understand the importance of fair evaluation and maintaining a secure testing environment. To manage these responsibilities effectively, I would create a structured schedule to allocate sufficient time for evaluation and invigilation duties without compromising on my teaching responsibilities. I would also stay up-to-date with evaluation guidelines and best practices to ensure objective and consistent grading.
5. Question: Can you provide an example of a challenging teaching situation you have encountered in the past and how you resolved it?
Answer: Certainly. In a previous teaching role, I had a student who was struggling to grasp complex chemical reactions. To address this challenge, I scheduled one-on-one tutoring sessions with the student to provide additional explanations and practice problems. I also encouraged peer tutoring, which boosted the student's confidence and understanding. Eventually, the student improved significantly, and it was a rewarding experience to see their progress.