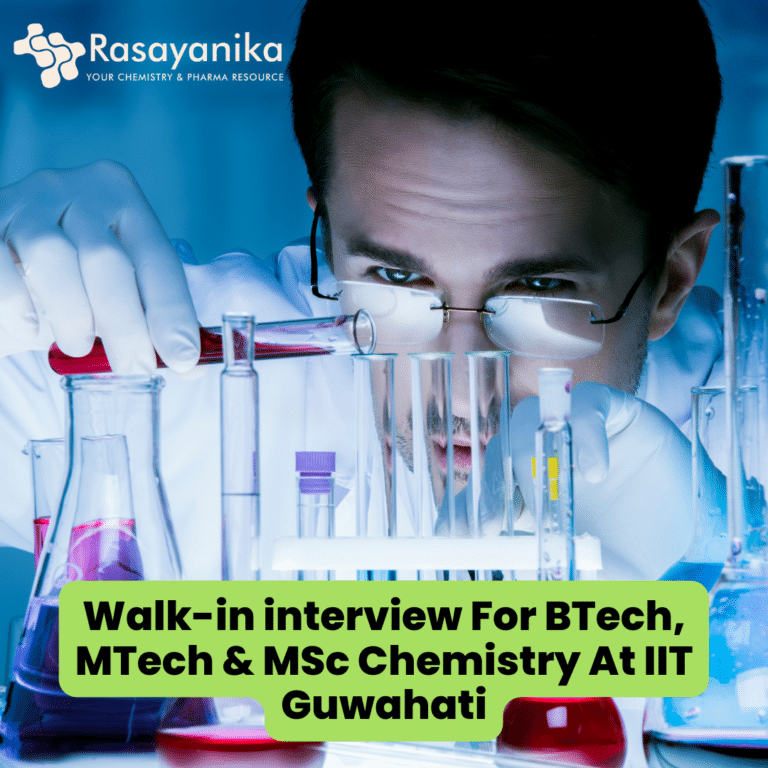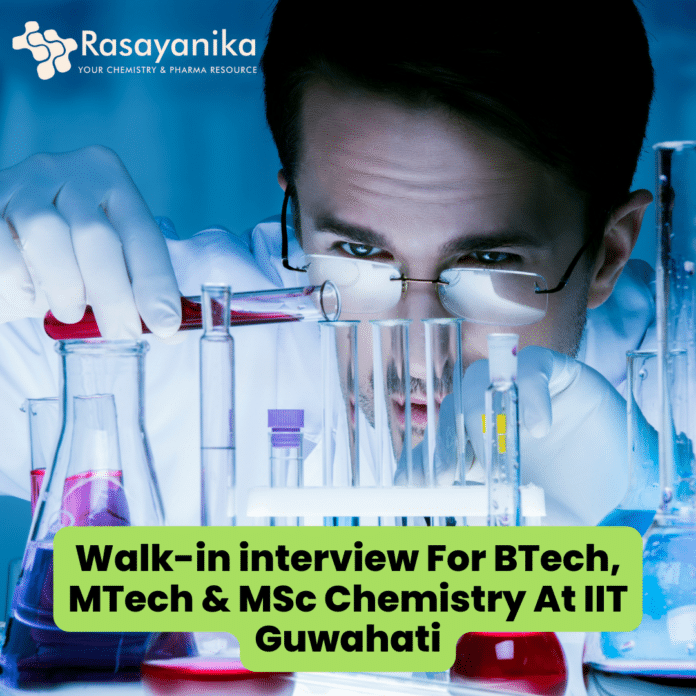 IIT Guwahati Chemistry JRF Job For MSc,MTech & BTech – Walk-In
IIT Guwahati Chemistry JRF Job For MSc,MTech & BTech – Walk-In. IIT Guwahati Chemistry JRF Job For BTech, MTech & MSc Candidates. Interested Candidates can check out the details below and Apply Online.
Research and Development Section
Indian Institute of Technology Guwahati
Guwahati-781039, Assam
Applications are invited for a Walk-in interview for the following post(s) in the project entitled, "Metabolic engineering of Rhodococcus opacus: A potential workhorse for lignin valorization into high-value lipids" at the Department of Biosciences and Bioengineering, IIT Guwahati.
Job Designation: JRF(GATE)
Number of Vacancies: 01
Duration of Appointment in months: 11
How to apply and selection process: Candidates have to appear in a Walk-in Interview, which is scheduled on 27th September 2023 (Wednesday) at 10:00 am. Advance copy of CV giving details of all educational qualifications, experience, contact address, phone no., email etc. along with scan copies of relevant documents should be sent on or before 25th September 2023 (11 am) to the Principal Investigator by email. Selection will be based on the performance of the candidate in the Walk-in interview. Candidates will not be
sent any call letter separately.
For any clarification, contact: Senthilkumar
Sivaprakasam (Principal Investigator)
Email:
[email protected]
Phone:
03612582226
No campus accommodation will be available for the selected candidates.
No TA/DA will be paid to the candidates for appearing in the test and interview.
Date: 27 September 2023 (Wednesday)
Time: 11 am
Venue: Walk-in Interview (N-block, Meeting room, BSBE Dept.)
Pay Recommended (Rs.): 31000
HRA (Rs.): 4960
Medical (Rs.): 1250
Total Amount (Rs.): 37210.00
Qualifications: BE/B.Tech or ME/ M.Tech or MSc in (Biotechnology/Chemical/ Biochemical/ Industrial Biotechnology) with valid GATE score. The selection process through National Level examinations conducted by Central Government Departments and their Agencies and institutions such as DST, DBT, DAE, DOs,DRDO, MHRD, ICAR, ICMR, IISc, IISCR etc.
Click here for the notification
Walk-in interview for JRF Job For BTech, MTech & MSc Chemistry at IIT Guwahati. Here are Possible interview questions and sample answers : 
1. Question: Can you briefly explain your background and educational qualifications, as well as your motivation for applying for this JRF position in metabolic engineering?
Answer: I hold a [Your Degree] in [Your Field] from [Your University/Institution], and I have a valid GATE score. My educational background has equipped me with a strong foundation in biotechnology and related fields. I am highly motivated to work on the project "Metabolic engineering of Rhodococcus opacus" as it aligns with my passion for metabolic engineering and the potential it offers for lignin valorization into high-value lipids. I believe this project presents an exciting opportunity to apply my knowledge and contribute to cutting-edge research.
2. Question: The project involves metabolic engineering and valorization of lignin. Can you describe any previous research experience or coursework that has prepared you for this specific area of work?
Answer: During my academic journey, I have actively pursued coursework and research projects related to metabolic engineering, bioprocess engineering, and biotechnology. In particular, I have gained hands-on experience in genetic manipulation techniques and metabolic pathway engineering. My previous research involved [mention specific project or experience], which provided insights into the challenges and opportunities in lignin valorization. I am confident that this background equips me to make meaningful contributions to this project.
3. Question: What do you see as the key challenges in metabolic engineering, especially in the context of Rhodococcus opacus, and how would you approach addressing these challenges?
Answer: Metabolic engineering in Rhodococcus opacus poses several challenges, such as optimizing metabolic pathways, achieving high lipid yields, and ensuring robust lignin utilization. To address these challenges, I would begin by conducting a comprehensive literature review to identify state-of-the-art techniques and strategies. Collaboration with experts in the field and leveraging advanced tools like computational modeling can aid in pathway optimization. Moreover, I believe in a systematic and iterative approach to experimentation and data analysis, continuously refining our strategies to overcome challenges.
4. Question: Communication and collaboration are vital in research projects. Can you share an example of a successful collaborative effort from your previous experiences and how your contribution impacted the project's outcomes?
Answer: Certainly. In a previous research project, I collaborated with a multidisciplinary team comprising biologists, chemists, and engineers. Our objective was to develop a bioprocess for the production of a valuable bio-based compound. My role involved coordinating experiments, sharing data, and facilitating effective communication within the team. Through this collaboration, we optimized the production process, reducing costs by [mention specific achievement], and our findings were published in a peer-reviewed journal. This experience underscores my commitment to teamwork and the positive impact it can have on research outcomes.
5. Question: This position requires an 11-month commitment. Can you explain your long-term career goals in research and how this JRF role aligns with your aspirations?
Answer: My long-term career goal is to establish myself as a leading researcher in the field of metabolic engineering and biotechnology. I see this JRF role as a valuable opportunity to gain hands-on experience, contribute to cutting-edge research, and strengthen my research skills. Over the 11 months, I aim to deepen my understanding of metabolic engineering and lignin valorization, develop a strong publication record, and foster collaborations with experts in the field. This role aligns perfectly with my aspiration to make significant contributions to sustainable bioprocessing and bioenergy solutions in the future.
Subscribe Rasayanika for more Chemistry and Pharma job updates.