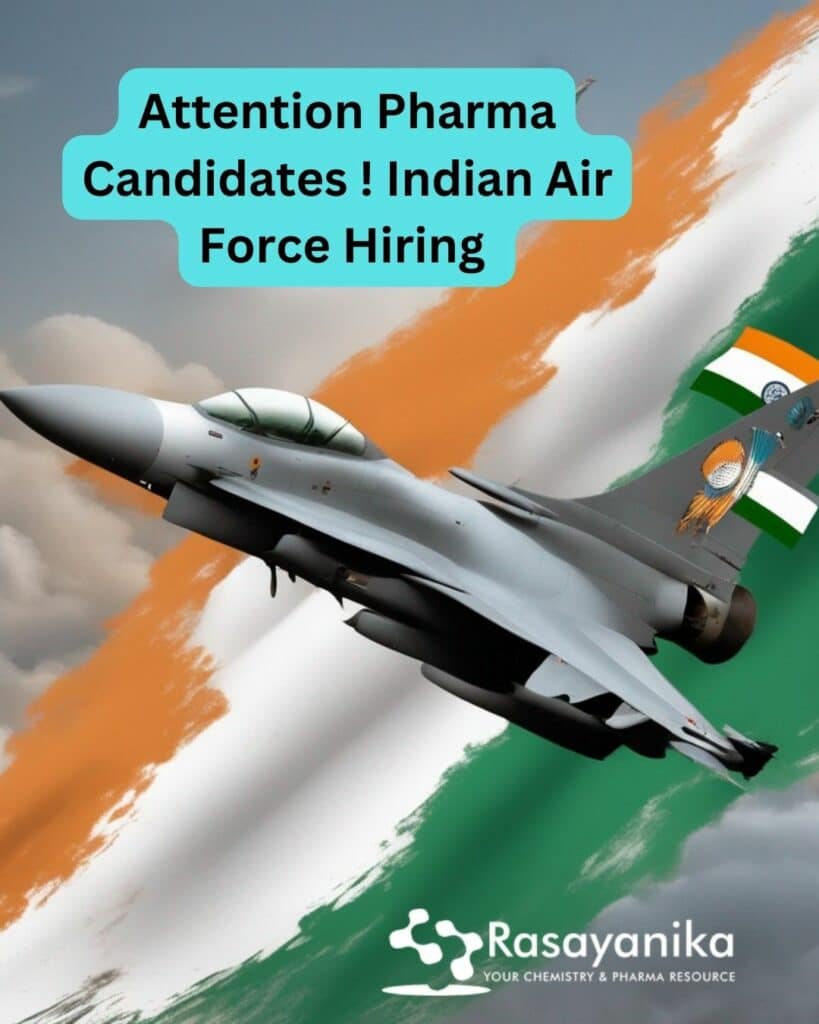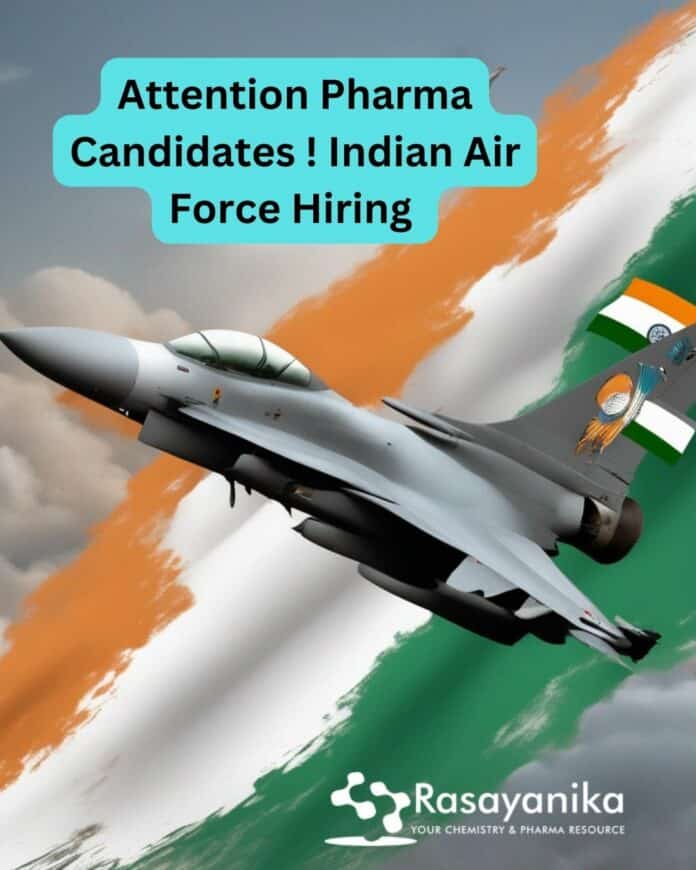 Indian Air Force Hiring Indian Air Force offers opportunities for MALE INDIAN / GORKHA (A SUBJECT OF NEPAL) CITIZENS from the States of Assam, Arunachal Pradesh, Nagaland, Manipur, Mizoram, Tripura, Meghalaya, Sikkim, West Bengal, Odisha, Chhattisgarh, and Jharkhand to join the IAF as Airmen in the Group 'Y', Medical Assistant trade. The Recruitment Test will be held at Air Force Station Barrackpore, 24 Parganas (North), West Bengal, as per the selection program given below:-
Job Title: Airmen in the Group 'Y', Medical Assistant trade.
Eligbility Criteria: Candidates with Diploma / B.Sc in Pharmacy. Candidate should have passed Intermediate/ 10+2/ Equivalent Examination with Physics, Chemistry, Biology and English with a minimum of 50% marks in aggregate and 50% marks in English. In addition, Diploma / B.Sc in Pharmacy with minimum 50% marks in aggregate with valid registration from State Pharmacy Council or Pharmacy Council of India
(PCI) at the time of enrolment will be mandatory requirement.
Note-1. Education Boards (for 10+2 or equivalent) recognised by Central, State and UT, shall only be permitted.
Note-2. Exact aggregate percentage of marks before decimal as written in the marks sheet of 10+2/Intermediate/Equivalent/Diploma/B.Sc in Pharmacy OR calculated as per the rules of concerned Education Board
shall only be considered (For example 49.99% should be taken as 49% and not to be rounded off to 50%).
Date: 18 September 2023 to 19 September 2023
Group/Trade: Group 'Y'/ Medical Assistant (For candidates holding Diploma / B,Sc in Pharmacy)
Activities: Physical Fitness Test, Written Test, Adaptability Test – II & Medical Appointments
Districts to be Covered: All the districts of States of Assam, Arunachal Pradesh,
Nagaland, Manipur, Mizoram, Tripura, Meghalaya,
Sikkim, West Bengal, Odisha, Chhattisgarh and Jharkhand
SELECTION PROCEDURE
Verification of Eligibility. Original Educational Certificates (10th passing Certificate, 12th passing Certificate & mark sheet and Original Degree/Diploma Certificate & Mark Sheets of B.Sc/Diploma in Pharmacy) and other required applicable original documents like NCC 'A', 'B' or 'C' certificate, Son of serving Air Force Personnel (SOAFP) certificate (or), Discharge Book, Service Book, Service Particular Certificate/Casualty Service Certificate (or) Discharge Certificate (if discharged from Army/Navy/Government organisation), Consent form, passport size colour photographs and domicile proof (as per Para 5 above) shall be required and scrutinized/verified at the examination venue prior to commencement of Physical Fitness Test to ascertain the prima-facie eligibility. Detailed verification will be carried out later in respect of candidates who pass Physical Fitness Test and subsequently the Written Test. Those candidates who do not meet the laid down educational criteria shall be rejected during Initial verification of original certificates & mark sheets prior to conduct of Physical Fitness Test and also during Detailed Verification on clearing the Physical
Fitness Test as well as Written Test or if found ineligible at any subsequent stage.
Note: The original Passing Certificates / Marks Sheets will not be retained by the Selection Centre. The same will be returned to the candidates on completion of Detailed Verification.
Physical Fitness Test (PFT).
PFT consists of a 1.6 Km run to be completed within 7 minutes (For candidates up to the age of 21 Years) and 7 minutes 30 Seconds (For candidates above 21 years of age and holding Diploma / B.Sc in Pharmacy). In addition, Candidates will have to complete 10 push-ups, 10 sit-ups and 20 squats within the stipulated time to qualify in the Physical Fitness Test.
Note: Candidates are advised to bring their sports shoes and shorts/track pant.
Written Test. All candidates who qualify PFT shall undertake Written Test on the same day. The Written Test will be objective type and question paper shall be bilingual (English & Hindi) except for English paper. Answers are to be annotated on OMR sheet. Detailed procedure shall be explained before conduct of the examination. Duration of the written test will be 45 minutes and shall comprise of English (20 questions) as per 10+2
CBSE syllabus and Reasoning & General Awareness (RAGA) (30 questions).
CANDIDATES ARE TO QUALIFY IN EACH PAPER SEPARATELY.
Results of the written test shall be declared on the same day.
Marking Pattern for Written Test (Objective):-
(a) 01 mark for every correct answer.
(b) Nil (0) marks for un-attempted question.
(c) 0.25 marks shall be deducted for each wrong answer or choosing more than one option as answer
GENERAL
General Instructions for candidates are as follows:-
(a) The candidates should carry their AADHAAR Card as proof of identity whenever they report for the Selection Test and Medical Test. Candidates from J&K, Assam and Meghalaya who are fulfilling the domicile requirement and eligible to appear in recruitment rally, are
to carry any other valid ID Proof.
(b) Candidates should be prepared to stay for the entire duration of the tests under their own arrangement. No TA/DA shall be admissible.
(c) Candidates are required to provide an active e-mail ID and mobile No. which will be used by CASB for all communications till culmination of the entire selection process and enrolment for the particular intake. It is also advised to preserve e-mail ID and password
for all future communications.
View Main Notification
Indian Air Force Hiring Indian Air Force Hiring Looking for latest chemistry and Pharma job openings, follow Rasayanika Facebook and
Telegram
and subscribe to our
youtube
channel for the latest updates on
chemistry
and Pharma job.