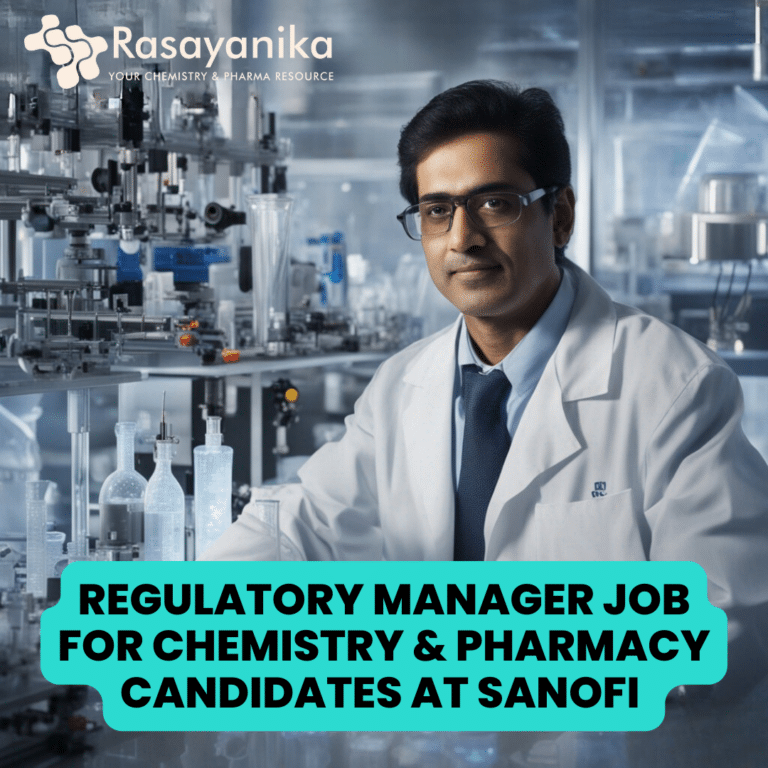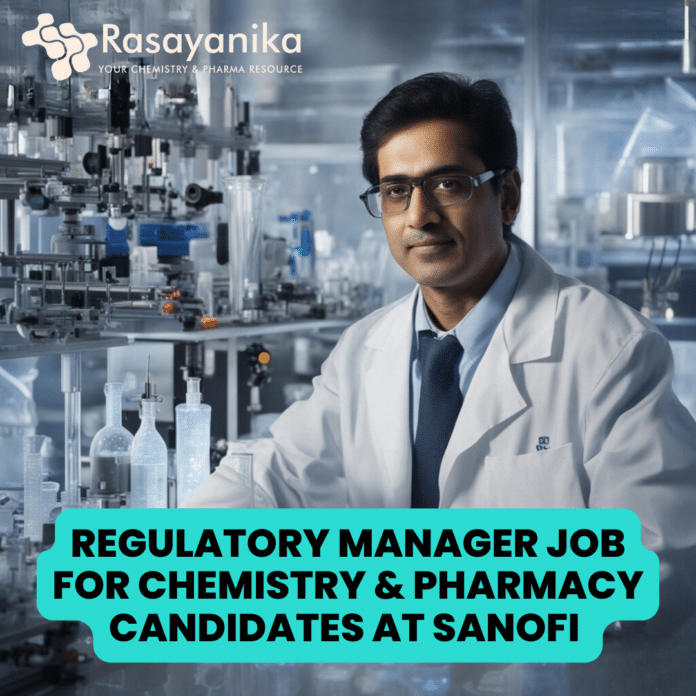 Sanofi Hiring Chemistry & Pharmacy Candidates for Regulatory Manager Post
Sanofi S.A. is a French multinational pharmaceutical and healthcare company. Sanofi Hiring Chemistry & Pharmacy Candidates for Regulatory Manager Post. Interested Candidates can check out the details below and Apply Online.
Job title: Regulatory Manager – CHC
Job Location: Mumbai, India
Job id: R2708883
Job Type: Full Time
Sanofi Hiring Chemistry & Pharmacy Candidates for Regulatory Manager Post. Role of Regulatory Manager:
Ensuring compliance of the existing CHC portfolio, effective and timely approval of all marketing authorizations, maintenance, provide appropriate input on the development of new products.
Ensure high quality submissions within timelines agreed with country head, business and/or health authorities
Optimize on cross-functional support within the organization, ensuring effective communication with the Medical, Marketing and business teams to deliver on all priorities.
Ensure they maintain and develop their regulatory skills and keep up-to date with the regulatory environment by appropriate trainings. Learn from other team members.
Main responsibilities:
Regulatory Compliance
Ensure product packaging and associated information are updated, timely implemented and maintained in accordance with the current product licenses.
Ensure that Marketing Authorizations are updated in line with Company Core Safety Information according to Corporate requirements
Ensure compliance and training to all mandatory SOPs is completed
Ensure quality and compliance of local regulatory activities in line with corporate policies, national regulations. Ensure maintenance of regulatory databases.
Actively follow the development and emergence of new regulatory requirements and assess their impact on the existing products and in development.
Review and approve promotional and non-promotional materials ensuring their compliance with local regulations, code of conduct and internal guidelines. Coordinate review with the responsible functions in the country. Ensures consistency and conformity to the various published guidelines – Sanofi, Legislation and Industry code, as applicable.
Liaison with local manufacturing facility in connection with all aspects that affect the dossier held by the relevant Regulatory Authorities.
Portfolio Management and Optimization
Support the management of the local maintenance activities and ensure compliance of the marketed product portfolio in the countries in scope.
Manage the preparation of local dossiers for the products under development and territory extensions
Prepare and submit dossiers for local OTC switches
Ensure that best efforts are provided to get timely approvals of dossiers and all risk mitigation plans are in place to avoid any undue risk to business, in partnership with CSH.
Provide RA input to product portfolio optimization and product pruning at affiliate level and give RA input to global product portfolio optimization strategies and constantly and proactively engage with HAs
Conduct regulatory due diligence for business collaborations
Drug Development and Risk Management
– Drug Development:
Give Input to Global teams for drug development with regards to local needs (labelling, clinical trials).
– Risk Management:
Co-ordinate the local health authority approval and implementation of risk management plans and educational material.
Ensure public availability of current approved product information for risk minimization (SmPC, educational material, PIL, compendia)
Regulatory Database
Lead the compliance of the regulatory registration database.
Ensure regular tracking and closure of submissions in local trackers and global databases.
Experience:
About 3-5 experience in Regulatory Affairs including managing India and South Asia market.
Good understanding of the consumer healthcare and pharmaceutical industry, drug development environment, and R&D processes and objectives
Knowledge of the local Consumer Health environment (regulatory, regional Industry Associations, Public & Government affairs) including CDSCO, FSSAI, State FDA related activities
Good knowledge of consumer healthcare regulations and requirements, Health Authorities regulations and ability to evaluate impact of those regulations within the drug development environment and to lead discussions of the requirements and its impacts within submission teams
Education
Degree in Pharmacy or Science Degree or relevant Academic qualification is desirable.
Language skills
Fluent spoken and written English
Cultural traits / P2W Behavior
Push to go beyond the level we have operated until now : constantly challenge the status quo focusing on the priorities that will deliver the best outcomes and letting go what won't: be intolerant to mediocracy, believe we can and must do better and aim at higher but never at the expenses of our values and judgment
Put the interest of the organization ahead of own of those of his her team : consider both short and long term impact of decisions; puts collective and global goals above individual or local goals; share resources and capabilities with those with the greatest need and impact; enable decision making at appropriate level. Collaborates transversally.
Act in the interest of our patients and customers: actively engage with customers to know their current and future needs; brings an external perspective into decisions
Take action and don't wait to be told what to do: take smart and informed best bets with the information at hand and anticipate the consequences of her/his actions; use personal judgement and others' advice to make bold and impactful decisions which move us forward
Sanofi Hiring Chemistry & Pharmacy Candidates for Regulatory Manager Post. Here are five interview questions along with possible answers :
1. Question: Can you describe your experience in regulatory affairs, specifically in managing the India and South Asia market? What are some of the key challenges you've faced in this region?
Answer: I have approximately 3-5 years of experience in Regulatory Affairs, with a focus on managing the India and South Asia market. In this role, I have encountered various challenges, including navigating the complex regulatory landscape unique to each country within the region. One specific challenge I've faced is ensuring timely approvals for marketing authorizations, given the diverse regulatory requirements. However, through effective communication with local health authorities and proactive risk mitigation, we have successfully addressed these challenges to support business growth.
2. Question: The role emphasizes the importance of regulatory compliance and quality. Can you share an example of a situation where you played a pivotal role in ensuring compliance with local regulations and corporate policies?
Answer: Certainly. In a previous position, we had to update product packaging and associated information to align with the latest regulatory requirements. I led a cross-functional team to ensure that these updates were implemented in a timely and compliant manner, taking into account the specific nuances of each market within the region. This involved close collaboration with regulatory authorities, manufacturing facilities, and internal stakeholders. Ultimately, our efforts resulted in maintaining regulatory compliance and product quality while meeting corporate standards.
3. Question: The job description mentions the need for regulatory due diligence for business collaborations. Can you provide an example of how you've conducted regulatory due diligence and its impact on a collaboration or partnership?
Answer: Certainly. In a recent collaboration, I conducted a comprehensive regulatory due diligence to assess the regulatory status and potential risks associated with the partner's products and operations. This diligence identified areas where improvements were needed to align with our regulatory standards. By addressing these issues early in the collaboration process, we were able to establish a more seamless partnership, reduce potential regulatory hurdles, and ensure compliance with local regulations, which ultimately contributed to the success of the collaboration.
4. Question: The role involves managing regulatory databases and tracking submissions. Can you explain your approach to maintaining regulatory registration databases and ensuring accurate tracking of submissions?
Answer: Maintaining regulatory registration databases requires a meticulous approach. I ensure that the database is regularly updated to reflect the current status of all regulatory submissions. This includes tracking submission timelines, milestones, and closure of submissions. To achieve accuracy, I collaborate closely with cross-functional teams and regulatory authorities to obtain the latest information. This proactive approach minimizes the risk of oversights and ensures that we have real-time visibility into the status of our submissions.
5. Question: Collaboration and effective communication are vital in regulatory affairs. Can you provide an example of a project where you successfully collaborated with cross-functional teams to achieve regulatory objectives? What strategies did you employ to facilitate this collaboration?
Answer: Collaboration is indeed crucial in regulatory affairs. In a recent project aimed at obtaining marketing authorizations for a new product, I worked closely with cross-functional teams, including Medical, Marketing, and business units. To facilitate this collaboration, I organized regular meetings to update all stakeholders on regulatory progress and address any concerns. Clear and consistent communication was key, as was the ability to align our objectives with the priorities of each team. By fostering this collaboration, we were able to secure marketing authorizations efficiently and effectively.
Subscribe Rasayanika for more Chemistry and Pharma job updates.