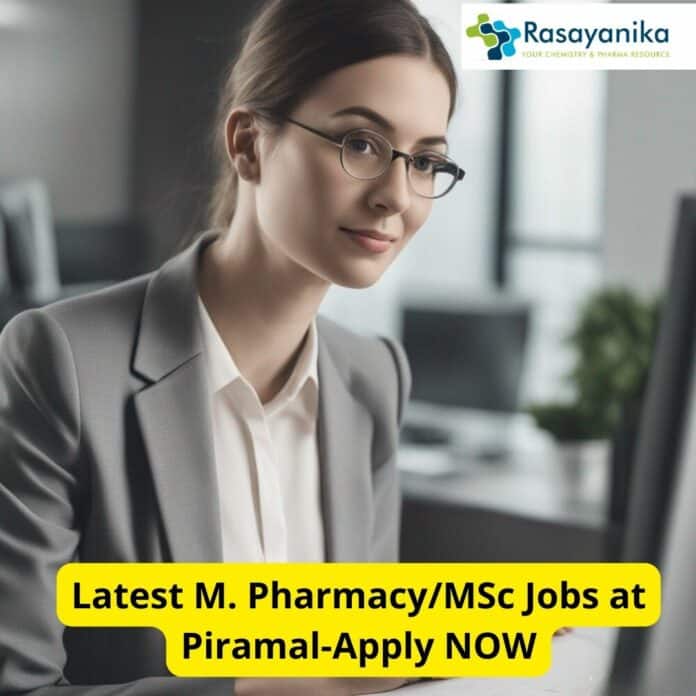 Manager Regulatory Affairs-Latest M.Pharm/MSc Jobs-Apply Now
Manager Regulatory Affairs. Latest M.Pharm/MSc Jobs. Interested candidates can check the details below and apply online.
Job role: Manager Regulatory Affairs
Job location: Kurla, Mumbai, India
Job type: Full-time
Business: Piramal Consumer Products
Seniority level: Mid-Senior level
Employment type: Full-time
Industries: Personal Care Product Manufacturing and Consumer Services
JOB OVERVIEW:
The incumbent will be responsible for providing scientific inputs for new product development, reviewing and approving product claims, conducting claim substantiating studies, conducting scientific training for marketing team, responding to medical & regulatory queries, provide scientific support for consumer queries, reviewing and approving medico marketing material, monitoring AEs, ensuring quality & integrity of information being shared with stakeholders, collaborating with others in the organization to contribute to success of the business.
Will report to Chief Manager (Lead) Med & Regulatory Affairs
KEY STAKEHOLDERS: INTERNAL
Marketing, Supply Chain, Quality Assurance, R&D, Sales, Business Development
KEY STAKEHOLDERS: EXTERNAL
KOLs, Corporate , Legal
QUALIFICATION: M.Pharm/MSc
EXPERIENCE:
5 to 7 years of experience
Previous experience in preparing Red Books and training teams
Previous regulatory experience in OTC drugs
Has a good understanding of the operational process of PV Reporting
Ability to critically review documents for scientific and regulatory compliance and validate scientific claims for products
Well versed with regulations such as D&C Act, DMR Act, UCPMP
Scientific Support
Prepare Red Books for key therapeutic targets
Provide scientific understanding and training to relevant stakeholders
Support marketing in evaluating NPDs, finalizing product claims and reviewing new artworks and promotional material
Evaluate claims as per regulations and technical requirements
Conduct research studies to support claims
Provide medical and regulatory support for assigned projects
Consumer Care
Handle consumer and medical queries received through consumer care
Review FAQs to consumer care team
Provide scientific training to consumer care
Regulations & Compliance
Read and understand all regulatory requirements as per business needs
Conduct complete and thorough review of artworks, labels, pack inserts, promotional material banners, leaflets, print ads, TVC, social media campaigns
Execute tasks as per SOPs and work processes
Liaise with internal stakeholders to ensure OTIF delivery of projects
Ensure all regulatory obligations are met
Other Skills
Interact and maintain relations with cross functional team
Ability to independently manage assigned tasks
Basic IT knowledge
Possible interview questions with answers for the role of Manager Regulatory Affairs:
1.Can you describe your experience in preparing Red Books and how it contributes to regulatory compliance?
Answer: Certainly. In my previous role, I was responsible for preparing Red Books for key therapeutic targets. Red Books are essential documents that provide comprehensive information on regulatory requirements and guidelines. These books serve as a valuable reference for our teams, ensuring that our products comply with regulations and standards. By meticulously preparing Red Books, I helped streamline our regulatory processes, making it easier for the team to understand and implement regulatory requirements effectively.
2.How do you stay updated with the latest changes in regulations, such as the D&C Act and UCPMP? Can you provide an example of how you applied this knowledge in your previous role?
Answer: Staying current with regulatory changes is crucial in our field. I actively engage in continuous learning and regularly review updates from regulatory authorities, attend relevant seminars, and network with industry professionals. For instance, when the D&C Act underwent amendments recently, I not only studied the changes but also led a training session for our team to ensure everyone was informed. This proactive approach helped us adapt quickly to the new regulations and maintain compliance.
3.Could you share an example of a challenging situation where you had to critically review a document for scientific and regulatory compliance? How did you handle it?
Answer: Certainly. In my previous role, we were preparing promotional material for a new product launch. During the review, I noticed that a particular claim in the material required additional scientific substantiation to meet regulatory requirements. I immediately collaborated with the marketing and R&D teams to gather the necessary data and conducted a thorough review. By working closely with cross-functional teams and presenting the required scientific evidence, we were able to revise the promotional material to meet both regulatory and scientific standards.
4.Regulatory affairs often involve collaboration with various departments. Can you provide an example of a successful cross-functional collaboration that led to regulatory compliance improvements?
Answer: Of course. In my previous role, we faced a challenge regarding the on-time delivery of regulatory projects. I initiated a cross-functional collaboration involving members from marketing, supply chain, and quality assurance. By streamlining communication and aligning our processes, we significantly improved project delivery timelines. This not only ensured regulatory compliance but also enhanced overall efficiency within the organization. Effective cross-functional collaboration is vital in regulatory affairs, and this experience highlights my ability to facilitate such collaborations for positive outcomes.
Manager Regulatory Affairs
Follow RASAYANIKA for more chemistry and pharmacy job updates