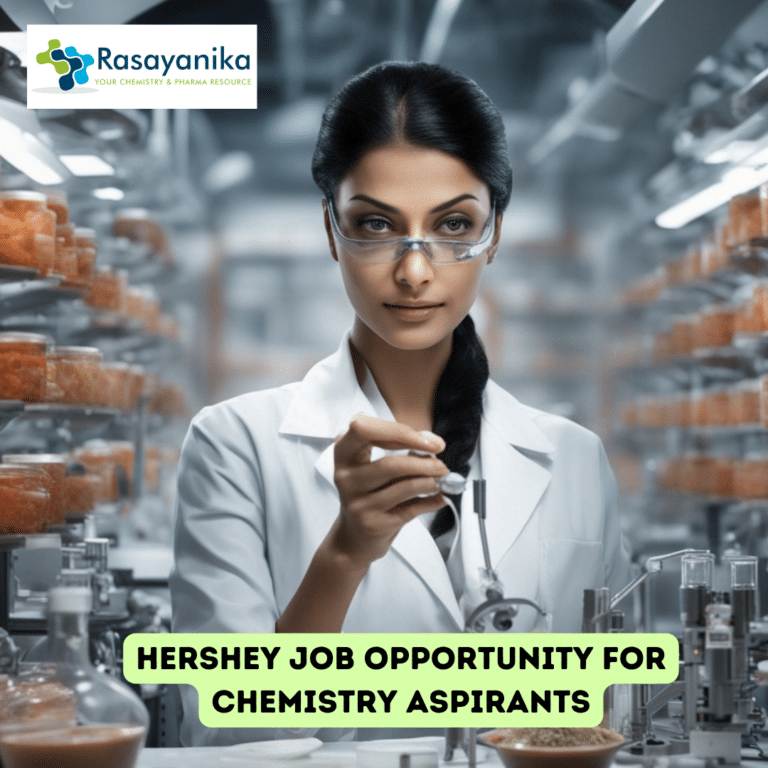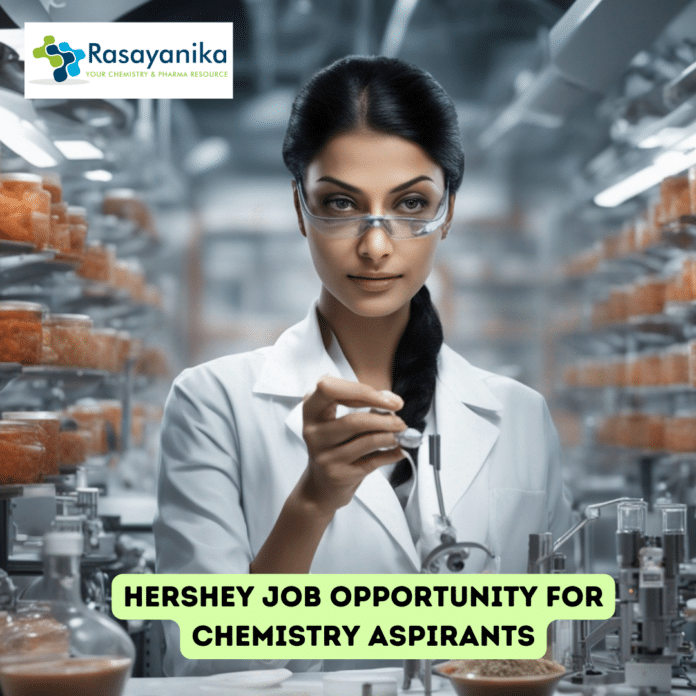 Latest QA Executive at Hershey is hiring Bsc & Msc Chemistry, check out all the details for QA Executive at Hershey given for the same below.
Job position: QA Executive
P
osted Date:
Aug 31, 2023
Requisition Number:
119730
Location: Mandideep, Bhopal
Summary:
Sr. Officer/ Executive QA is responsible to maintain all activities related to day-to-day operations of the Mandideep plant.
The role monitors QA parameters, shift activities managing, facing audits, maintaining documentation related to Quality Management Systems, monitoring and verification of process parameters and product specification, raw material and packaging material acceptance, finish goods release, food safety implementation, training the food handlers on GMP and monthly KPI reporting of Mandideep operation.
Major Duties/Responsibilities:
Process Quality Control
Periodic Inspection and analysis of Beverages, fruit drinks. Juices, Soymilks, Ketchups & instant tea & Coffee premixes.
Analysis of online blend samples and finished products for physicochemical and sensory parameters.
Periodic Checks for Finished Goods during packing operations.
Checks of finished Goods in warehouse, first pass & second pass quality checks & analysis.
Monitoring & analysis of Water treatment plant (Coagulation Water/ RO water).
Verification of records pertaining to Quality & food safety.
Monitoring GMP compliance.
Customer complaint analysis & RCA & CAPA
Timely Reporting of non-conformances observed and their resolution with RCA & CAPA.
Monitor adherence to SOPs in blending and packing operations.
Understand production issues and mitigate critical issues escalated; Guide team to resolve day to day to operational issues and own the SAP release and data reporting of Hershey India production.
Routine Audits
Conduct weekly and monthly audits like PHC, GMP, Super six etc.
Oversee execution of all internal audits for the Mandideep plant, including audits for global and internal systems.
Track and review all system related audit documentation: FFSC, QMS new standards, any SOPs, process change IQ/PQ/OQ and be cognizant of risks and hazards related to quality.
Training and development
Identify training needs for the plant based on product and quality requirements; Provide directions to the team for capability building
Oversee internal training sessions to be conducted as per agreed timelines
Plan trainings for the team to explain quality parameters and guidelines on a regular basis; Measure training effectiveness on a regular basis
Process Improvements
Constantly track the market to understand best practices in the areas of quality assurance and quality testing
Periodically review own areas of operations to seek opportunities to bring in best practices and reduce consumer complaints.
Present opportunities and benefits of incorporating newer methods to the supervisor
Assign approved initiatives to team and track progress; Actively participate in pilots and communicating initiative to other departments; Guide team as required
Personal Capability Development
Responsible and committed for the training and development plan for self
Be the 'owner' for continuous growth under the supervision of the QRC Head
Key KPIs:
FSSAI & FSSC compliance
Audit non-compliance
Global quality food safety audit
PHC, Super six audit compliance
Reduction in customer complaints
Minimum knowledge & skills for QA Executive at Hershey
Knowledge:
Basic knowledge of technology fundamentals
Deep understanding of food safety and Quality
Understanding of FMCG Business and Financial Understanding
Experience in Project Quality Assurance, Process Quality, Supplier Technical Assurance Quality management system and regulatory compliance
Plant with co-manufacturing handling experience preferred
Skills:
Hands on knowledge on handling and calibration of analytical instruments.
Experience in Chemical analysis of food beverages.
Able to demonstrate knowledge on Quality Management Standards appropriate to the business with experience of their application in a large scale-manufacturing and packing environment.
Exposure/ knowledge on FSSAI and other relevant regulations of the industry
Experience on use of statistical tools and their applications
Strong interpersonal skills, good communicator, sound administrator with very good working knowledge of computer.
Should be conversant with latest best practices on quality management.
Ability to work in a collaborative manner with various functions across the organization.
Exposure in handling global clients with strong leadership skills for managing the internal teams.
Demonstrated change management abilities, including conflict resolution skills.
Education for Executive QA Executive at Hershey
Graduate/ Postgraduate in Food/ Dairy Technology/ Microbiology or Chemistry
Experience for QA Executive at Hershey
3-5 Years of relevant experience in Quality/ manufacturing function in a food & beverage industry of good repute.
Possible interview questions may be asked for QA Executive at Hershey
1. Can you explain your experience in process quality control for food and beverages?
Answer: Certainly. In my previous role, I conducted regular inspections and analyses of various products, including beverages, fruit drinks, juices, and more. I ensured that the physicochemical and sensory parameters met the required standards. Additionally, I performed checks during packing operations and monitored water treatment plant processes, such as coagulation water and RO water, to ensure the quality of the final products.
2. How do you handle customer complaints and ensure effective root cause analysis (RCA) and corrective actions?
Answer: When a customer complaint arises, my first step is to conduct a thorough analysis of the issue. I perform a root cause analysis to identify the underlying problem. Once the root cause is determined, I implement corrective and preventive actions (CAPA) to address the issue and prevent its recurrence. This approach ensures that the quality concerns are properly resolved, leading to improved customer satisfaction.
3. Can you provide an example of a process improvement initiative you have led in your previous role?
Answer: Certainly. In my previous role, I noticed a recurring pattern of customer complaints related to a specific product. After investigating, I identified a potential area for improvement in the blending process. I proposed a modification to the blending procedure, and after implementing this change, we observed a significant reduction in customer complaints for that particular product. This experience highlighted the importance of continuous monitoring and process enhancement.
4. How do you ensure compliance with quality management standards and regulatory requirements, especially considering FSSAI and industry regulations?
Answer: Ensuring compliance with quality management standards and regulations is a priority. I stay updated with the latest regulations, particularly FSSAI requirements and other relevant industry standards. Regular internal audits are conducted to assess compliance levels. In case of any deviations, I work closely with the team to address them promptly and make necessary adjustments to maintain alignment with the regulations.
5. Can you describe a time when you had to lead a team through change management in a quality-related project?
Answer: In a previous project, we needed to implement a new quality management system to improve efficiency. This change required collaboration with various departments. I communicated the benefits of the new system, provided training to team members, and addressed any concerns they had. Through open communication and involving the team in the decision-making process, we successfully transitioned to the new system, resulting in improved processes and overall performance.