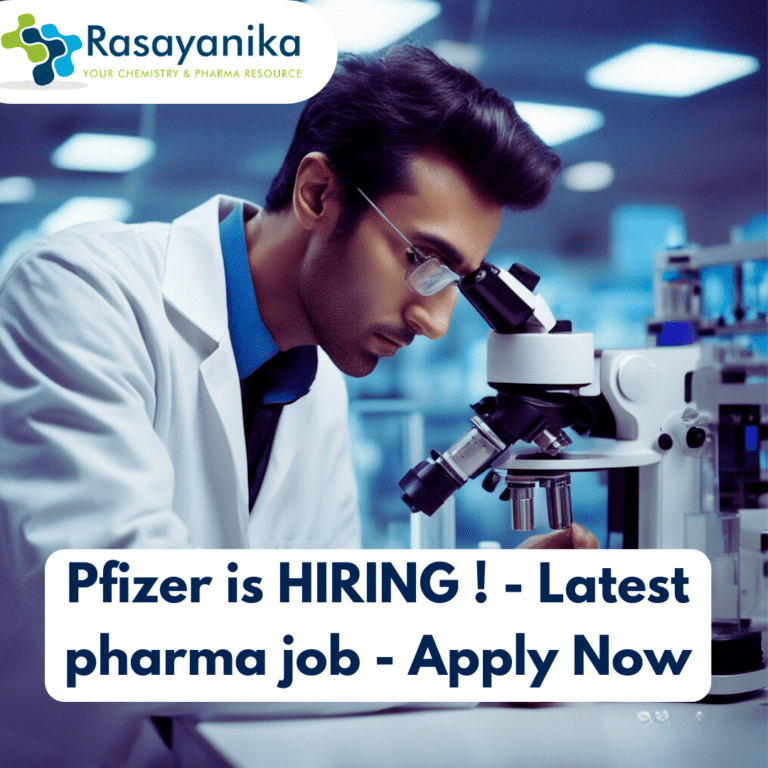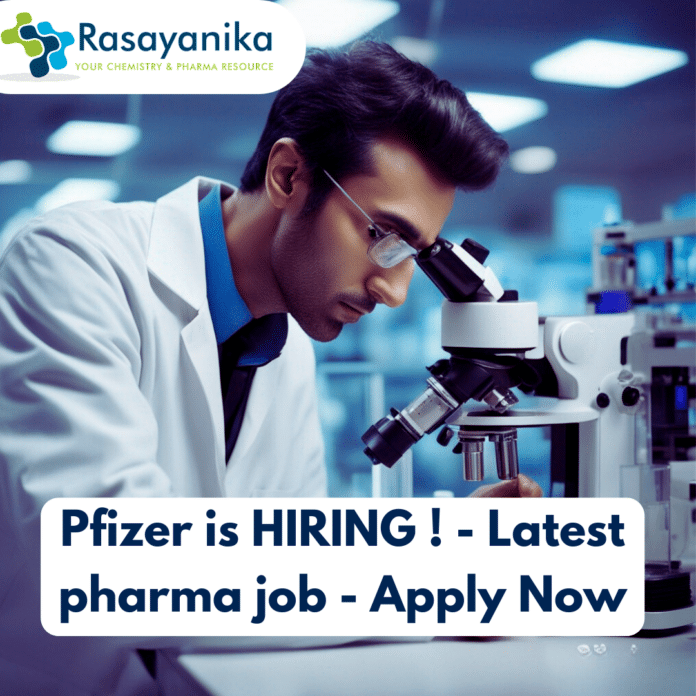 Pfizer is hiring! – Scientist role in the GT&E field at multiple location – APPLY NOW
Role : Scientist – GT&E
Locations : India – Chennai , India – Ahmedabad
Time type : Full time
Job requisition id : 4885988
Educational Qualification : M. Pharm/MSc
Responsibilities :
Theoretical & practical knowledge on working principle of analytical instruments- FTIR,
UV, IR, HPLC, GC with minimum 1 years of relevant experience.
Understanding on the purpose of different method validation parameters and ICH guideline requirements.
Theoretical knowledge on titration, LOD and understanding the working principle of DSC and TGA etc.,
To be able to perform the compilation of methods and its requirements.
Ensure compliance to cGMP/ cGLP, organizations procedures and practices.
Ensure effective safety systems are implemented in the premises.
Partnering with manufacturing to meet the production schedule, ensure commercial supply and uphold quality standards.
Performing trending and monitoring of critical quality attributes/critical process parameters to maintain product quality and to control process drift.
Identifying and implementing potential process improvements in conjunction with manufacturing operations.
Participating in start-up efforts of new equipment, software or processes in manufacturing.
Assisting in documenting changes/updates to manufacturing processes and working with manufacturing, engineering and validation to implement those changes.
Reviewing/providing feedback and technical/scientific support on project deliverables, i.e. remediation initiatives, plan reports, etc.
Target years of experience : 2-6 yrs experience
Technical Skills and Type of experience
Analytical development/Technology transfer/Process improvements in reputed organization
Experience in Analytical Development/ validation / Technology Transfer of Injectable formulations to cater regulated markets, essentially experience in Plant Technology Transfer support in Injections including process validation.
Other Skills :
Good Communication skills (written and verbal)
Time Management
A team player
CHECK OUT RASAYANIKA FOR MORE UPDATES
Here are some potential interview questions along with sample answers for the Scientist role in the GT&E field at Pfizer:
1. Can you tell me about your educational background and relevant experience for this role?
Answer: I hold a [M. Pharm/MSc] degree in [relevant field] and have [X] years of experience in the pharmaceutical industry. During my career, I have gained practical and theoretical knowledge of analytical instruments like FTIR, UV, IR, HPLC, and GC. I've also been involved in method validation based on ICH guidelines, and I have a strong grasp of titration, LOD, as well as the principles of DSC and TGA. My experience includes compiling methods, ensuring compliance with cGMP/cGLP, and actively participating in maintaining safety standards within the premises.
2. Could you provide an example of a project where you were involved in analytical method development or technology transfer?
Answer: Certainly. In my previous role at [Company Name], I was part of a team responsible for the technology transfer of an injectable formulation to meet regulatory requirements for commercial production. I worked on developing and validating analytical methods to ensure the quality and consistency of the final product. This involved close collaboration with manufacturing and quality assurance teams to align the process and methods. The successful transfer resulted in the seamless production of a high-quality injectable formulation in compliance with industry standards.
3. How do you ensure that you stay up-to-date with the latest industry regulations and guidelines?
Answer: Staying informed about industry regulations and guidelines is crucial in our field. I make it a point to regularly review and study updates from organizations like ICH and FDA. I am an active member of relevant professional forums and attend conferences and workshops. This helps me understand the evolving regulatory landscape and apply the latest requirements to our processes and methods, ensuring that our work remains compliant and of high quality.
4. Can you describe a situation where you had to identify and implement process improvements?
Answer: Certainly. At [Previous Company], I noticed a trend in the manufacturing process that could potentially lead to a drift in critical quality attributes. I initiated a thorough analysis, collaborated with the manufacturing team, and identified a modification that significantly improved efficiency without compromising quality. By carefully documenting the changes and working closely with validation, engineering, and manufacturing, we successfully implemented the improvement. This experience taught me the value of proactive problem-solving and cross-functional collaboration.
5. How do you handle tight production schedules while maintaining quality standards?
Answer: Balancing production schedules and quality standards requires effective time management and a deep understanding of the processes. I prioritize tasks based on their impact on product quality and timeline adherence. Clear communication within the team is crucial to ensure everyone is aligned with the goals. By closely monitoring critical quality attributes and process parameters, I can detect deviations early and address them before they impact the final product. This approach allows me to contribute to meeting production schedules without compromising on quality.
ALL THE BEST !