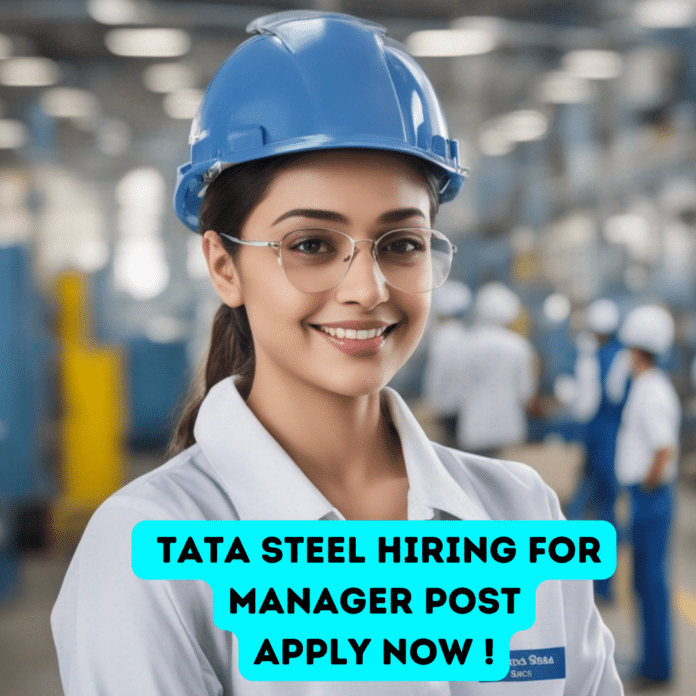 Latest Tata Steel hiring for Manager post , eligible and interested candidates apply now
Job role : Manager
Job Location: Meramandali
About Company: 
Tata Steel is among the top global steel companies with an annual crude steel capacity of 34 million tons per annum. It is one of the world's most geographically diversified steel producers, with operations and commercial presence across the world. The group recorded a consolidated turnover of US $32,836 million in the financial year ending March 31, 2022. A Great Place to Work-Certified TM organization, Tata Steel Ltd., together with its subsidiaries, associates, and joint ventures, is spread across five continents with an employee base of over 65,000
Role Description: 
Assessment of air emissions and GHG emissions related issue across the organization. Suggesting the mitigative measures.  Association with relevant agencies for technology evaluation and implementation as well as for effective air pollution control measures. Implementation of ABP in the concerned area. Preparing for the Carbon Disclosure projects and various awards Submit the compliance report, survey etc. Develop the system for KPI data collection across the organisation. Maintain the data for further analysis with cross functional team. Collect the data for reporting and contribute for environmental indicator with respective
stakeholders.
Technical Competencies for Tata Steel hiring for Manager
Understanding of CDP and sustainable reporting mechanism
National and International legislations protocol treaties
Qualifications we seek in you for Tata Steel hiring for Manager ! 
BE/ B.Tech./M.Tech. in Chemical/ Mechanical/ Instrumentation/ Environmental / Automation -IT/ Biotechnology Engineering / MSc in Chemistry/ Environmental Science.
Possible interview questions may be asked for Tata Steel hiring for Manager
1. Can you provide an overview of your educational background and relevant experience in the field of Chemistry/Engineering?
Answer: Certainly. I hold a [BSc/MSc/BE/B.Tech/M.Tech] degree in [Chemistry/Chemical Engineering/Mechanical Engineering/Electrical Engineering, etc.]. My educational background has provided me with a strong foundation in [mention key areas], and I've further honed my skills through [mention any relevant projects, internships, or work experience] that allowed me to apply theoretical knowledge to practical scenarios.
2. Tata Steel values innovation and continuous improvement. Could you share an example of how you've contributed to process enhancement or innovation in your previous roles?
Answer: Absolutely. In my previous role at [mention company/organization], I identified an opportunity to optimize [describe a specific process or area]. I collaborated with cross-functional teams to analyze current practices, proposed changes based on my understanding of [mention relevant principles], and implemented the changes with rigorous testing. As a result, we achieved [mention the outcome, such as increased efficiency, reduced costs, etc.], demonstrating my commitment to innovation and process improvement.
3. Tata Steel operates in a dynamic industry. How do you stay updated with the latest advancements and trends in your field?
Answer: Staying current with industry trends is crucial. I actively engage in [mention activities such as attending conferences, workshops, webinars, reading industry publications, following relevant online forums], which allows me to stay informed about emerging technologies, best practices, and industry challenges. This continuous learning approach enables me to bring fresh perspectives and innovative solutions to the table.
4. Tata Steel emphasizes safety as a top priority. How have you ensured a safe working environment in your previous roles?
Answer: Safety is paramount in any industrial setting. In my previous roles, I've consistently adhered to safety protocols and encouraged my team to do the same. I've actively participated in safety audits, promoted safety awareness programs, and initiated training sessions to educate team members about potential hazards and proper safety procedures. Through these efforts, I've contributed to creating a safety-conscious work culture.
5. Collaboration and effective communication are essential in a managerial role. Can you provide an example of how you've successfully managed a diverse team to achieve a common goal?
Answer: Certainly. In my role at [mention company/organization], I led a project that required collaboration among team members from different departments, including [mention departments]. I ensured effective communication by conducting regular meetings, setting clear expectations, and assigning responsibilities based on team members' strengths. By fostering an environment of open dialogue and mutual respect, we were able to achieve our project goals while utilizing each team member's expertise.