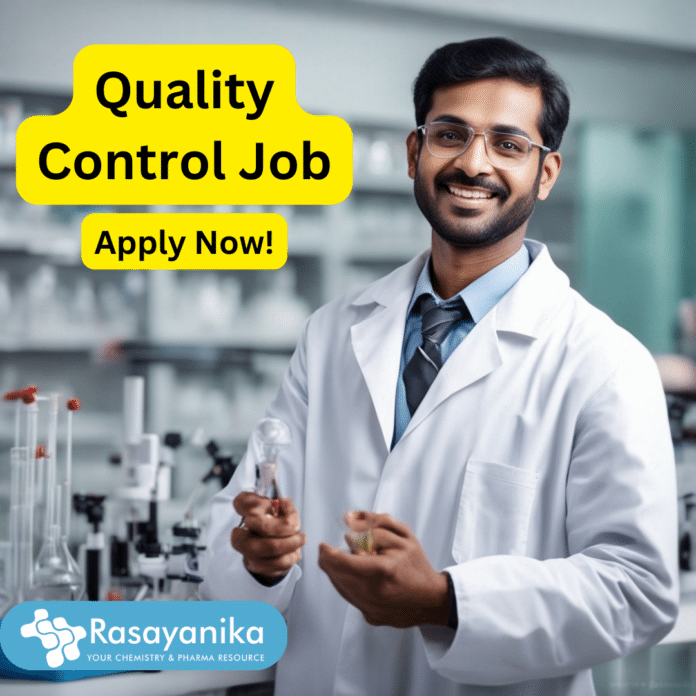 Quality Control Executive Job for MSc Chemicals /M. Pharm at Novartis 
Quality Control Executive Job for MSc Chemicals /M. Pharm at Novartis a leading global pharmaceutical company. Interested Candidates check out the details below and Apply Online
Job title: Executive – Quality Control
Job Location: Navi Mumbai, India
Job id: 380726BR
Job Category: Quality Control
Job Company: Sandoz Pvt Ind
Job Type: Full Time
Job Description
Position Purpose:
This role utilizes chemistry laboratory skills to test and measure product or materials while ensuring that analysis is performed according to established Standard Operating Procedures (SOPs), Analytical Methods, and current Compendial at Kalwe Site.
Your key responsibilities:
Your responsibilities include, but are not limited to:
• Sample storage and management (FDF & API), Analytical testing/documentation of drug product / finished product / complaints / stability / packaging material samples to GxP standards. Stability Testing/Sample storage and management.
• Analytical documentation of stability samples to GxP standards. Analytical Method Validation & Analytical Method Transfer.
• Assisting supervisor Quality Control for efficient functioning of Quality Control Laboratory through QC analysis and good documentation as per quality control system. To maintain all testing records, raw data & log books as per SOP
• Maintain confidentiality
and ensure safe custody and efficient handling of company document / material. Perform any other task that may be assigned for running of the company as per latest quality standard and Novartis Corporate Guidelines.
• Ensure Data Integrity, cGMP, GDP, ALCOA and ALCOA+ Principle at Workplace
• Any other responsibility that may be assigned by supervisor/Manager from time to time..
Minimum requirements:
• M.Sc. in Chemicals /M. Pharm from reputed university with min 5+ yrs experience in Quality function.
• Sound technical & scientific knowledge of pharmaceutical/ chemical analytics/QC/ equivalent Working experience in Laboratory environment in the Pharmaceutical industry.
• Experience in Laboratory Excellence & Laboratory equipment Quality Control (QC) Testing Quality Control Sampling.
Here are Possible interview questions along with their corresponding answers for Executive Job for MSc Chemicals /M. Pharm at Novartis  :
Question 1: Can you explain your experience with analytical testing in a pharmaceutical Quality Control laboratory environment?
Answer: Certainly. I hold a Master's degree in Chemicals and have over 5 years of experience in the Quality Control function within the pharmaceutical industry. During my tenure, I've been extensively involved in conducting analytical testing of various drug products, finished products, stability samples, and packaging materials. I adhere strictly to established Standard Operating Procedures (SOPs), Analytical Methods, and current Compendial guidelines to ensure accurate and reliable results. My experience also includes conducting Stability Testing and managing sample storage in accordance with GxP standards.
Question 2: Could you provide an example of a situation where you had to ensure Data Integrity and ALCOA+ Principles while performing analytical tests?
Answer: Absolutely. In my previous role, while performing stability testing of a critical drug product, I meticulously followed the ALCOA+ principles to maintain data integrity. I ensured that all records were attributable, legible, contemporaneous, original, accurate, and complete. For instance, I recorded all the relevant testing parameters, observations, and results directly into the laboratory notebook during the testing process. Additionally, I maintained a clear audit trail by not altering any recorded data, and I always followed proper documentation practices to safeguard the authenticity of the test results.
Question 3: How do you approach Analytical Method Validation and Transfer in a laboratory setting?
Answer: Analytical Method Validation and Transfer are crucial aspects of maintaining quality in a laboratory environment. I approach Analytical Method Validation by rigorously assessing the performance parameters of the method, such as accuracy, precision, linearity, and robustness. I ensure that the method is suitable for its intended purpose and meets regulatory requirements. When it comes to Analytical Method Transfer, I make sure to collaborate closely with both the sending and receiving laboratories. I follow a well-defined protocol to transfer the method, conducting comparative testing to ensure consistent results are obtained across different laboratories, while adhering to the principles of cGMP and Data Integrity.
Question 4: Could you share an experience where you demonstrated your ability to maintain accurate documentation in compliance with quality standards?
Answer: Certainly. In my previous role, I was responsible for documenting stability samples to GxP standards. This involved maintaining accurate and comprehensive records of sample storage conditions, testing schedules, and results. I ensured that all entries were legible, well-organized, and followed the established documentation practices. For instance, I used electronic systems to log sample information, and I regularly reviewed and updated the records to reflect any changes or new information. By adhering to these practices, I contributed to maintaining a well-documented trail of sample history, facilitating easy traceability and compliance during audits.
Question 5: How do you ensure the confidentiality and safe custody of company documents and materials in a Quality Control laboratory setting?
Answer: Confidentiality and safe custody of company documents and materials are of paramount importance. I have consistently followed stringent protocols to ensure these aspects are maintained. I ensure that all sensitive documents and materials are stored securely in designated areas with restricted access. Additionally, I strictly adhere to Novartis Corporate Guidelines and company-specific procedures for handling, storing, and disposing of documents and materials. Regular training and communication within the team about these practices further reinforce the importance of maintaining confidentiality and safeguarding valuable assets.
Subscribe Rasayanika for more Chemistry and Pharma job updates.