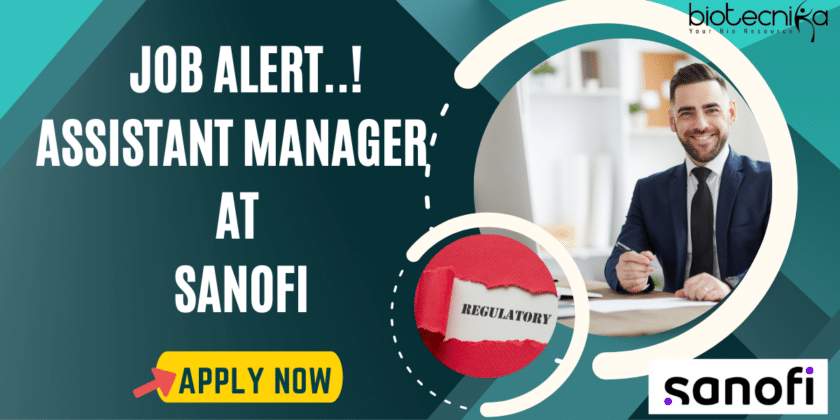 Looking for a opportunities…! as a Assistant Manager at Sanofi, check out all the details given the same below.
Job role: Assistant Manager – Regulatory Affairs, Specialty Care
Job Location: Mumbai
Direction: GRA (Global Regulatory Affairs)
Mission statements:
The Regulatory Associate will report to the Business Unit Regulatory Affairs Head.
The Regulatory Associate will be responsible for managing products under development and/or marketed products.
Duties & Responsibilities:
Specific requirements and responsibilities include:
Develop regulatory strategy and provide regulatory expertise within project/product teams for products under development and/or marketed products,
Interface with various project/product teams.
Coordinate dossier and briefing package preparations and submissions according to the plans (new registration and maintenance) and monitoring dossiers up to implementation.
Ensures optimal support to key stakeholders to deliver on-time high quality dossiers in compliance with Health Authority requirements.
Liaise with HA contact person; organizing and preparing HA meeting and attending as appropriate..
Manage the maintenance of a portfolio of products.
Accountable for keeping the databases updated on a timely basis for portfolio he/she is in charge of.
Provide support and communicating information on products to other functions (approvals).
Review and validate at country level promotional material with Marketing and Medical in line with Global strategies and policies..
In liaison with his/her manager, can be involved in activities such as shortages, DHPC, B/R reevaluation, review and approval of packaging material etc.
Support the consolidation and provision of regulatory expertise and giving input about requirements and needs.
Follow regulatory changes, competitor's status and assess potential impact on daily activities and project strategy.
Key Individual Accountabilities:
Plan for preparation / review of a new application submission corresponding to company plan as well as the agency guidelines for submission.
Plan for preparation / review and submission of all the maintenance activities
(Renewal & variations) based on company plans and the agency guidelines.
Timely implementation of all plans with strict follow up with both internal & external stakeholders for timely achievement of the plan.
Maintain the products labelling up to date , implementing global and local labelling decisions , through labelling preparation, review and approval
Updating the internal Sanofi Systems regularly
Carrying the planned LCM activities and reflecting the approvals on the internal systems\
Revision and approval of promotional Materials any updated packaging material on VISTA
Preparation, submission and follow up of pricing files internally and externally.
Assure compliance with IA files.
Following and complying with all the defined internal policies and procedures of working.
Following strictly all the Authority Regulations, decisions & decrees.
Carry out all the required communication and follow up required with local affiliate, zone, region & corporate as appropriate.
Key Shared Accountabilities:
Working closely with Pharmacovigilance & Medical to ensure timely submissions & follow up on products alerts & periodic reports
Carrying the planned Activities in cross functional teams and reflecting the approvals on the internal system
Revision and approval of Promotional Materials and packaging material
Work closely with the business teams for new product launches and maintenance of products
Knowledge, Skills & Competencies / Language:
Negotiation & communication skills
Organization skills and high accuracy in documentation
High sense of urgency
Knowledge of new decrees & guidelines
Multitasker
Awareness and adherence to company internal SOPs & compliance standards
Promptness in respond to authorities requirements and prompt in deliverables
Analytical skills
Problem solving skills
Presentation skills
Interpersonal skills
An understanding and appreciation of relevant legal, scientific and manufacturing area
Language Requirements: Local Language and English, written and spoken.
Key Competencies:
Act for Change
Strive for results
Cooperate Transversally
Commit to Customer
Think Strategically
Make Decision
Prioritized competencies
Qualifications we seek in you for Assistant Manager at Sanofi !
Education: Physician, Pharmacist, Veterinarian or preferably Life Sciences Bachelors or Master Degree
Related Experience : 3-4 years experience in similar position for different types of registrations, preferably in multinational organization
Requirements of the job:
Knowledge of Drug and Cosmetics Act, Medical Device Regulations and New Drug Clinical Trial Rules (NDCT).
Knowledge of rules for application to Ministry of Health.
Masters degree is Preferred
Possible interview questions may be asked for Assistant Manager at Sanofi
Question: Can you describe your experience in regulatory affairs and how it aligns with the responsibilities of the Assistant Manager – Regulatory Affairs role?
Answer: Certainly. I have over 3-4 years of experience in regulatory affairs, particularly in handling different types of registrations within the pharmaceutical industry. My background includes developing regulatory strategies, coordinating dossier preparations, and ensuring compliance with Health Authority requirements. I have also managed products under development and in the market, working closely with cross-functional teams and maintaining up-to-date labeling. My experience in multinational organizations has provided me with a strong foundation to excel in the Assistant Manager role.
Question: How do you approach developing regulatory strategies for products under development and/or marketed products?
Answer: Developing regulatory strategies requires a comprehensive understanding of both the product and regulatory landscape. I start by thoroughly analyzing the product's characteristics and target market. Then, I collaborate with project/product teams to align the strategy with business goals and regulatory requirements. I also stay updated on industry regulations and guidelines to ensure that our strategies are proactive and compliant.
Question: Can you discuss your experience in coordinating dossier preparations and submissions?
Answer: Certainly. Coordinating dossier preparations involves meticulous planning and execution. I've successfully managed the preparation and submission of various dossiers, both for new registrations and maintenance activities. This includes ensuring that all required documents are compiled, reviewed, and submitted in accordance with agency guidelines and internal plans. Timely implementation and follow-up are key to achieving our regulatory goals.
Question: How do you ensure optimal support to key stakeholders for delivering high-quality dossiers in compliance with Health Authority requirements?
Answer: Effective communication and collaboration are essential. I work closely with cross-functional teams to align on timelines, expectations, and required documentation. Regular updates, clear guidelines, and a proactive approach help ensure that stakeholders have the necessary support to deliver high-quality dossiers on time. I also liaise with Health Authority contacts, organize meetings, and attend them as needed to address any queries or concerns.
Question: Can you provide an example of a situation where you've effectively managed a portfolio of products and kept databases updated?
Answer: Certainly. In my previous role, I managed a portfolio of products with multiple variations and maintenance activities. I established a systematic approach to tracking and updating product information, including labeling decisions and regulatory approvals. I ensured that our internal databases were accurate and up-to-date, allowing for easy retrieval of information for regulatory submissions and compliance reporting.