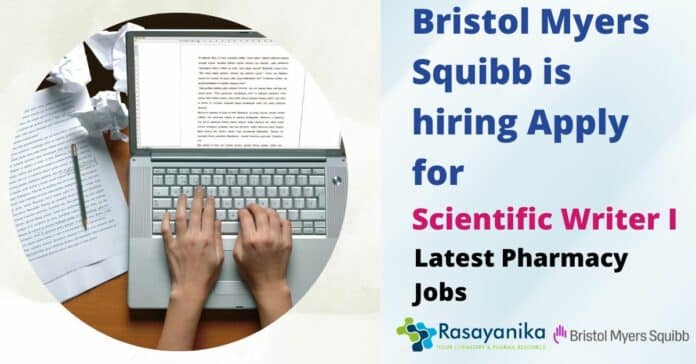 Scientific Writer 1 at BMS. Interested candidates can check the details below and apply online.
Position: Scientific Writer 1
Job ID: R1571720
Job Location: Hyderabad, India
Categories: Regulatory Affairs
Position Type: Full Time
Job Description
Working with Us
Challenging. Meaningful. Life-changing. Those aren't words that are usually associated with a job. But working at Bristol Myers Squibb is anything but usual. Here, uniquely interesting work happens every day, in every department. From optimizing a production line to the latest breakthroughs in cell therapy, this is work that transforms the lives of patients, and the careers of those who do it. You'll get the chance to grow and thrive through opportunities uncommon in scale and scope, alongside high-achieving teams rich in diversity. Take your career farther than you thought possible.
Bristol Myers Squibb recognizes the importance of balance and flexibility in our work environment. We offer a wide variety of competitive benefits, services and programs that provide our employees with the resources to pursue their goals, both at work and in their personal lives. Read more: careers.bms.com/working-with-us.
Position Summary
To coordinate and author complex documents needed for regulatory submissions, ensuring the coordination and integration of the scientific, medical, and regulatory input
from cross-functional team members.
Key Responsibilities
Coordinate and author regulatory documents [eg, Investigator's Brochures (IB), development safety update reports, periodic benefit-risk evaluation reports, clinical study reports (CSR), and protocols] ensuring the coordination and integration of the scientific, medical, and regulatory input from development team members.
Participate in relevant document subteam(s) and ensure effective planning and management of timelines for all components of assigned documents.
Participate in document strategy sessions, including messaging, document flow, logic, and consistency for assigned projects.
Maintain document prototypes and shells.
Comply with internal and external processes and guidelines while managing the review process and, on an ongoing basis, resolve issues, errors, or inconsistencies with pertinent team members to ensure timely completion and high quality of assigned documents.
Qualifications & Experience
Minimum of BS/BA degree in science (PhD/PharmD/Master's degree preferred) with approximately 1-2 years of regulatory documentation or related experience (does not have to be regulatory documentation).
All PhD in biological sciences and PharmD candidates are considered.
Strong writing skills in authoring and managing the production of scientific documents (pharmaceutical regulatory documentation and/or publications in peer-reviewed journals).
Ability to analyze and interpret complex data from a broad range of scientific disciplines.
Basic understanding of global pharmaceutical drug development.
Ability to manage timelines and quality of work using strong organizational, communication, facilitation, and interpersonal skills in a cross-functional team.
Expertise in MS WORD.
If you come across a role that intrigues you but doesn't perfectly line up with your resume, we encourage you to apply anyway. You could be one step away from work that will transform your life and career.
Uniquely Interesting Work, Life-changing Careers
With a single vision as inspiring as "Transforming patients' lives through science™ ", every BMS employee plays an integral role in work that goes far beyond ordinary. Each of us is empowered to apply our individual talents and unique perspectives in an inclusive culture, promoting diversity in clinical trials, while our shared values of passion, innovation, urgency, accountability, inclusion and integrity bring out the highest potential of each of our colleagues.
On-site Protocol
Physical presence at the BMS worksite or physical presence in the field is a necessary job function of this role, which the Company deems critical to collaboration, innovation, productivity, employee well-being and engagement, and it enhances the Company culture.
BMS is dedicated to ensuring that people with disabilities can excel through a transparent recruitment process, reasonable workplace accommodations/adjustments and ongoing support in their roles. Applicants can request a reasonable workplace accommodation/adjustment prior to accepting a job offer. If you require reasonable accommodations/adjustments in completing this application, or in any part of the recruitment process, direct your inquiries to [email protected]. Visit careers.bms.com/eeo-accessibility to access our complete Equal Employment Opportunity statement.
BMS cares about your well-being and the well-being of our staff, customers, patients, and communities. As a result, the Company strongly recommends that all employees be fully vaccinated for Covid-19 and keep up to date with Covid-19 boosters.
BMS will consider for employment qualified applicants with arrest and conviction records, pursuant to applicable laws in your area.
Any data processed in connection with role applications will be treated in accordance with applicable data privacy policies and regulations.
Possible interview questions with answers for the interview of Scientific Writer 1 at BMS:
1.Can you provide an example of a complex scientific document you've authored and how you managed to integrate input from various team members?
A: Certainly. In my previous role, I was responsible for authoring a Clinical Study Report (CSR) that required input from cross-functional team members including scientists, medical experts, and regulatory professionals. To ensure effective collaboration, I participated in regular document strategy sessions where we discussed messaging, document flow, and consistency. I managed timelines by creating a detailed project plan, which allowed me to allocate tasks and track progress. By maintaining open communication and addressing feedback in a timely manner, I successfully integrated all input to produce a high-quality CSR that met regulatory requirements.
2.How do you handle analyzing and interpreting complex data from different scientific disciplines when authoring regulatory documents?
A: When faced with complex data, I first break it down into smaller components to ensure a clear understanding. I'm skilled at identifying key trends and insights that are relevant to the document's purpose. I collaborate closely with subject matter experts to clarify any technical points and ensure accuracy. By seeking guidance from experts in different disciplines, I can ensure that my interpretations are well-informed and aligned with the scientific context. This approach helps me create documents that effectively communicate complex data to both technical and non-technical audiences.
3.Can you provide an example of a situation where you had to manage conflicting timelines while maintaining document quality?
A: In my previous role, I was working on two regulatory documents simultaneously, both with tight deadlines. To manage this situation, I prioritized tasks by their urgency and impact on the overall project. I communicated with the respective teams to negotiate realistic timelines without compromising quality. I also utilized project management tools to track progress and ensure that tasks were completed according to schedule. By staying organized, setting clear expectations, and maintaining open lines of communication, I was able to deliver both documents on time and with the high level of quality expected.
4.How do you ensure consistency and accuracy across different sections of a regulatory document?
A: Consistency and accuracy are crucial in regulatory documents. I ensure this by maintaining clear document prototypes and templates that serve as a reference for formatting, terminology, and style. Additionally, I conduct thorough reviews of each section to identify any discrepancies or inconsistencies. I collaborate closely with team members to address any gaps or errors. Utilizing version control systems also helps me track changes and maintain a record of revisions. By adhering to established templates, conducting diligent reviews, and leveraging collaboration tools, I can ensure that the document maintains a high standard of consistency and accuracy throughout.
Scientific Writer 1 at BMS
Stay tuned on RASAYANIKA for more chem and pharma related job updates.