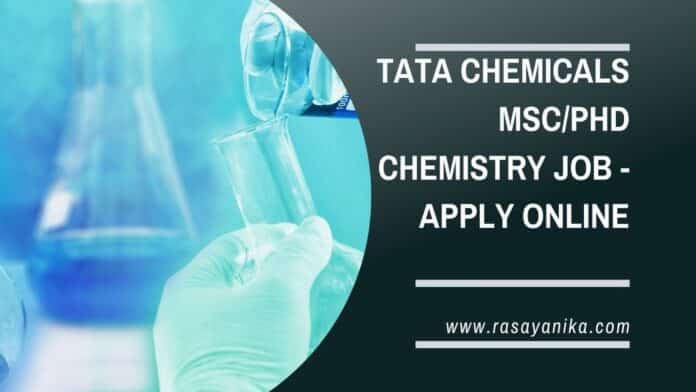 Tata Chemicals MSc/PhD job, chemistry job opening 2023, msc chemistry job opening 2023, Tata chemicals job opening 2023, Tata chemistry job opening 2023, Check out all the details on the same below:
Job Title: Senior Manager / Manager – Quality Assurance & Customer Care
Location: Mithapur, India
Qualifications and Experience: PhD / M.Sc in Analytical Chemistry with rich experience 15-20 years in Analytical Laboratory in large scale Chemical Plant.
Job Description
Role and Responsibilities:
To act as a link between Production and Customer relating to Analytical & Quality of material issues.
To ensure that all legal / statutory (Laboratory & Plant's quality related) requirements are being met by the company.
To ensure adequate monitoring of Analytical parameters and Laboratory Chemicals related safety requirements
To report and follow up on corrective actions in case of non-compliance.
To comply with Quality control authorities directives: adequate reporting to the authorities, liase with authorities relating to analytical & product inspectorate laboratory issues.
Understanding customer needs and requirements to develop effective quality control processes
Devising and reviewing specifications for products and RM
Ensure adherence to health and safety guidelines as well as legal obligations
Supervise staff and provide guidance and feedback
Setting requirements for raw material or intermediate products for suppliers and monitoring their compliance
Oversee all product and RM to identify deviations from quality standardsInspect final
output and compare properties to requirements
Approve the right products or reject defectives
Ensure the compliances of Quality and Regulatory requirements of products supplied in line with customer request.
Timely response to customer complaints To respond timely for customer complaints by submitting CAPA reports
Timely response to customer questionnaires and agreements To review, approve and respond timely to customer questionnaires and quality agreements
Effectiveness of documentation, change control, deviation control To review, approve and control all system SOPs, track the effectiveness of change control, deviations
Continual Improvement To facilitate the analysis of various Mfg and QC data and coordinate with stakeholders to simplify the processes basis the trend of performance
Vendor audits / development To lead vendor audit, qualification and evaluation process in line with plan agreed with Sourcing
To act as Site's Customer Relation Manager (CRM) and deal with marketing and customers and coordinate to fulfill their requirements. To monitor and coordinate the customer complaints and their timely resolution.
To be responsible for arranging purchase of Chemicals and other Stores items required for the Laboratory.
To be responsible for all purchase of Laboratory chemicals, material & Lab wares, their storage and consumption at self and plant level.
To be overall responsible for keeping the necessary records and issuing certificates of all the Sections of Analytical Laboratory.
To be responsible for protecting confidential information and proprietary rights of the activities conducted in the Analytical Laboratory.
Preferred Skills :
Proven experience as quality manager
Conscientious and responsible
A keen eye for detail and a results driven approach
Outstanding communication skills
Excellent organizational and leadership skills
In depth understanding of quality control procedures and relevant legal standards
Excellent math abilities and working knowledge of data analysis/statistical methods
Tata Chemicals MSc/PhD Looking for latest chemistry and Pharma job openings, follow Rasayanika Facebook and Telegram and subscribe to our youtube channel for the latest updates on chemistry and Pharma job