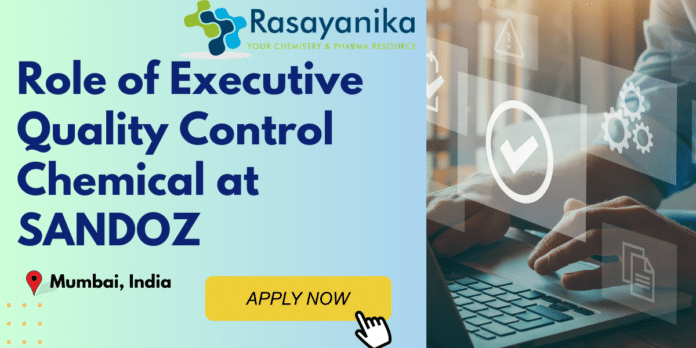 Role of Executive Quality Control Chemical at SANDOZ- APPLY NOW
Role : Executive Quality Control Chemical
Business Unit : Quality STO
Work Location : Navi Mumbai
Company/Legal Entity : Sdz Pvt Ind
Functional Area : Quality
Employment Type : Regular
job ID : 380760BR
Job Description
Position Purpose:
This role utilizes chemistry laboratory skills to test and measure product or materials while ensuring that analysis is performed according to established Standard Operating Procedures (SOPs), Analytical Methods, and current Compendial at Kalwe Site.
Your key responsibilities:
• Sample storage and management (FDF & API), Analytical testing/documentation of drug product / finished product / complaints / stability / packaging material samples to GxP standards. Stability Testing/Sample storage and management.
• Analytical documentation of stability samples to GxP standards. Analytical Method Validation & Analytical Method Transfer.
• Assisting supervisor Quality Control for efficient functioning of Quality Control Laboratory through QC analysis and good documentation as per quality control system. To maintain all testing records, raw data & log books as per SOP
• Maintain confidentiality and ensure safe custody and efficient handling of company document / material. Perform any other task that
may be assigned for running of the company as per latest quality standard and Novartis Corporate Guidelines.
• Ensure Data Integrity, cGMP, GDP, ALCOA and ALCOA+ Principle at Workplace
Minimum requirements :
What you'll bring to the role:
• M.Sc. in Chemicals /M. Pharm from reputed university with min 5+ yrs experience in Quality function.
• Sound technical & scientific knowledge of pharmaceutical/ chemical analytics/QC/ equivalent Working experience in Laboratory environment in the Pharmaceutical industry.
• Experience in Laboratory Excellence & Laboratory equipment Quality Control (QC) Testing Quality Control Sampling.
Follow rasayanika for more updates
Here are some hypothetical interview questions and answers for the role of Executive Quality Control Chemical at SANDOZ :
Interview Questions:
Can you provide an overview of your educational background and experience that aligns with the requirements of this role?Answer: Absolutely. I hold an M.Sc. in Chemicals and have over 5 years of experience in the Quality function within the pharmaceutical industry. My educational background has provided me with a strong foundation in chemical analysis and laboratory techniques, which I've further developed through practical experience.
Could you elaborate on your experience with analytical testing and documentation of drug products, finished products, stability samples, and packaging materials?Answer: Certainly. Throughout my career, I've been extensively involved in conducting analytical tests on various pharmaceutical products, including drug products, finished products, stability samples, and packaging materials. I ensure that all analysis is conducted in strict adherence to established SOPs, Analytical Methods, and Compendial standards, maintaining the highest quality standards.
How comfortable are you with Analytical Method Validation and Transfer processes?Answer: I'm well-versed in Analytical Method Validation (AMV) and Transfer processes. I've been part of AMV projects where I've designed and executed validation protocols, ensuring that analytical methods are accurate, precise, and reproducible. Additionally, I've successfully transferred validated methods from one laboratory to another, maintaining consistency and reliability.
Could you discuss a situation where you've assisted a supervisor in maintaining efficient functioning of a Quality Control Laboratory?Answer: Certainly. In a previous role, I worked closely with the Quality Control supervisor to streamline laboratory processes. I assisted in performing analytical tests, documenting results, and maintaining records as per established SOPs. This collaboration ensured smooth operations, accurate data recording, and compliance with quality standards.
How do you ensure Data Integrity, cGMP, GDP, ALCOA, and ALCOA+ principles in your work?Answer: Data Integrity and adherence to regulatory principles are paramount in quality control. I meticulously follow cGMP (current Good Manufacturing Practices), GDP (Good Documentation Practices), ALCOA (Attributable, Legible, Contemporaneous, Original, Accurate) and ALCOA+ principles throughout my work. This includes maintaining accurate records, ensuring traceability, and following established protocols.
Can you discuss your experience in Laboratory Excellence and Quality Control Testing?Answer: Certainly. I've actively contributed to Laboratory Excellence initiatives, which involve continuously improving laboratory processes, enhancing efficiency, and implementing best practices. I've also conducted a wide range of quality control tests, such as raw material analysis, stability testing, and packaging material assessment, ensuring that products meet quality standards.
ALL THE BEST !